Apricot Tart Recipe: Tarte aux Abricots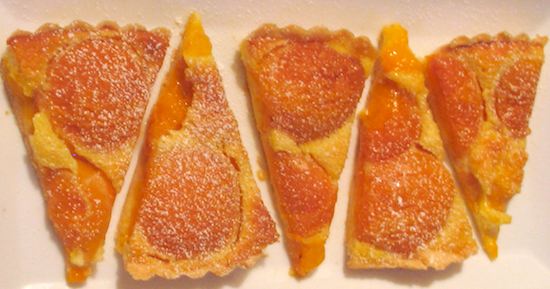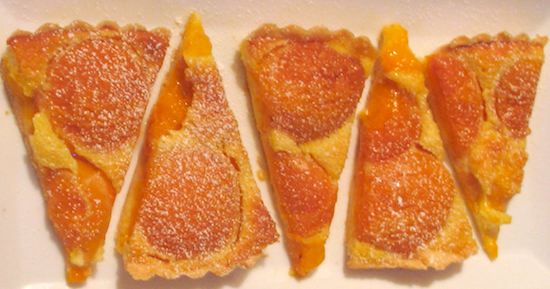 Tarte aux Abricots (Apricot Tart)
INGREDIENTS:
1 10-inch partially baked tart shell (baked at 400° for 5-10 minutes to dry out the bottom)
2 lbs. ripe apricots, halved and pitted
1/2 cup sugar
2 medium eggs
2 Tablespoons flour
1/2 cup crème fraîche (sour cream may be substituted)
PREPARATION:
Preheat oven to 400°F
1. Sprinkle 1/4 cup of sugar over the apricot halves, cut side up and allow to rest for 30 minutes.
2. Arrange the apricots, cut side up and slightly overlapping in the tart shell.
3. In a mixing bowl, combine the rest of the sugar, eggs, flour and cream and mix thoroughly. Pour over the apricots
4. Place the tart on a cookie sheet and bake for 30 minutes or until golden.
To serve:
Best served warm from the oven.
Debra Fioritto contributes delicious French recipes to BonjourParis—follow her at: @DebraFioritto on Twitter,Fabulous French Food, Julia's Paris & Provence and Tour de Forks Uncommon Epicurean Adventures.
Sign up now for your own free subscription to BonjourParis & we'll send you Wednesday & Sunday newsletters that link to original France travel stories, news, recipes and travel photography. 50 original stories monthly from your most complete online France travel & Francophile lifestyle eZine. RSS feed available.
If you can get it from Amazon.com, you can get it at the BonjourParis Amazon.com Boutique. Same unbeatable pricing, same speedy delivery and a few centimes of your purchases support BonjourParis, your most complete online France travel resource. Merci in advance!
Search hint: start at the back pages of each category for the most recent stock.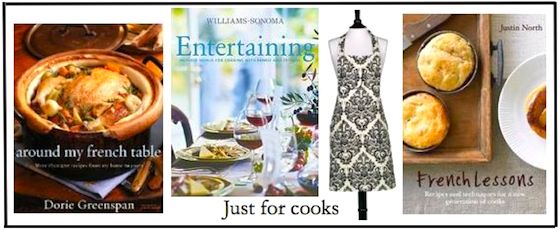 1. Around My French Table: More Than 300 Recipes from My Home to Yours by Dorie Greenspan [Oct. 2010 bestseller]
2. Williams-Sonoma Entertaining: Inspired menus for cooking with family and friends
3. Jessie Steele damask bib apron–other styles & colors available
4. French Lessons: Recipes and Techniques for a New Generation of Cooks [new in May 2011]
Charming Paris 3-star hotel in the Latin Quarter
Residence Henri IV is a 3-star hotel more like a small 19th-century townhouse than a big hotel located between Notre Dame & the Pantheon, & up next to the Sorbonne. Free Wi-Fi, cable TV, nonsmoking hotel. Near St. Michel entertainment district; walk in minutes to Luxembourg Garden, St-Germain-des-Prés, Seine, Notre-Dame, etc.
**** Eligible for the best-price match guarantee from Booking.com.
Be smart!

Shop around, reserve your hotel at Booking.com…then keep shopping & if you find a better rate for the same deal, contact Booking.com to request your BEST PRICE MATCH GUARANTEE. Start here at Booking.com.
Leave a reply
Your email address will not be published. Required fields are marked *