Film review: Lourdes, a Little Miracle of a Film
Lourdes is a most unusual film—and an unusually satisfying one. Not least of its pleasures is its depiction of the eponymous town in France, site of one of the most important Catholic shrines. Though it's been synonymous with healing and pilgrimage for centuries, and is visited by millions every year, this is the first film treatment of Lourdes in recent memory. Austrian director Jessica Hausner (who made the award-winning Lovely Rita) portrays the Lourdes experience with an exquisitely balanced sensibility, as one part vector for deeply felt faith and one part Catholic Disneyland. Sophie Testud plays Christine, a young woman paralyzed with multiple sclerosis. She has been going to Lourdes for years, as much to be with other people as for the as yet unanswered hope of a cure. (She also likes culture, though for that she expresses a preference for Rome.) Testud is nearly perfect for the role. Her confined body has the rigid, sculptured look of a religious statue or figurine. Even more striking is the delicate emotion and intelligence that flickers from her eyes, mouth, even the tilt of her head. In some ways she brings to mind a Byzantine icon, in others a portrait by da Vinci. We are transfixed by Testud's performance, but the film is also remarkable for its supporting cast. Christine gradually becomes acquainted with the members of her pilgrimage group, a motley array reminiscent of the Canterbury Tales: her elderly roommate, who seems to have suffered from a stroke; two middle-aged "miracle groupies" who enjoy gossiping about who will receive a miracle (and whether it is deserved); the attendant in charge, who takes command with authoritarian assurance, but guards a secret; a genial priest who delights in rationalistic explanations of moral conundrums. All of these roles, serious or comic, are so credibly acted that you occasionally have to remind yourself that Lourdes isn't a documentary. The most important characters Christine meets are Maria (Léa Seydoux), the nurse who cares for her, and Kuno (Bruno Tedeschini), a handsome young male attendant. Maria is a lovably profane counterpart to Christine's sacred character; and it's to be expected that she hook up with Kuno. But Christine falls for him as well, and so an unlikely triangle develops. Unlikely, but not surprising, for Christine is not only in search of physical healing and spiritual transcendence but existential direction. What's impressive about Lourdes is this multi-dimensional approach toward its heroine. When what may or may not be a miracle occurs, we feel its significance within the web of Christine's own character, her relationships with others, and her budding romance. Hausner photographs the setting with almost painful clarity as well as vibrant, deep color. The viewer can enjoy the film on one level as sheer travelogue, taking in ravishing sequences of shrines, candle-bearing crowds, and spectacular mountaintops. But the film's structure may prove difficult for many. Christine's pilgrim's progress, the might-be miracle, the love story, are normal enough story-wise. But such filmers of faith as Robert Bresson and Alain Cavalier have clearly influenced the director. She's less austere than those two but has put together her movie in a decidedly less dramatic way, with not much overt conflict or even extended dialogue. She tends to film relatively brief moments or else holds a shot longer than usual, making us feel its significance but also trying our patience. The sequences accelerate at their own pace, which we perceive as the pace of a paralyzed woman's life. It's not the frenetic rhythm of modern life, but patient viewers will be rewarded by an accumulated emotional force not found in text messages and Tweets. Yes, we could have wished for a less carefully composed film, and less carefully composed characters—we think of the Catholic writer Flannery O'Connor's visit to Lourdes (she was afflicted with lupus), which she described in less than reverent tones, to say the least. Still, in a typically lightweight summer film season, Lourdes provides more than a little food for thought. And Sophie Testud's performance is a miracle unto itself. Production Company: ARTE, Canal+ (and several others) Distributor: Sophie Dulac Distribution (France), Palisades Tartan (US)
Dimitri Keramitas
is a Paris-based film writer who reviews the latest French film releases for BonjourParis every other Wednesday. Most recently he reviewed 
Un Amour de Jeunesse
. Sign up now for your own 
free subscription
to BonjourParis & we'll send you Wednesday & Sunday newsletters that link to original France travel stories, news, recipes and travel photography. 50 original stories monthly from your most complete online France travel & Francophile lifestyle eZine. RSS feed available. If you can get it from Amazon.com, you can get it at the
BonjourParis Amazon.com Boutique
. Same unbeatable pricing, same speedy delivery and a few centimes of your purchases support BonjourParis, your most complete online France travel resource. Merci in advance! Search hint: start at the back pages of each category for the most recent stock. Love the movies? Check out 
French Cinema
by Charles Drazin   Author Charles Drazin is a respected film critic & his book will become the definitive history of French cinema.The Hollywood model of cinema as mass-market spectacle—as entertainment rather than an art—is more dominant than ever, its box-office power amounting to an effective monopoly. France has been one…
SUBSCRIBE
ALREADY SUBSCRIBED?
BECOME A BONJOUR PARIS MEMBER

Gain full access to our collection of over 5,000 articles and bring the City of Light into your life. Just 60 USD per year.

Find out why you should become a member here.

Sign in

Fill in your credentials below.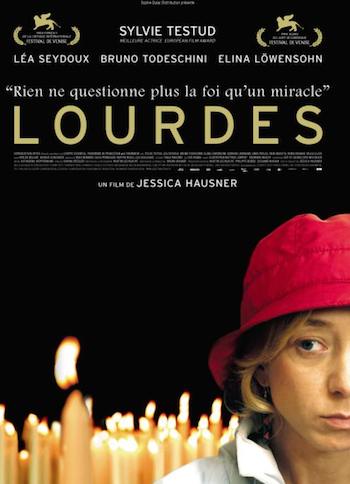 Lourdes is a most unusual film—and an unusually satisfying one. Not least of its pleasures is its depiction of the eponymous town in France, site of one of the most important Catholic shrines. Though it's been synonymous with healing and pilgrimage for centuries, and is visited by millions every year, this is the first film treatment of Lourdes in recent memory. Austrian director Jessica Hausner (who made the award-winning Lovely Rita) portrays the Lourdes experience with an exquisitely balanced sensibility, as one part vector for deeply felt faith and one part Catholic Disneyland.
Sophie Testud plays Christine, a young woman paralyzed with multiple sclerosis. She has been going to Lourdes for years, as much to be with other people as for the as yet unanswered hope of a cure. (She also likes culture, though for that she expresses a preference for Rome.) Testud is nearly perfect for the role. Her confined body has the rigid, sculptured look of a religious statue or figurine. Even more striking is the delicate emotion and intelligence that flickers from her eyes, mouth, even the tilt of her head. In some ways she brings to mind a Byzantine icon, in others a portrait by da Vinci.
We are transfixed by Testud's performance, but the film is also remarkable for its supporting cast. Christine gradually becomes acquainted with the members of her pilgrimage group, a motley array reminiscent of the Canterbury Tales: her elderly roommate, who seems to have suffered from a stroke; two middle-aged "miracle groupies" who enjoy gossiping about who will receive a miracle (and whether it is deserved); the attendant in charge, who takes command with authoritarian assurance, but guards a secret; a genial priest who delights in rationalistic explanations of moral conundrums. All of these roles, serious or comic, are so credibly acted that you occasionally have to remind yourself that Lourdes isn't a documentary.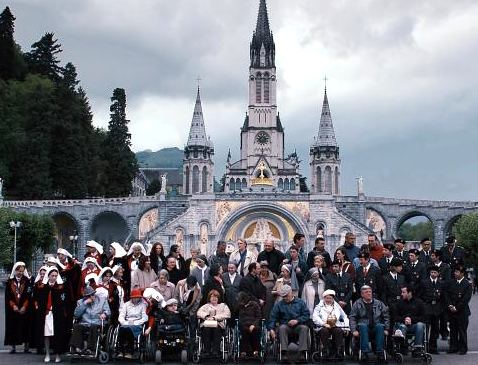 The most important characters Christine meets are Maria (Léa Seydoux), the nurse who cares for her, and Kuno (Bruno Tedeschini), a handsome young male attendant. Maria is a lovably profane counterpart to Christine's sacred character; and it's to be expected that she hook up with Kuno. But Christine falls for him as well, and so an unlikely triangle develops. Unlikely, but not surprising, for Christine is not only in search of physical healing and spiritual transcendence but existential direction. What's impressive about Lourdes is this multi-dimensional approach toward its heroine. When what may or may not be a miracle occurs, we feel its significance within the web of Christine's own character, her relationships with others, and her budding romance.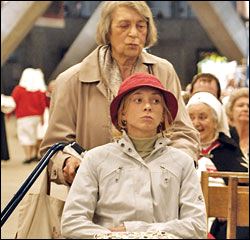 Hausner photographs the setting with almost painful clarity as well as vibrant, deep color. The viewer can enjoy the film on one level as sheer travelogue, taking in ravishing sequences of shrines, candle-bearing crowds, and spectacular mountaintops. But the film's structure may prove difficult for many. Christine's pilgrim's progress, the might-be miracle, the love story, are normal enough story-wise. But such filmers of faith as Robert Bresson and Alain Cavalier have clearly influenced the director. She's less austere than those two but has put together her movie in a decidedly less dramatic way, with not much overt conflict or even extended dialogue. She tends to film relatively brief moments or else holds a shot longer than usual, making us feel its significance but also trying our patience.
The sequences accelerate at their own pace, which we perceive as the pace of a paralyzed woman's life. It's not the frenetic rhythm of modern life, but patient viewers will be rewarded by an accumulated emotional force not found in text messages and Tweets. Yes, we could have wished for a less carefully composed film, and less carefully composed characters—we think of the Catholic writer Flannery O'Connor's visit to Lourdes (she was afflicted with lupus), which she described in less than reverent tones, to say the least. Still, in a typically lightweight summer film season, Lourdes provides more than a little food for thought. And Sophie Testud's performance is a miracle unto itself.
Production Company: ARTE, Canal+ (and several others)
Distributor: Sophie Dulac Distribution (France), Palisades Tartan (US)
Dimitri Keramitas is a Paris-based film writer who reviews the latest French film releases for BonjourParis every other Wednesday. Most recently he reviewed Un Amour de Jeunesse.
Sign up now for your own free subscription to BonjourParis & we'll send you Wednesday & Sunday newsletters that link to original France travel stories, news, recipes and travel photography. 50 original stories monthly from your most complete online France travel & Francophile lifestyle eZine. RSS feed available.
If you can get it from Amazon.com, you can get it at the BonjourParis Amazon.com Boutique. Same unbeatable pricing, same speedy delivery and a few centimes of your purchases support BonjourParis, your most complete online France travel resource. Merci in advance!
Search hint: start at the back pages of each category for the most recent stock.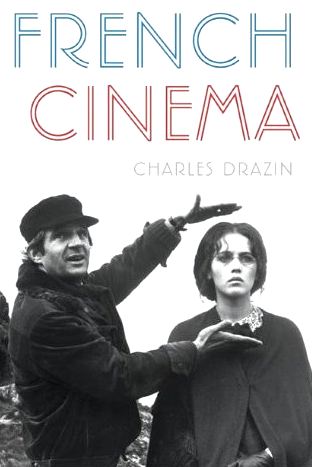 Love the movies? Check out French Cinema by Charles Drazin  [June 2011 release]
Author Charles Drazin is a respected film critic & his book will become the definitive history of French cinema.The Hollywood model of cinema as mass-market spectacle—as entertainment rather than an art—is more dominant than ever, its box-office power amounting to an effective monopoly. France has been one of the most active countries to challenge this hegemony. A key motivation has been its sense of a distinct film tradition that has always provided the most sustained alternative model to Hollywood. Drazin examines France's role as the inventor of cinema and its pivotal influence over the language of cinema across the past century.
Paris 3-star hotel to consider
Hôtel Vaneau Saint Germain is a 3-star hotel near Saint-Germain-des-Prés & the Musée d'Orsay. Free Wi-Fi, flat-screen TV w/international channels. Some rooms have stained-glass windows & marble fireplaces. Just 39 suites.
**** Eligible for the best-price match guarantee from Booking.com.
Be smart!

Shop around, reserve your hotel at Booking.com…then keep shopping & if you find a better rate for the same deal, contact Booking.com to request your BEST PRICE MATCH GUARANTEE. Start here at Booking.com.
More in film review, french cinema, movie
---
---