Virtual Tour of Paris: 7th arrondissement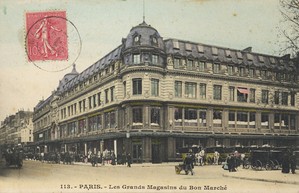 "a carcass waiting to be fleshed out with freestone or brick, a funnel-shaped grill, a hole-riddled suppository"
— author Joris-Karl Huysmans (excerpted from "Protest Against the Tower of Monsieur Eiffel" published in Le Temps, February 14, 1887)
7ème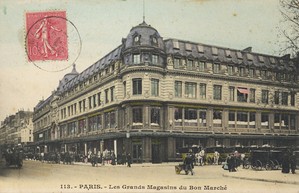 Although this neighborhood is overflowing with tourist blockbusters it can also be surprisingly quiet and residential. While the natives walk their dog on the Champs de Mars or along the Seine out-of-towners visit the Eiffel Tower, the Musée d'Orsay, Musée du quai Branly, and Les Invalides (originally a hospital and an old age home for veterans that now contains the Army Museum and Napoléon's tomb).
Neighborhood residents include the Prime Minister, whose official residence is the Hôtel Matignon, and many government buildings including the headquarters of UNESCO (the United Nations Educational, Scientific and Cultural Organization) where you can meditate among the cherry trees and bamboo in Isamau Noguchi's Japanese garden. The Assemblée Nationale (Parliament's lower house which was formerly the Bourbon palace) is also located here.
For shopping historians Bon Marché (which misleadingly translates as "bargain") on rue de Sèvres is considered to be the first department store, and it is deluxe. Gustave Eiffel's metal working skills were employed during the store's 1868 expansion.
Two of the most unique museums in town are located in the 7th: The Musée Rodin (Rodin's work is housed in a lovely 18th-century house with a spectacular garden) and Musée des Égouts de Paris (the not-so-lovely sewers of Paris museum).
Cheese lovers should skip the sewers and proceed directly to Fromagerie Cantin (12 rue du Champ de Mars) where the Cantin family has been selling France's best camembert, brie, gruyère and even caboin for over half a century. Their selection and expertise will astound you.


Christopher Measom combines his love of history, art, and travel to create books like "Paris, Wish You Were Here!" and "The Little Big Book of Ireland." He spends most of his time in New York (an artsy historic place) working on all kinds of books for Night & Day Design.
Leave a reply
Your email address will not be published. Required fields are marked *