A French Caribbean: St Barthélemy and Guanahani Resort & Spa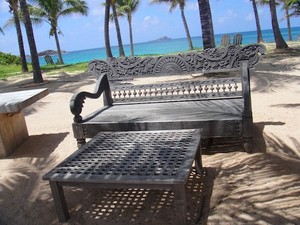 If you have to explain to a US customs inspector what St. Bart's is, you might cause some confusion. You see, St. Bart's uses euros, calls are long-distance, the language spoken is French, the culture is decidedly French – and so is the food (which is mostly imported). It's no surprise then that the small island is part of France. "So you're going to Europe," asks the intimidating inspector with a healthy hint of skepticism. "No, it's in the Caribbean," you start to explain nervously. It's no use, by now the inspector is certain that you've invented the place. But, luckily, he lets you go anyways. After all, if you went through the effort of inventing a dream destination, the least you should be allowed is to go there. There's something different about St. Bart's than any other Island in the Caribbean. Part of the French West Indies, it feels much more as if you're in France, but if France happened to be an Island.  St. Bart's is often compared to the French Riviera. It's elegant, yet casual. Its visitors are mostly wealthy, but are not flashy. It is glamorous, yet remarkably low key.  That's why many (in North America) consider a trip to St. Bart's to be like going to France, but without the jet-leg. The water is ethereal turquoise. The sand, immaculately white. Everyone has a perfect tan. Kids are beautiful and polite. The views…are extraordinarily breathtaking. Those who work at the hotels on St. Bart's enjoy a similar lifestyle to that of the guests – they are housed by the hotels since renting on their own would be prohibitively expensive. This housing arrangement, not surprisingly, doesn't offer cause for any complaints. There's also no crime. (And probably only one police car.) There's no tension between the always-smiling locals. There was never a history of slavery on the island. No one resents anyone. No one feels less fortunate and more entitled. And similarly, no one on the island feels the need to show off. Simplicity rules the day. Well, luxurious simplicity.  Accommodations – Guanahani Resort & Spa Hotel Guanahani & SpaGrand Cul de Sac97133 St. Barthélemy1-800-216-3774
www.leguanahani.com
E-mail
Here's how it all begins: You get picked up at the "airport" by the hotel's friendly driver and are whisked away to your dream home – a cottage painted a bright, pastel-colored hue. You find yourself transported to what can only be described as a tropical garden of sorts, filled with flowers, and the sounds of parrots conversing with their peers.   The rooms, influenced by French Creole décor, feature large bathrooms with Clarins toiletries, flat-screen TVs, an iPod dock, and complimentary wi-fi service to help keep you connected with the rest of the world – though you're bound to soon forget about it. Everything is so well thought out. The room comes equipped with things such as flip-flops, adapters for electronics, candles, and even a bug spray that not only works, but miraculously seems to have a pleasant scent. But as well appointed as the rooms are, the truly stunning part is the private terraces If you're fortunate enough to snag one that faces the turquoise water, you're in for a life-altering, breathtaking view. The terraces are large enough to host guests for a coffee or a bottle of something sparkly. Some cottages even come with a private pool and your very own butler! The terrace is also the perfect place to enjoy a delicious breakfast, which is complimentary for guests. Or, enjoy a more comprehensive breakfast (eg. crepes, omelets) by the pool, on the beach. The service here is unobtrusive, professional and polished, while also being friendly and laid-back. Located in the Grand Cul de Sac, the Guanahani has its own private, quiet beach, which enjoys a light breeze – perfect for windsurfing. Stay at Hotel Guanahani and you'll find yourself in the lap of unassuming, easy-going, tropical luxury. Pampering for the adults… Clarin's Spa As if being in St. Bart's isn't relaxing enough already, the resort's spa will melt away any remaining tension you might have. Here, guests can enjoy relaxing treatments including massages, facials, and mud wraps.  And if you were silly enough to go on a boat ride sans sunscreen and show up in all your red glory the next day for your appointment, their caring (and worried) staff might recommend the "After Sun Treatment," which is specifically designed for such poor decision making. Another popular signature treatment is the "Jet-Lag recovery treatment," which is guaranteed to give you a boost. The treatment involves massages, exfoliation, and hydration, to face, body, and arguably, mind. After the treatment, you can continue relaxing by the spa's pool. Lounge around in your robe and enjoying a herbal tea, why not? The Frédéric Fekkai hair salon is also on premises and offers numerous ways to treat your tresses. Gym Normally, you'd be wise to avoid the gym on a Caribbean island that offers plenty of other worthy temptations, but the Guanahani's gym is unique. You see, you can work-out to your heart's content without missing the beach. The gym, a glass, air conditioned state-of-the-art facility, is located right on the beach. Water Sports & Other The hotel provides complimentary canoes, floats, paddle boats, and snorkling gear for guests to partake in water sports. You can even book (for a fee) a windsurfing lesson – a popular activity here, especially given the more windy conditions at this end of the island.  At night, there's a lit tennis court, and even trainers you can borrow for a game. Something for the kids… The resort welcomes children, which offer a…
SUBSCRIBE
ALREADY SUBSCRIBED?
BECOME A BONJOUR PARIS MEMBER

Gain full access to our collection of over 5,000 articles and bring the City of Light into your life. Just 60 USD per year.

Find out why you should become a member here.

Sign in

Fill in your credentials below.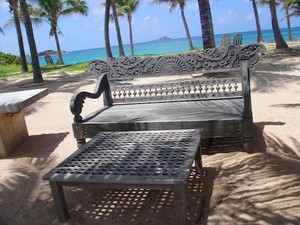 If you have to explain to a US customs inspector what St. Bart's is, you might cause some confusion. You see, St. Bart's uses euros, calls are long-distance, the language spoken is French, the culture is decidedly French – and so is the food (which is mostly imported). It's no surprise then that the small island is part of France. "So you're going to Europe," asks the intimidating inspector with a healthy hint of skepticism. "No, it's in the Caribbean," you start to explain nervously. It's no use, by now the inspector is certain that you've invented the place. But, luckily, he lets you go anyways. After all, if you went through the effort of inventing a dream destination, the least you should be allowed is to go there.
There's something different about St. Bart's than any other Island in the Caribbean. Part of the French West Indies, it feels much more as if you're in France, but if France happened to be an Island.  St. Bart's is often compared to the French Riviera. It's elegant, yet casual. Its visitors are mostly wealthy, but are not flashy. It is glamorous, yet remarkably low key.  That's why many (in North America) consider a trip to St. Bart's to be like going to France, but without the jet-leg.
The water is ethereal turquoise. The sand, immaculately white. Everyone has a perfect tan. Kids are beautiful and polite. The views…are extraordinarily breathtaking.
Those who work at the hotels on St. Bart's enjoy a similar lifestyle to that of the guests – they are housed by the hotels since renting on their own would be prohibitively expensive. This housing arrangement, not surprisingly, doesn't offer cause for any complaints.
There's also no crime. (And probably only one police car.) There's no tension between the always-smiling locals. There was never a history of slavery on the island. No one resents anyone. No one feels less fortunate and more entitled. And similarly, no one on the island feels the need to show off. Simplicity rules the day. Well, luxurious simplicity. 
Accommodations – Guanahani Resort & Spa
Hotel Guanahani & Spa
Grand Cul de Sac
97133 St. Barthélemy
1-800-216-3774
www.leguanahani.com
E-mail
Here's how it all begins: You get picked up at the "airport" by the hotel's friendly driver and are whisked away to your dream home – a cottage painted a bright, pastel-colored hue. You find yourself transported to what can only be described as a tropical garden of sorts, filled with flowers, and the sounds of parrots conversing with their peers.
The rooms, influenced by French Creole décor, feature large bathrooms with Clarins toiletries, flat-screen TVs, an iPod dock, and complimentary wi-fi service to help keep you connected with the rest of the world – though you're bound to soon forget about it. Everything is so well thought out. The room comes equipped with things such as flip-flops, adapters for electronics, candles, and even a bug spray that not only works, but miraculously seems to have a pleasant scent.
But as well appointed as the rooms are, the truly stunning part is the private terraces If you're fortunate enough to snag one that faces the turquoise water, you're in for a life-altering, breathtaking view. The terraces are large enough to host guests for a coffee or a bottle of something sparkly. Some cottages even come with a private pool and your very own butler!
The terrace is also the perfect place to enjoy a delicious breakfast, which is complimentary for guests. Or, enjoy a more comprehensive breakfast (eg. crepes, omelets) by the pool, on the beach.
The service here is unobtrusive, professional and polished, while also being friendly and laid-back.
Located in the Grand Cul de Sac, the Guanahani has its own private, quiet beach, which enjoys a light breeze – perfect for windsurfing.
Stay at Hotel Guanahani and you'll find yourself in the lap of unassuming, easy-going, tropical luxury.
Pampering for the adults…
Clarin's Spa
As if being in St. Bart's isn't relaxing enough already, the resort's spa will melt away any remaining tension you might have. Here, guests can enjoy relaxing treatments including massages, facials, and mud wraps.  And if you were silly enough to go on a boat ride sans sunscreen and show up in all your red glory the next day for your appointment, their caring (and worried) staff might recommend the "After Sun Treatment," which is specifically designed for such poor decision making.
Another popular signature treatment is the "Jet-Lag recovery treatment," which is guaranteed to give you a boost. The treatment involves massages, exfoliation, and hydration, to face, body, and arguably, mind.
After the treatment, you can continue relaxing by the spa's pool. Lounge around in your robe and enjoying a herbal tea, why not?
The Frédéric Fekkai hair salon is also on premises and offers numerous ways to treat your tresses.
Gym
Normally, you'd be wise to avoid the gym on a Caribbean island that offers plenty of other worthy temptations, but the Guanahani's gym is unique. You see, you can work-out to your heart's content without missing the beach. The gym, a glass, air conditioned state-of-the-art facility, is located right on the beach.
Water Sports & Other
The hotel provides complimentary canoes, floats, paddle boats, and snorkling gear for guests to partake in water sports. You can even book (for a fee) a windsurfing lesson – a popular activity here, especially given the more windy conditions at this end of the island.  At night, there's a lit tennis court, and even trainers you can borrow for a game.
Something for the kids…
The resort welcomes children, which offer a sense of joy to this seemingly adult retreat destination.  Aside from water sports, the hotel offers kindergarten during the day, as well as an activity club for kids between six and 12-years-old. The small visitors get to meet others from around the world and their parents don't have to feel guilty for leaving them at home.
Restaurants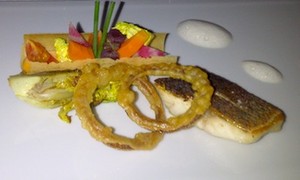 St. Bart's a foodie haven. There's many wonderful restaurants on the island, which serve French cuisine with an island flair.
Hotel Guanahani is home to several of the top food destinations found on St. Bart's, overseen by Chef Philippe Masseglia. The chef has a preference for minimalist ingredients (chef's tip: For pasta, use only three ingredients), fresh produce, and interesting twists – make sure to try the foamed potatoes with black truffles.
Indigo – Situated by the pool, overlooking the beach, Indigo serves buffet and continental breakfast to guests daily. Low-key and charming.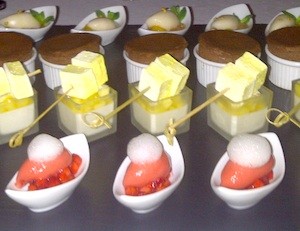 Indigo on the Beach – There's really nothing better than savouring a delicious meal while your feet are planted firmly in the sand. Just as the name would suggest, here guests can enjoy a relaxing breakfast, lunch or dinner on the beach itself, while taking in the view of the sea. Ideal for brunch.
Bartolomeo – Guanahani's take on fine dining is sure to please with its sophisticated gastronomic delights. Best seat? Outside in the beautiful tropical garden.
Things to do
Rent a Boat
There's no better way to see the island and enjoy the day than by yacht. Don't own one? No problem. You can hire one out for the day or even just a few hours. Bosco Yacht offers great adventures on board a Portofino 53' Sunseeker power boat. There's music, towels, cold beverages, and scuba hear.
Bosco Yacht
Gustavia
97133 St Barthélémy
Tél : + (59) 05 90 27 97 88
Cell : 06 90 40 17 07
Email
Shopping
Given St. Bart's affluent visitors, you'll find no shortage of designers such as Cartier, Hèrmes, Bulgari, and Louis Vuitton – putting your credit card in grave danger. But aside from the high-end designers that abound, you should pay a visit to one of the many local boutiques in Gustavia.  Poupette St Barth is a good place top stop by if you want to bring a little bit of St. Bart's style home with you.
And if you really want to take advantage of the Island's French-ness, be sure to visit one of its pharmacies, where you can stock up on products that you normally have to travel to France to get. Don't forget to pick up some products by Ligne St. Barth. Their avocado oil and aloe vera gel are especially handy.
Special Tip: For some middle-of-the-night shopping, check out Carole's place, right next to the Le Yacht Club bar.  The little boutique is open into the wee hours and you never know when you might snag a beautiful Dolce & Gabanna top (value: $295) or an embroided French designer shirt ($247) for only 20 euro each. Sometimes drinking and shopping does mix in well.
Beaches
Given that St. Bart's is sunny most of the year, its beaches are obviously a main attraction and each beach has its own distinct character.
For example, "Anse de Grande Saline" and "Gouverneur Beach," both often entertain free-spirited topless sunbathers. Saline Beach also has an underdeveloped feel, which makes up part of the appeal.
Other popular beaches include "St. Jean Beach" and "Flamands Beach," which have less liberal policies.
And if you want a beach of your own (well, almost), then pay a visit to "Colombier Beach." You can only get there by boat or a half an hour's walk along a rugged trail. So it doesn't get many visitors.
Getting Around
Most rent cars to navigate the terrain and love the experience. Taxis are available, but we're told that at certain hours, unless pre-arranged, you can be waiting for one for up to 4 hours – there are very few drivers on the island. So unless you plan to stay put, a rental car is a must. But they are cute!
What to pack
The weather is always good and casual clothing fits best. No one at St. Bart's is trying to walk a runaway. But nonetheless, you might want to pack a few dressier selections for a night out at a nice restaurant. One necessity you can't go without: Sunscreen.  Sure, you can learn from your mistakes, but it's much better not to make them. The sun rays in St. Bart's are vicious and unforgiving.
Getting There
Fly into San Juan, Puerto Rico (only 5 hours from NYC) and let Tradewind Aviation whisk you away in comfort, VIP style. Tradewind will ensure a smooth flight.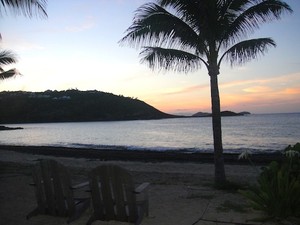 Or, alternatively, fly into St Martin, a neighboring island, and brave the ferry ride or plane. It's cheaper, but stomach-churning and you since it's considered to be an international flight, you have to wait around at the airport for 3 hours before embarking on a 15 minute flight. A flight on Tradewind is much more relaxing. Their staff is friendly and professional, you get VIP service, and it's remarkable that they can make such a smooth landing on such a small strip. In fact, it seems to be nothing short of a miracle, except they do it every day – numerous times a day, in fact.
***CONTEST***
Can't make it to St. Bart's? Then surely you're allowed to fantasize. Then tell us how YOU would spend the perfect sunny day on the Island.  We'll pick one winner (prize must be shipped to US address only, sorry) who will be able to recreate a bit of paradise with Guanahani Resort's branded beach bag (it's really cute!), a pareo, playing cards, and a scented candle!
Interested? Just send an email to kb[at]bonjourparis.com with the subject line: "Perfect Escape Contest" and tell us how you'd spend the day in 200 words or less. Submit by June 25. (Please also let us know if we can share your entry with other readers).

Subscribe for
FREE

weekly newsletters.
BonjourParis has been a leading France travel and French lifestyle site since 1995.
Readers' Favorites: Top 100 Books, imports & more at our Amazon store
We update our daily selections, including the newest available with an Amazon.com pre-release discount of 30% or more. Find them by starting here at the back of the Travel section, then work backwards page by page in sections that interest you.
Current favorites, including bestselling Roger&Gallet unisex fragrance Extra Vieielle Jean-Marie Farina….please click on an image for details.
Click on this banner to link to Amazon.com & your purchases support our site….merci!
More in Cote d'Azur, France, France travel, French Riviera, out of France, Spas in France, travel, vacation resorts
---
---