Intense Proximity at Palais de Tokyo (until August 26)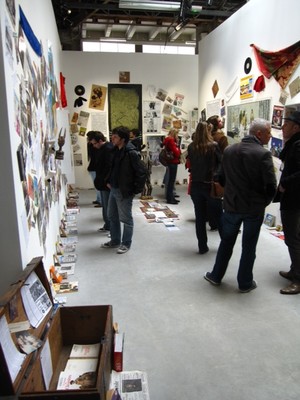 After ten months of renovation, resulting in an expansion of three times it's former size, the Palais de Tokyo has established itself as THE place to view contemporary art in Paris. Previously empty on a regular weekday morning, the facility has reemerged with lines extending outside. And thanks to its immense exhibition, Intense Proximity, open until August 26, the visitor has no regrets about waiting. Upon entering, visitors are greeted with large black graffiti on a white wall screaming, "Fear Eats the Soul" by Rirkrit Tiravanija. The exhibition is an invitation to reassess certain values and judgements that are considered "normal" and to forge a new outlook on different cultural practices maintained around the world. And as artist Benoit Pype states in regards to her piece of miniature wood blocks displaying different types of fibers for visitors to examine under microscopes, "it isn't necessary to go to the ends of the earth to travel, adventure can be found at the bottom of a pocket." The exhibition is housed on three separate floors and encompasses everything from multimedia displays and vibrant photography, to Adrian Piper's video of a woman disguising herself as a man, while continuously repeating the same phrase aimed at her mother, and Chris Ofli's "Triple Beam Dreamer" painting, complete with cow dung as a listed material. African art is given a true contemporary outlook through Meschac Gaba's "Marriage Room." The large display features everything involved in the artist's wedding, including photographs, her marriage certificate and wedding dress, and all the various objects used in the place setting for dinner. The multimedia piece also features a video of the wedding ceremony. Winding through the first circular level, there is no doubt that Intense Proximity could not have been better named. Through the vibrant clarity of Thomas Struth's photographs from the jungles of Peru, the visitor is given access to every minute detail; each piece of grass, each line on a leaf. In a back projection room, artist Lothar Baumgarten's work features five synchronized projectors, each with its own interval, holding a total of 648 images featuring fragments of life in Brazil. Simultaneously projected in an ordered sequence and varying in size to achieve a balance in relation to one another, the images encompass 80 paintings of Brazilian birds by Albert Eckout from 1654 along with fieldwork from Baumgaurten from 1977-1980. A black and white 16mm short film by Helen Levitt from 1948, concentrates itself entirely on one street in Brooklyn, New York. Neighborhood life is gazed upon in awe as a piano composition plays in the background. Children are at play with cardboard boxes and flour bombs, young women re-apply their lipstick and snap their gum as they wait on their front steps for a date to arrive, and older women sit outside their buildings on the tops of trash cans talking with anyone who passes by. The block takes on an immediate familial feel, while also showcasing the diversity of the area. Inhabitants of various backgrounds line the streets and shops, while children dressed in nothing more than rags are happy to play imaginary games amongst piles of garbage. Contemporary art, however, would not be what it is without the multimedia and video works that focus on the more obscure, and even the outright bizarre. There are endless dark viewing rooms for visitors with videos featuring obscured body parts swimming in a black pool, reenactments of famous family portraits depicting fidgeting children and completely serious adults, and a dark tunnel complete with thunderous traditional Egyptian music, leading to a video of a young and old man dancing under a television screen. The exhibition is also equipped with various hands-on activities for children, with the most eye-catching being a florescent-painted skateboarding ramp for them to run and jump on. The ramp sits behind three grand pianos that are also available for play. As many of the exhibition's works are more suited for adults, this serves as a terrific drop off point before exploring Turkish artist Sarkis' large room dedicated to head injuries. The walls of the space are equipped with screen prints featuring photos from war, everyday accidents, and even a copy of Edvard Munch's "Scream," while sculptures made from bone fragments spin upon a circular wheel underneath. The immensity of the space and disturbing images result in a powerful work that is easy to get lost in. "What is behind the last door?" asks artist Georges Adeagbo. The answer is found within his meticulous collage installation. As if discovering a secret attic, the visitor is treated to a narrow, yet packed space, of various books, magazine covers, shoes, gloves, and more, each equipped with a specific political or cultural reference. A true collection of life lived and lost. The renovation of Palais de Tokyo also features the Un Instant Mon Petit cafe. The juice and coffee bar is lit only by the candles set upon the short wooden tables, where logs serve as seats. Coffee is available for 2€, but the main draw of the cafe is the freshly squeezed fruit and vegetable juices, made directly from the produce on the fruit stand in front of the counter for 4€ each. After taking in the complex ideas aroused by the exhibition, the simplicity of a raw apple juice provides the…
SUBSCRIBE
ALREADY SUBSCRIBED?
BECOME A BONJOUR PARIS MEMBER

Gain full access to our collection of over 5,000 articles and bring the City of Light into your life. Just 60 USD per year.

Find out why you should become a member here.

Sign in

Fill in your credentials below.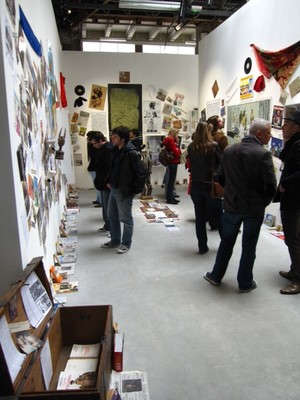 After ten months of renovation, resulting in an expansion of three times it's former size, the Palais de Tokyo has established itself as THE place to view contemporary art in Paris. Previously empty on a regular weekday morning, the facility has reemerged with lines extending outside. And thanks to its immense exhibition, Intense Proximity, open until August 26, the visitor has no regrets about waiting.
Upon entering, visitors are greeted with large black graffiti on a white wall screaming, "Fear Eats the Soul" by Rirkrit Tiravanija. The exhibition is an invitation to reassess certain values and judgements that are considered "normal" and to forge a new outlook on different cultural practices maintained around the world. And as artist Benoit Pype states in regards to her piece of miniature wood blocks displaying different types of fibers for visitors to examine under microscopes, "it isn't necessary to go to the ends of the earth to travel, adventure can be found at the bottom of a pocket."
The exhibition is housed on three separate floors and encompasses everything from multimedia displays and vibrant photography, to Adrian Piper's video of a woman disguising herself as a man, while continuously repeating the same phrase aimed at her mother, and Chris Ofli's "Triple Beam Dreamer" painting, complete with cow dung as a listed material. African art is given a true contemporary outlook through Meschac Gaba's "Marriage Room." The large display features everything involved in the artist's wedding, including photographs, her marriage certificate and wedding dress, and all the various objects used in the place setting for dinner. The multimedia piece also features a video of the wedding ceremony.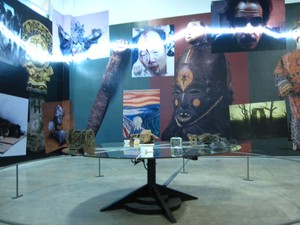 Winding through the first circular level, there is no doubt that Intense Proximity could not have been better named. Through the vibrant clarity of Thomas Struth's photographs from the jungles of Peru, the visitor is given access to every minute detail; each piece of grass, each line on a leaf. In a back projection room, artist Lothar Baumgarten's work features five synchronized projectors, each with its own interval, holding a total of 648 images featuring fragments of life in Brazil. Simultaneously projected in an ordered sequence and varying in size to achieve a balance in relation to one another, the images encompass 80 paintings of Brazilian birds by Albert Eckout from 1654 along with fieldwork from Baumgaurten from 1977-1980.
A black and white 16mm short film by Helen Levitt from 1948, concentrates itself entirely on one street in Brooklyn, New York. Neighborhood life is gazed upon in awe as a piano composition plays in the background. Children are at play with cardboard boxes and flour bombs, young women re-apply their lipstick and snap their gum as they wait on their front steps for a date to arrive, and older women sit outside their buildings on the tops of trash cans talking with anyone who passes by. The block takes on an immediate familial feel, while also showcasing the diversity of the area. Inhabitants of various backgrounds line the streets and shops, while children dressed in nothing more than rags are happy to play imaginary games amongst piles of garbage.
Contemporary art, however, would not be what it is without the multimedia and video works that focus on the more obscure, and even the outright bizarre. There are endless dark viewing rooms for visitors with videos featuring obscured body parts swimming in a black pool, reenactments of famous family portraits depicting fidgeting children and completely serious adults, and a dark tunnel complete with thunderous traditional Egyptian music, leading to a video of a young and old man dancing under a television screen.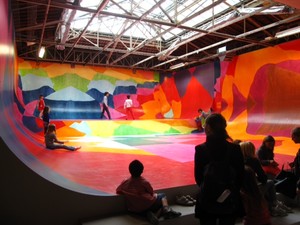 The exhibition is also equipped with various hands-on activities for children, with the most eye-catching being a florescent-painted skateboarding ramp for them to run and jump on. The ramp sits behind three grand pianos that are also available for play. As many of the exhibition's works are more suited for adults, this serves as a terrific drop off point before exploring Turkish artist Sarkis' large room dedicated to head injuries. The walls of the space are equipped with screen prints featuring photos from war, everyday accidents, and even a copy of Edvard Munch's "Scream," while sculptures made from bone fragments spin upon a circular wheel underneath. The immensity of the space and disturbing images result in a powerful work that is easy to get lost in.
"What is behind the last door?" asks artist Georges Adeagbo. The answer is found within his meticulous collage installation. As if discovering a secret attic, the visitor is treated to a narrow, yet packed space, of various books, magazine covers, shoes, gloves, and more, each equipped with a specific political or cultural reference. A true collection of life lived and lost.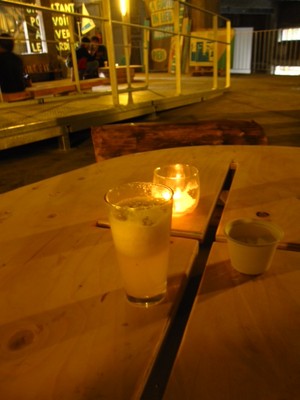 The renovation of Palais de Tokyo also features the Un Instant Mon Petit cafe. The juice and coffee bar is lit only by the candles set upon the short wooden tables, where logs serve as seats. Coffee is available for 2€, but the main draw of the cafe is the freshly squeezed fruit and vegetable juices, made directly from the produce on the fruit stand in front of the counter for 4€ each. After taking in the complex ideas aroused by the exhibition, the simplicity of a raw apple juice provides the perfect balance for either ending your visit or taking a short break in between floors. Winding back up the staircase to the exit, visitors can see that the construction of the space is far from done, as machinery can be heard and seen in every direction, resulting in the space becoming an Intense Proximity of itself.

Subscribe for
FREE

weekly newsletters.
BonjourParis has been a leading France travel and French lifestyle site since 1995.
Readers' Favorites: Top 100 Books, imports & more at our Amazon store
We update our daily selections, including the newest available with an Amazon.com pre-release discount of 30% or more. Find them by starting here at the back of the Travel section, then work backwards page by page in sections that interest you.
Current favorites, including bestselling Roger&Gallet unisex fragrance Extra Vieielle Jean-Marie Farina….please click on an image for details.
Click on this banner to link to Amazon.com & your purchases support our site….merci!
More in contemporary art, Exhibitions, Intense Proximity, Palais de Tokyo, Paris art exhibits, Paris exhibitions
---
---