Ralph's, Le Restaurant, Terrace of the Week : Les Chats du Bristol : Champs Elysees 100 Photos & Zenderm® Buzz
An American in Paris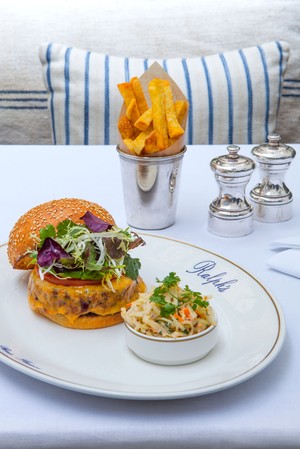 Ralph Lauren's Mission Statement : « At the Double RL family ranch, Colorado, we enjoy natural, seasonal food and our pasture-grazed, hormone free Angus beef. It's my pleasure to share this distinctly American experience with you »
The Ralph Lauren store, located in the handsome listed left-bank 17th century town-house, revised and corrected with care and elegance, includes Ralph's the achingly chic restaurant/bar/courtyard garden/terrace where the likes of clan Rykiel : Lagerfeld & friends : Depardieu : the Jeans Reno and Dujardin enjoy, arguably, the best hamburgers (tuna/veggie/beef etc) in town, certainly the warmest welcome from Christian Laval and Ben Matthews.
Let's begin with Ralph's desserts in le courtyard jardin, rose bushes, greenery, a stag, nailed to the wall, watches, he looks hungry ! On the next table the waiter, from central casting, carefully places a china RL plate, a single candle burns on a Brownie : NY style cheesecake topped with fruits and berries : Carrot Cake and Apple Pie with ice cream. The table chant Happy Birthday and it's heads down for an orgasmic dessert experience.
Great place to celebrate n'est ce pas ? The atmosphere's Private Club and/or shut your eyes, Ralph and Ricky have invited you over.
« Just a few close personals », his people tell your people. So, you rock up, wearing, bien sûr, top to toe RL, and admire the decor, so simple, yet so elegant. Sheesh ! you say to Ashton, « who'd ever believe he was born Ralph Lipshitz in da Bronx and, to-day, reckons he's a UHNWI (ultra high net worth individual) worth about $7.5 billion ! » However, no sign of Ralph or Ricky, so let's order.
The staff are immaculate, dressed by RL, as are the tables. Begin with a Palm Beach Breeze cocktail : Rosé wine, Grapefruit, Lemon Juice, Cointreau, perfect with the wicked deep fried olives. The stag stares !
« But I only want a salad » This is salad central, chef Nicolas Zanel suggests, say, Hamptons Sesame Crusted Fresh Tuna Salad : Lobster Salad : Maryland Crab Cakes : Slow cooked Santa Fe style soup : Grilled Main Lobster : Caesar Salad : Club Sandwich and « Where's the Beef ? » here baby, here. The most exquisite cuts flame grilled, as you like it. Order chips (fries) with everything, the best in town.
Impressive wine card, but stay American, especially when Francis Ford Coppola's
Zinfandel, Diamond Collection 2012 (48€) is available.
Ralph's Restaurant, launched four years ago, has always played to packed houses, and although there's no sign of Ralph, or Ricky, you leave with the definite feeling that their savvy spirit reigns supreme, you've tapped into their UHNWorth and next time a problem arises you'll think, « What would Ralph and Ricky Do ? » The stag knows.
Book well ahead for :
Ralph's Restaurant,
173 Boulevard Saint Germain, 6th
M : St. Germain des Pres
T : 01 44 77 76 00
Average spend 75€ + wine
Open 7/7 Lunch/Afternoon Tea/Cocktails/Dinner
Sunday Brunch
Valet Parking
Kléopatre & Fa-Raon @ Le Bristol :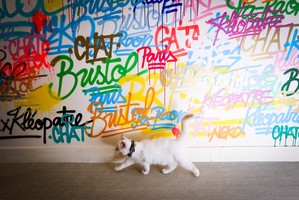 What happens when a celebrity chat appears to be lonely? In France when you're invited to dinners/gallery openings etc., they always ask, "serez-vous accompagné?".  Imagine Fa-Raon's predicament, going solo .
"No worries, the problem is now solved with the arrival of Kléopatre", explained Didier Calvez, President and General Director of Le Bristol, Paris, one day last week.
At this point BUZZ hesitated to ask if there's a posh cat's dating site – Meowtique!
Kléopatre, a sleek and silky Birman, "the new cat on the block" was welcomed with a hearty meow by Fa-Raon, Le Bristol's resident chat since 2010. He's often at the front desk greeting guests, zipping round the garden. Now he has a new best friend to zip with.
And, to mark the arrival of the NBF, the catz's quarters, below stairs, are being transformed by hip and happening street-artist Renk.
"Renk's decorating the walls with "CAT", written in different languages, as well as the names of our two cuties. They also have "Oscar" bow-tie collars designed by Maison Goyard, and customized medallions by Christofle", adds Monsieur Le Calvez.
Le Bristol's Executive Chef Eric Frechon says the chats are partial to a little caviar d'Aquitaine, potato purée, mackerel, milk, diluted with water, sometimes followed with a few langue du chat biscuits. "They're very playful, love to communicate", grins Frechon.
Wonder if they'll get their own e-mail addy, like Mathilda at The Algonquin?
"They're Le Bristol's mascots", grins Didier Le Calvez. Charles Dickens said: "What greater gift than the love of a cat". We're so happy they're here".
Someone tell Andrew Lloyd Webber !
Le Bristol Paris,
112 rue du Faubourg Saint-Honoré, 8th
M: Miromesnil
T: 01 53 43 43 00
Email
Buzz off with Zenderm®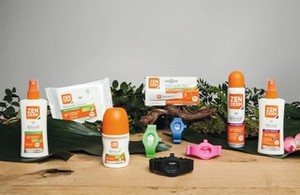 « I hate mosquitoes…I mean, I know I'm delicious but damn »
Check out Zenderm's pure, aloe-vera based paraben-free anti-mosquito lotions and potions, with essential oils, available in pharmacies and parapharmacies. My favorites ? The fun bracelet (10€), Lingettes 8.50€ roll-on 8€.50, looks like a deodorant, one swipe, you're safe for 6-hours.
Lest we forget: Merci !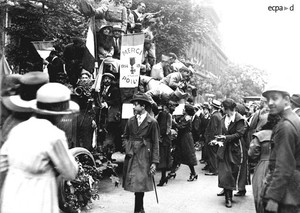 Dramatic outsize images, exhibited the length of the Rond-Pont des Champs Elysées, form an exceptional expo created by journalist Jean Claude Narcy and Historian and First World War Specialist, Jean-Pierre Verney: "The black and white panel-pictures show, behind the unit of the Unknown Soldier, the identity of ordinary heroes, men and women from all over the world, who fell during the war", said Jean-Yves Le Drian, Minister of Defence.
Merci !
100 Photos pour un Centenaire. Commemorating the First World War
Until 30 September 2014
M: Franklin D Roosevelt / Champs Elysées Clemenceau
Leave a reply
Your email address will not be published. Required fields are marked *