Jean-François Piège : Les Ombres, Terrace of the Week : News from Ladurée Buzz
The Left-Bank Universe of Jean-François Piège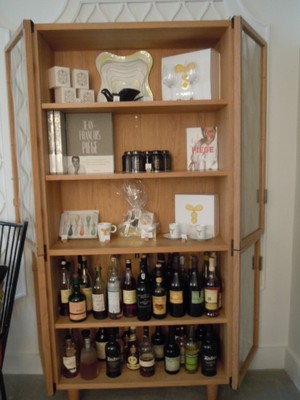 In 2010, soon after opening his eponymous first-floor restaurant adjacent to Brasserie Thoumieux, Jean-François Piège won 2-Michelin stars for his contemporary cuisine and contemporary interpretations of French gastronomy.
"It's my universe here", he said last Friday. Tall, dark, handsome, married to Elodie, his muse, he's Omnivore's  "Createur de l'Annee" : Member of the Jury on M6 Top Chef, says he doesn't need much sleep, and dreams about the next days' menu when he does drop off.
His culinary path has been strewn with luxury and creation. He's cheffed with Ducasse, Bruno Cirino, Yves Camdeborde, Christian Constant, still sees them all, all the time. "Jean-François never worried about mixing the codes of palace cuisine with bistro bites, and it works", says Camdeborde.
Thoumieux Brasserie launched in 2008, with Thierry Costes, was an immediate success, it's necessary to book well ahead for a table. The first-floor contemporary dining room, with glassed-in kitchen, seating only about 20, opened in 2010 and, in 2011, the chic and sexy Hôtel Thoumiex charmed guests. Recently, opposite, add Gateaux Thoumieux.
Piège loves his universe and it shows. Eat upstairs or downstairs and there's total commitment to the diner. It's a youthful jeans attitude, serious without pretension.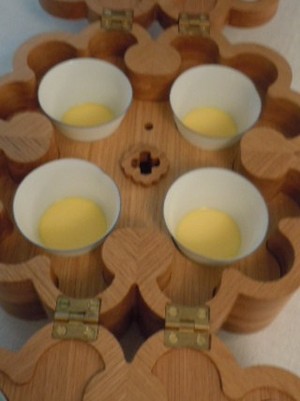 Upstairs, in the small India Mahdavi designed dining-room, woodwork and funky tableware is by Maleville the menu is "Le Regle du Jeu" and it's a delicious game.
Begin with at least 7 hot and cold hors-d'oevres. Tiny pizza soufflé, a puffed pizza cloud: Mouillette de pain/jus de crevette/avocado snow/radish: Royale de foie blond Lucien Tendret 1892/ecrivisses. Who?  No bread yet. "It spoils the appetite".
The concept (Regle du Jeu) is that you choose your main from the days' market fresh ingredients: It could be Blue Lobster steamed in blackcurrant leaves. Line caught lieu, cooked flat on the plate, nasturtium bouillon: Milk fed veal: Madame Burgaud's Challans duck with cherries, croutons des abattis etc.
Just before the main arrives, here's the warm bread, with beurre by Monsieur Bordier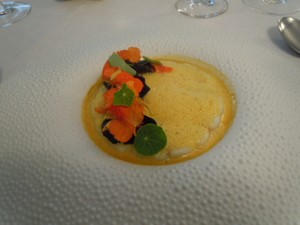 The wine card's extensive & expensive, if you don't want to splash out on the likes of Corton Charlemagne 2004 at 1954€ try the Natural white Burgundy Petit Têtu 2010 (46€) or Red Nicolas Réau Chinon/Garance/2009 (41€).
Cheese, served on raw-wood blocks by Maleville (see above) is by Monsieur Xavier of Toulouse and desserts include signature Blanc A Manger d'Oeuf: Crème aux oeufs Bergamote: Plump Roussillon apricots, poached on lime leaves, paired with thym-lemon ice cream. Tiny flower tart with raspberries and herb-piment sorbet. A glass of Eric Bordelet's cider.  An espresso and you….
Can't bear to leave: Get a Room
Hôtel Thoumieux 14 rooms décor by India Mahdavi
79 rue Saint-Dominique, 7th
M: Invalides/La Tour Maubourg
200/430€ double + best breakfast in town 25€
Or, consider:
1 night for 2 & dinner at Jean-François Piège Restaurant €850
1 night for 2 chez Brasserie Thoumieux 550€
Valet Parking
79 rue Saint-Dominique, 7th
M: Invalides/La Tour Maubourg
Terrace of the Week :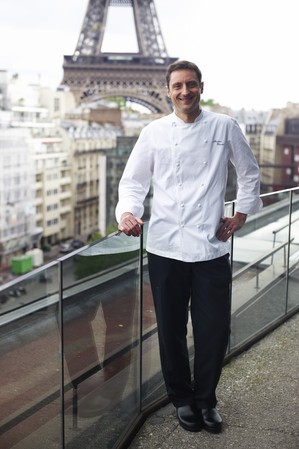 From the Eiffel Tower check out the Aboriginal rooftop installation at Quai Branly based on a black-and-white painting by Australian artist Lena Nyadbi:  a sequence of white scales undulating against a black background.
The image, based on a 1,000 year old legend, tells how diamonds appeared in the rugged red landscape of Barramundi Gap, Kimberley. Apparently three women were fishing for barramundi when one fish eluded the net, escaped through a gap in the rock shedding its' scales in the process, the scales turned into glittering diamonds!
Ms Nyadbi's work is integral to the museum's concept incorporating non-European indigenous art into the fabric of the building.
The installation was donated to the museum by Australian businessman Harold Mitchell who funded the $500,000 project in partnership with the French government and the Australia Council. Also go to:
Dreamtime Art Celebrated on Rooftops of Paris
And now, time to eat!
From the 5th floor terrace of the Jean Nouvel designed Musée de Quai Branly, check out the chic scene and new chef Frédéric Claudel (ex-Elysée Palace: Hotel Vernet: Alain Senderens, La Bauhinia, Shangri La etc).
Heading the team in the salle ever-elegant Nicolas Bourgeois (ex-Ducasse & Shangri-La) and, dressed in black and white, the servers, from all over the world, reflect the Quai Branly concept of international co-operation, with balletic grace. Beg for extra amuses of Olive Palmiers, so good with a glass of Minuty Prestige, Côte de Provence 2013.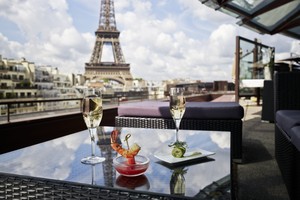 Start with Salad of Organic Tomatoes, a fine filo pastry tube filled with fresh goat's cheese, herbs, balsamic: Courgette and crab cannelloni, yuzu jelly, fennel and dill cream, granny smith apple: Lobster and peach salad. Mains include Lobster ravioli, razor clams, peas, shellfish jus: Sole Tempura style: Roast sea bass: Slow cooked salmon: Quasi de Veau, whipped potato purée, truffle jus: Filet do boeuf, onions confit. Drink Côte du Rhône 2011 from Monsieur Guigal (50€) full, round and racy.
Just one perfect cheese, Normandy Camembert de Mme Cantin served whole in its' box, what you don't eat, you take home. Nice touch. Epic cheese!
Desserts by Pascal Chanceau are spectacular. "They have to be considering the surroundings n'est ce pas?" Strawberry/Rhubarbe millefeuille, blackberry sorbet: Craquant chocolat, Guanaja cream, chocolate sponge cake, cocoa sorbet: Pistachio nougat glacé, croustillant of white chocolate, cherry sorbet avec un verre de champagne rosé. Nickel !
And, when you get back down to earth, check out Patrick Blanc's incredible, lush, vertical garden, an oasis in the middle of quai Branly.
Best to book ahead. Even at lunch it's full house.
Les Ombres – Musée du Quai Branly,
27 Quai Branly, 7th
M : Bir Hakeim /RER Pont d'Alma
Open 7/7
Lunch 32€
Dinner 68€ Menu Invitation 95€ + A La Carte
T : 01 47 53 68 00
Les Merveilleuses by Ladurée
We love Ladurées collection, restaurant, tea-rooms, scented candles « Ladurée is to pastry what Mozart is to music », says The Fork.  But did you know they have a very pretty « Marie-Antoinette » inspired collection of super-exclusive lotions and potions? Body Care, Make-up, Accessories and soon a covetable Christmas Collection. Find them at Ladurée Champs Elysées : Paris Madeleine : Paris Haussmann, chez Sephora. And, zero calories ! What's not to like ?
Leave a reply
Your email address will not be published. Required fields are marked *