Getting the Parisian Look in New York with Hairstylist Ricardo Rojas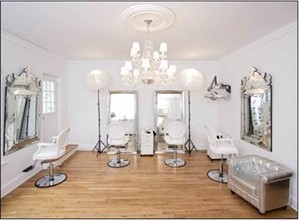 That effortless Parisian chic look?  Here's a secret: It takes a bit of work. French women may take a minimalist approach to beauty, but the key to achieving that look is making sure everything looks healthy and polished inside and out. That's where hairstylist to the stars, Ricardo Rojas comes in. Having worked in the industry for over 30 years, the Argentinian born, Ricardo Rojas has a star-studded resume. He has worked on the tresses of Anna Hathaway, Salma Hayek, Carly Simon, Amber Heard (at this year's Cannes), Christie Brinkley, Gisele Bundchen, Naomi Campbell, Jessica Chastain, and many others. For Cher's recent album, Closer to the Truth, Rojas has fitted the singing diva with a Brigitte Bardot inspired wig, with a rock n' roll twist.  He has also worked with top designers such as Versace, he has worked with John Galliano, Chanel, Dolce & Gabbana, Gaultier, and Ralph Lauren to name a few. Clearly, he knows a thing or two about hair. At his salon on Manhattan's Upper East Side, he whips locks into shape. When you find yourself inside Rojas' salon, you're not so much in a salon as an artist's atelier. And that's exactly how he sees it. Inspired by his stint with Versace in Paris, having served eight years as Donatella's personal stylist, the space has a distinct Parisian feel. It's got a white, minimalist motif, and a fresh feel, with a few touches thrown in for good measure — such the overhanging crystal chandelier and oversized mirrors.  There's clearly a great deal of care that has gone into choosing each element, and it helps transport clients to something that seems to fit in more with Paris' vivre de joie, than Manhattan's chaotic energy. Simply put, it's an oasis of sorts. In the summer, Rojas even offers his services out on the lovely patio/garden that adjoins his space. At the salon, Rojas uses Leonor Greyl products exclusively, appropriately enough a luxurious Parisian brand. Best of all: It's completely natural. The environmentally friendly line has treatments adapted to an assortment of hair and scalp conditions. Focusing on the health of the hair first and foremost, Rojas offers a special Leonor Greyl conditioning treatment (starting at $121) at his atelier. With a bit of wizardly skill, he concocts a potion (aka treatment) that's uniquely suited for each client's hair type and condition. The treatment relies on essential and botanical oils to stimulate and purify the scalp, while encouraging hair growth.  After application, each hair follicle should feel squeaky clean, but without being stripped of natural oils, of course.  The protective treatment also brings out the hair's texture (with greater separation), softness, and a more vivid color overall. After a treatment, you'll instantly feel the transformation — with all the build-up out of the way, and healthy hair in the spotlight. Rojas recommends repeating every 5 weeks or so. Rojas is convinced that oil is not the enemy, but rather a terrific friend with benefits… that benefit being good hair.  The French have been using oils for years, while North Americans are only beginning to discover it, thanks in part to
Ricardo Rojas
. 60 E 66th St, New York, NY 10065
+1 212-721-5900
SUBSCRIBE
ALREADY SUBSCRIBED?
BECOME A BONJOUR PARIS MEMBER

Gain full access to our collection of over 5,000 articles and bring the City of Light into your life. Just $60 a year.

Find out why you should become a member here.

Sign in

Fill in your credentials below.
That effortless Parisian chic look?  Here's a secret: It takes a bit of work.
French women may take a minimalist approach to beauty, but the key to achieving that look is making sure everything looks healthy and polished inside and out.
That's where hairstylist to the stars, Ricardo Rojas comes in. Having worked in the industry for over 30 years, the Argentinian born, Ricardo Rojas has a star-studded resume. He has worked on the tresses of Anna Hathaway, Salma Hayek, Carly Simon, Amber Heard (at this year's Cannes), Christie Brinkley, Gisele Bundchen, Naomi Campbell, Jessica Chastain, and many others.
For Cher's recent album, Closer to the Truth, Rojas has fitted the singing diva with a Brigitte Bardot inspired wig, with a rock n' roll twist.  He has also worked with top designers such as Versace, he has worked with John Galliano, Chanel, Dolce & Gabbana, Gaultier, and Ralph Lauren to name a few. Clearly, he knows a thing or two about hair.
At his salon on Manhattan's Upper East Side, he whips locks into shape.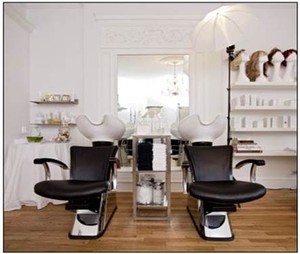 When you find yourself inside Rojas' salon, you're not so much in a salon as an artist's atelier. And that's exactly how he sees it.
Inspired by his stint with Versace in Paris, having served eight years as Donatella's personal stylist, the space has a distinct Parisian feel. It's got a white, minimalist motif, and a fresh feel, with a few touches thrown in for good measure — such the overhanging crystal chandelier and oversized mirrors.  There's clearly a great deal of care that has gone into choosing each element, and it helps transport clients to something that seems to fit in more with Paris' vivre de joie, than Manhattan's chaotic energy. Simply put, it's an oasis of sorts.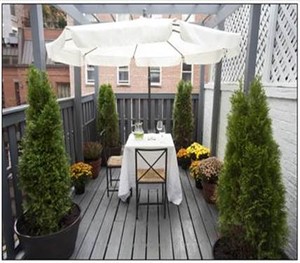 In the summer, Rojas even offers his services out on the lovely patio/garden that adjoins his space.
At the salon, Rojas uses Leonor Greyl products exclusively, appropriately enough a luxurious Parisian brand. Best of all: It's completely natural. The environmentally friendly line has treatments adapted to an assortment of hair and scalp conditions.
Focusing on the health of the hair first and foremost, Rojas offers a special Leonor Greyl conditioning treatment (starting at $121) at his atelier. With a bit of wizardly skill, he concocts a potion (aka treatment) that's uniquely suited for each client's hair type and condition.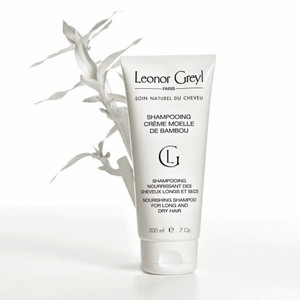 The treatment relies on essential and botanical oils to stimulate and purify the scalp, while encouraging hair growth.  After application, each hair follicle should feel squeaky clean, but without being stripped of natural oils, of course.  The protective treatment also brings out the hair's texture (with greater separation), softness, and a more vivid color overall. After a treatment, you'll instantly feel the transformation — with all the build-up out of the way, and healthy hair in the spotlight. Rojas recommends repeating every 5 weeks or so.
Rojas is convinced that oil is not the enemy, but rather a terrific friend with benefits… that benefit being good hair.  The French have been using oils for years, while North Americans are only beginning to discover it, thanks in part to Ricardo Rojas.
60 E 66th St, New York, NY 10065
+1 212-721-5900
More in beauty, Richard Rojas, salon
---
---