Peninsula, Paris : Arpege News : Lenôtre & Elodie Martins : Jeanne B Terrace of the Week Buzz
Get A Room Book now if you want to be one of the first guests at Peninsula, Paris. The former Hôtel Majestic, constructed, Haussmann style, in 1908 is located on Avenue Kleber right by the Arc de Triomphe. Four years of work by France's top artisans, orchestrated by architect Richard Martinet, and interior design signed by Henry Leung of Shhada Siembieda & Associates produce a meticulously restored and beautifully modernised hotel for century 21. 200 rooms (Oscar de la Renta freebie products) include 34 suites with terraces and gardens, feature interactive digital bedside and desk tablets, pre-set in 11 languages, all with built in nail varnish dryers!  Wow! Add 6 restaurants : the  22 meter swimming-pool, spa, fitness rooms : cigar lounge (with personal safes, to store the Cohibas) an alley of boutiques : Bespoke Limousine Service starring a 1934 Rolls-Royce Phantom, a customised Peninsula Mercedes-Benz and bespoke MINI Coopers. In the hotel's former Majestic life, during the summer of 1928, George Gershwin wrote the first notes of An American in Paris from his suite.  James Joyce, Proust, Picasso, Stravinsky, Josephine Baker, Coco Chanel were regular guests in the restaurant. It was here in 1973, in what is now Le Bar Kléber, Henry Kissinger signed the Paris Peace Accords, ending the Vietnam War, and for which he subsequently received the Nobel Peace Prize. The six-storey hotel, once owned by Queen Isabelle 11 of Spain, is a unique Parisian experience waiting to be discovered. With sublime attention to detail check out the  signature rose-flavoured goat's cheese, in hommage to Peninsula's signature rose emblem, lovingly created by
3 Freres Marchard
, perfect with a flute of Deutz champagne on the rooftop terrace darling. Stay tuned for further news. Peninsula Paris, 19 avenue Kleber, 16th M : Kleber T : 01 58 12 28 88 Double Rooms from 1,095€ per night Suites from 2395€ Hurry
here
for special introductory offer. Alain Passard : Still finding the right notes at Arpège Alain Passard's mission statement is « the art of gesture » producing all  Restaurant Arpege vegetables and herbs from his three organic country gardens. Passard's team (who have included Pascal Barbot, Bertrand Grébaut, Mauro Colagreco etc) work, heads down, like left-bank artists, musicians, sculptures, his space an atelier for discussion and creation. He pops out into the restaurant, beads of sweat on his forehead, « hey, taste this » he says offering a fragrant morsel of herby chicken. « C'est bon? » he asks. You bet, c'est bon. « It's really all about the 5 senses », he mutters, retreating to his rôtissoire. « It's all about the flame », he insists. « I learned that from my Grandmother Louise Passard » Mamy Passard's portrait takes pride of place just outside the kitchen. Sign up for lunch chez Passard and the first question asked with the arrival of his garden grown radishes, creamy Brittany Bordier butter and beer-based warm bread.  « How long have you got? » If time is not of the essence you're in for a voyage of discovery. « Any allergies? » « No ». Then it's show-time. Born 4th August, 1956 at La Guerche de Bretagne, Passard is proud of his roots, so it's only natural he designs a capsule collection of tableware, inspired by his collages. The beautiful hand-painted limited edition dishes are interpreted by Henriot, Quimper, ceramiste depuis 1690, buy them at the factory or
online
and at « L'Arrière Cuisine », Passard's sculpture/art gallery, 57 rue de Bourgogne, near the restaurant : T : 01 45 50 23 14 – 70€ per plate/240€ x four. When Passard turned his back on red meat in 2001, he created a new art form. "Again and again, you'll find that by employing a simple twist, Passard reveals a wholly unexpected side of an ingredient," says the LA Times. Chez Passard, there are as many cooks as there are gardeners in his potagers, and so that each appreciates the other's work, every now and then, the gardeners (including head gardener Sylvain Picard) come to Paris and eat in the restaurant and the cooks visit the gardens. Chez Passard, eat your vegetables, never, ever, tasted so good. Trust me! L'Arpege, Maison de Cuisine, 84 rue de Varenne, 7th M : VarenneShut Sat-Sun T : 01 47 05 09 06 Lunch & Dinner 135€/310€ + wine
Website
Let them eat cake! Meet
Elodie Martins
if she were a colour it would be baby pink, like her amazing wedding cakes : A century : the 18th, the most feminine of pâtissiers, winner of « Le Meilleur Pâtissier Amateur M6 TV 2012 » is a girly, girl, inspired by Sophia Coppola's production of Marie Antoinette. From September Elodie's haute couture pâtisseries are available chez Lenôtre where she was invited to weave her culinary fairytales by Guy Krenzer, Lenôtre's Executive Chef , Directeur de la Création. Elodie's signatures are Badou-Badou inspired by her six cats : Cage à Oiseaux, Camée Médaillon and Eat Me, very Lewis Carroll, produced in limited editions. So order early.  In the meantime Les Pâtisseries de Elodie and Mes Pâtisseries Enchantée are available
here
. From September meet Elodie and take part in gourmet workshops at Atelier de Macaron Badou Badou (3hours – 115€) in Lenôtre's kitchens, to learn the secrets of sucessful cake decoration at : 10 Avenue des Champs Elysées, 8th Reserve on 0811 656 656 or go to this
website
. Jeanne B The concept is Fréderic Hubig Schall's directed by Sébestien Maréchal, cheffed by Cyril Boulet. Inside it's light and bright with an épicerie for take away picnics on the Butte de Montmartre:  Book early for tables on the outside terrace and enjoy: Tender Challans chicken "Pates Noires" from the rôtisserie with creamy gratin dauphinoise. Croq Homard de Jeanne: Jarrret de Veau: grosses crevettes de Madagascar. And nobody minds if you order lasagne de petit pois for the table 61 rue Lepic, 18th M : Lamarck Caulincourt, T : 01 46 06 86 00 Open 7/7 Lunch 19-23€ Dinner 27€
Website
SUBSCRIBE
ALREADY SUBSCRIBED?
BECOME A BONJOUR PARIS MEMBER

Gain full access to our collection of over 5,000 articles and bring the City of Light into your life. Just 60 USD per year.

Find out why you should become a member here.

Sign in

Fill in your credentials below.
Get A Room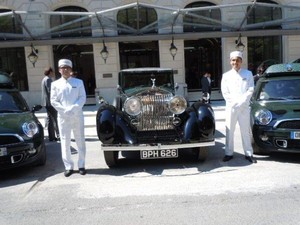 Book now if you want to be one of the first guests at Peninsula, Paris. The former Hôtel Majestic, constructed, Haussmann style, in 1908 is located on Avenue Kleber right by the Arc de Triomphe.
Four years of work by France's top artisans, orchestrated by architect Richard Martinet, and interior design signed by Henry Leung of Shhada Siembieda & Associates produce a meticulously restored and beautifully modernised hotel for century 21.
200 rooms (Oscar de la Renta freebie products) include 34 suites with terraces and gardens, feature interactive digital bedside and desk tablets, pre-set in 11 languages, all with built in nail varnish dryers!  Wow!
Add 6 restaurants : the  22 meter swimming-pool, spa, fitness rooms : cigar lounge (with personal safes, to store the Cohibas) an alley of boutiques : Bespoke Limousine Service starring a 1934 Rolls-Royce Phantom, a customised Peninsula Mercedes-Benz and bespoke MINI Coopers.
In the hotel's former Majestic life, during the summer of 1928, George Gershwin wrote the first notes of An American in Paris from his suite.  James Joyce, Proust, Picasso, Stravinsky, Josephine Baker, Coco Chanel were regular guests in the restaurant. It was here in 1973, in what is now Le Bar Kléber, Henry Kissinger signed the Paris Peace Accords, ending the Vietnam War, and for which he subsequently received the Nobel Peace Prize.
The six-storey hotel, once owned by Queen Isabelle 11 of Spain, is a unique Parisian experience waiting to be discovered. With sublime attention to detail check out the  signature rose-flavoured goat's cheese, in hommage to Peninsula's signature rose emblem, lovingly created by 3 Freres Marchard, perfect with a flute of Deutz champagne on the rooftop terrace darling.
Stay tuned for further news.
Peninsula Paris,
19 avenue Kleber, 16th
M : Kleber
T : 01 58 12 28 88
Double Rooms from 1,095€ per night
Suites from 2395€
Hurry here for special introductory offer.
Alain Passard : Still finding the right notes at Arpège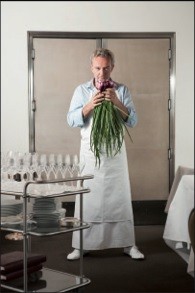 Alain Passard's mission statement is « the art of gesture » producing all  Restaurant Arpege vegetables and herbs from his three organic country gardens.
Passard's team (who have included Pascal Barbot, Bertrand Grébaut, Mauro Colagreco etc) work, heads down, like left-bank artists, musicians, sculptures, his space an atelier for discussion and creation.
He pops out into the restaurant, beads of sweat on his forehead, « hey, taste this » he says offering a fragrant morsel of herby chicken. « C'est bon? » he asks. You bet, c'est bon. « It's really all about the 5 senses », he mutters, retreating to his rôtissoire. « It's all about the flame », he insists. « I learned that from my Grandmother Louise Passard » Mamy Passard's portrait takes pride of place just outside the kitchen.
Sign up for lunch chez Passard and the first question asked with the arrival of his garden grown radishes, creamy Brittany Bordier butter and beer-based warm bread.  « How long have you got? » If time is not of the essence you're in for a voyage of discovery. « Any allergies? » « No ». Then it's show-time.
Born 4th August, 1956 at La Guerche de Bretagne, Passard is proud of his roots, so it's only natural he designs a capsule collection of tableware, inspired by his collages.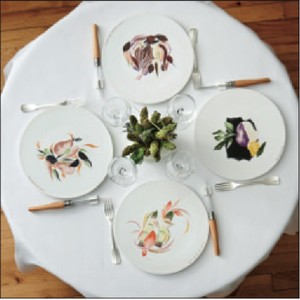 The beautiful hand-painted limited edition dishes are interpreted by Henriot, Quimper, ceramiste depuis 1690, buy them at the factory or online and at « L'Arrière Cuisine », Passard's sculpture/art gallery, 57 rue de Bourgogne, near the restaurant : T : 01 45 50 23 14 – 70€ per plate/240€ x four.
When Passard turned his back on red meat in 2001, he created a new art form. "Again and again, you'll find that by employing a simple twist, Passard reveals a wholly unexpected side of an ingredient," says the LA Times.
Chez Passard, there are as many cooks as there are gardeners in his potagers, and so that each appreciates the other's work, every now and then, the gardeners (including head gardener Sylvain Picard) come to Paris and eat in the restaurant and the cooks visit the gardens.
Chez Passard, eat your vegetables, never, ever, tasted so good. Trust me!
L'Arpege, Maison de Cuisine,
84 rue de Varenne, 7th
M : VarenneShut Sat-Sun
T : 01 47 05 09 06
Lunch & Dinner 135€/310€ + wine
Website
Let them eat cake!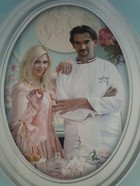 Meet Elodie Martins if she were a colour it would be baby pink, like her amazing wedding cakes : A century : the 18th, the most feminine of pâtissiers, winner of « Le Meilleur Pâtissier Amateur M6 TV 2012 » is a girly, girl, inspired by Sophia Coppola's production of Marie Antoinette.
From September Elodie's haute couture pâtisseries are available chez Lenôtre where she was invited to weave her culinary fairytales by Guy Krenzer, Lenôtre's Executive Chef , Directeur de la Création.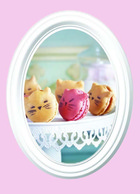 Elodie's signatures are Badou-Badou inspired by her six cats : Cage à Oiseaux, Camée Médaillon and Eat Me, very Lewis Carroll, produced in limited editions.
So order early.  In the meantime Les Pâtisseries de Elodie and Mes Pâtisseries Enchantée are available here.
From September meet Elodie and take part in gourmet workshops at Atelier de Macaron Badou Badou (3hours – 115€) in Lenôtre's kitchens, to learn the secrets of sucessful cake decoration at : 10 Avenue des Champs Elysées, 8th Reserve on 0811 656 656 or go to this website.
Jeanne B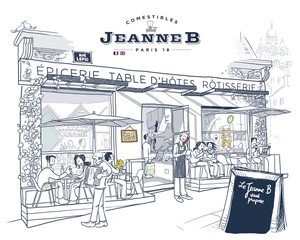 The concept is Fréderic Hubig Schall's directed by Sébestien Maréchal, cheffed by Cyril Boulet. Inside it's light and bright with an épicerie for take away picnics on the Butte de Montmartre:  Book early for tables on the outside terrace and enjoy: Tender Challans chicken "Pates Noires" from the rôtisserie with creamy gratin dauphinoise. Croq Homard de Jeanne: Jarrret de Veau: grosses crevettes de Madagascar. And nobody minds if you order lasagne de petit pois for the table
61 rue Lepic, 18th
M : Lamarck Caulincourt,
T : 01 46 06 86 00
Open 7/7
Lunch 19-23€
Dinner 27€
Website
More in Alain Passard, elodie martins, Paris, Paris hotels, Paris restaurants, patisseries
---
---