Étrangers à la Mode – fashion history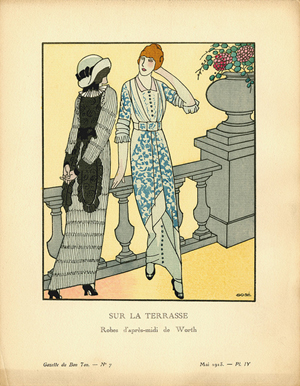 Since the 18th century France has been the leader of the fashion world for the wealthy, fashionably-dressed throughout Europe and the US. Cut off from France during the Napoleonic Wars, the English hurried back to Paris to catch up on the latest styles as soon as hostilities ceased and Americans too watched Paris for direction on all aspects of dress, from the length of their sleeve to the volume of their skirt.  Even Queen Victoria loved French silks and wore Parisian-made gowns.  And into this chic world arrived a young fashion designer from England named
Charles Frederick Worth
.  In 1858, he started his own company and within a few years he had managed to gain the attention of the Princess von Metternich, wife of the Austrian Ambassador, for whom he designed fabulous, unique gowns at massively reduced prices in order to insinuate his work into the French court. His marketing efforts paid off and he soon became the dress-maker of choice for the young and beautiful Empress Eugenie and her court. The forerunner of the Paris fashion shows, Worth is said to have been the first to produce models or samples of dresses which would be showcased before prospective clients. The House of Worth was considered the premier couturier of choice particularly among wealthy Americans, for the remainder of the 19th century. Isabella Stewart Gardner is said to have dressed exclusively at Worth for most of her life and for many in High Society trips were made to and from Paris for each season. Having established his reputation, from then on Worth required all new clients to provide a letter of introduction (as some couture houses still do today). Another foreigner to become one of the best-known couturiers in Paris, the arch-rival of Coco Chanel in the late 1920s and 1930s, was
Elsa Schiaparelli
. Born into a wealthy family in Rome, where her father taught at the University, she scandalized her very respectable family, with a publication of her poetry and was briefly put into a convent until she went on a hunger-strike. As she moved through London and New York, she gathered influential friends in High Society and the Art world, providing her with both clients and inspiration once she settled in Paris. Salvador Dali designed a printed fabric for her which looks torn, as if it had been attacked, to reveal a purple lining beneath. Schiaparelli combined this with a veil in which the tears were actually created, to reinforce the illusion. Another Schiaparelli collaboration was with Jean Cocteau who produced sketches for her which she reproduced in her designs. Perhaps the most famous is her evening coat which plays on the illusion of two facing profile faces which can also be read as a vase from which a profusion of beautiful pink roses smothers the shoulders. The embroidery for this was the work of the
Maison Lesage
, founded in the 1920s from an earlier embroidery workshop that had produced fabulous work for the House of Worth among others and who still produce the very highest quality embroideries for couture houses today. The Exhibit "Fashion Mix" from the collection of the
Musée de la Mode de la Ville de Paris
displays work by a range of 'foreign' designers who established themselves in Paris, including pieces by both Worth and Schiaparelli.  At the Musée de l'Histoire de l'Immigration until May 31st 2015
By Victoria Frank and Caroline Goldthorpe
illustrations public domain
SUBSCRIBE
ALREADY SUBSCRIBED?
BECOME A BONJOUR PARIS MEMBER

Gain full access to our collection of over 5,000 articles and bring the City of Light into your life. Just 60 USD per year.

Find out why you should become a member here.

Sign in

Fill in your credentials below.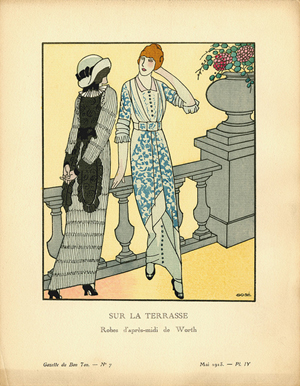 Since the 18th century France has been the leader of the fashion world for the wealthy, fashionably-dressed throughout Europe and the US. Cut off from France during the Napoleonic Wars, the English hurried back to Paris to catch up on the latest styles as soon as hostilities ceased and Americans too watched Paris for direction on all aspects of dress, from the length of their sleeve to the volume of their skirt.  Even Queen Victoria loved French silks and wore Parisian-made gowns.  And into this chic world arrived a young fashion designer from England named Charles Frederick Worth.  In 1858, he started his own company and within a few years he had managed to gain the attention of the Princess von Metternich, wife of the Austrian Ambassador, for whom he designed fabulous, unique gowns at massively reduced prices in order to insinuate his work into the French court. His marketing efforts paid off and he soon became the dress-maker of choice for the young and beautiful Empress Eugenie and her court.
The forerunner of the Paris fashion shows, Worth is said to have been the first to produce models or samples of dresses which would be showcased before prospective clients. The House of Worth was considered the premier couturier of choice particularly among wealthy Americans, for the remainder of the 19th century. Isabella Stewart Gardner is said to have dressed exclusively at Worth for most of her life and for many in High Society trips were made to and from Paris for each season. Having established his reputation, from then on Worth required all new clients to provide a letter of introduction (as some couture houses still do today).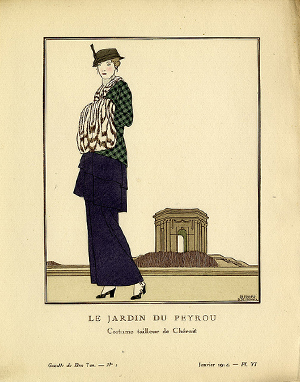 Another foreigner to become one of the best-known couturiers in Paris, the arch-rival of Coco Chanel in the late 1920s and 1930s, was Elsa Schiaparelli. Born into a wealthy family in Rome, where her father taught at the University, she scandalized her very respectable family, with a publication of her poetry and was briefly put into a convent until she went on a hunger-strike. As she moved through London and New York, she gathered influential friends in High Society and the Art world, providing her with both clients and inspiration once she settled in Paris. Salvador Dali designed a printed fabric for her which looks torn, as if it had been attacked, to reveal a purple lining beneath. Schiaparelli combined this with a veil in which the tears were actually created, to reinforce the illusion.
Another Schiaparelli collaboration was with Jean Cocteau who produced sketches for her which she reproduced in her designs. Perhaps the most famous is her evening coat which plays on the illusion of two facing profile faces which can also be read as a vase from which a profusion of beautiful pink roses smothers the shoulders. The embroidery for this was the work of the Maison Lesage, founded in the 1920s from an earlier embroidery workshop that had produced fabulous work for the House of Worth among others and who still produce the very highest quality embroideries for couture houses today.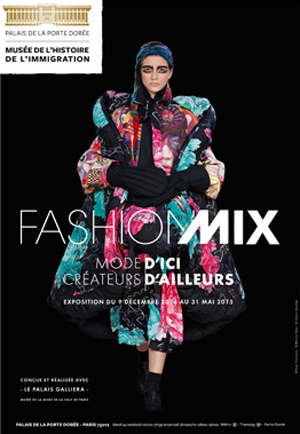 The Exhibit "Fashion Mix" from the collection of the Musée de la Mode de la Ville de Paris displays work by a range of 'foreign' designers who established themselves in Paris, including pieces by both Worth and Schiaparelli.  At the Musée de l'Histoire de l'Immigration until May 31st 2015
By Victoria Frank and Caroline Goldthorpe
illustrations public domain
More in exhibition, fashion, French fashion, Paris exhibitions, Paris fashion
---
---