Photo of the Week – November 28, 2014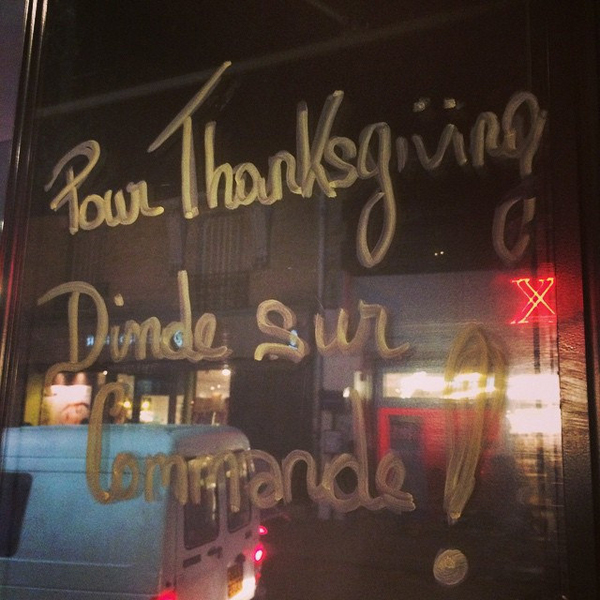 This year, I've noticed quite a few storefronts publicizing Thanksgiving day necessities. This photo is a prime example, capturing a butcher's window that reads "Pour Thanksgiving, Dinde sur Commande!" (For Thanksgiving, turkey to order). The épicerie 'Thanksgiving' in the marais is the place to go for stocking up on all Thanksgiving dinner ingredients. Harry's Bar, the oldest American bar in Paris (they recently celebrated their 100th anniversary) does a special Thanksgiving day lunch, with a menu of pumpkin soup, club sandwiches, cole slaw, pecan pie and brownies. Photo by
Stuart Mudie
via Flickr
SUBSCRIBE
ALREADY SUBSCRIBED?
SUBSCRIBE NOW TO SUPPORT BONJOUR PARIS

Support us for just $60 a year

Sign in

Fill in your credentials below.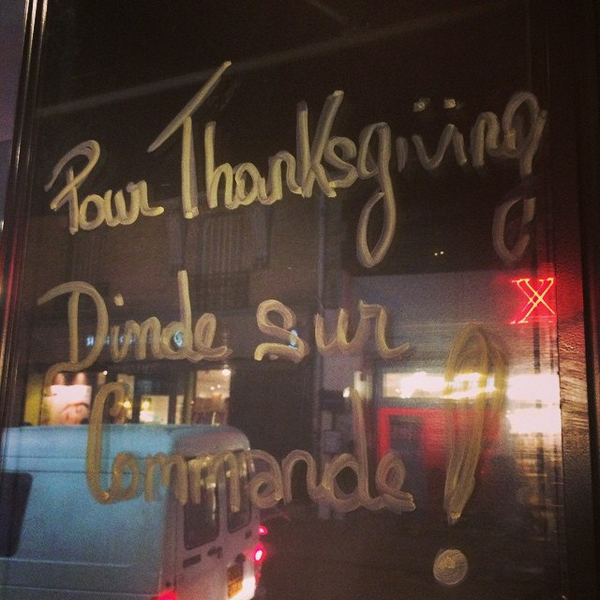 This year, I've noticed quite a few storefronts publicizing Thanksgiving day necessities. This photo is a prime example, capturing a butcher's window that reads "Pour Thanksgiving, Dinde sur Commande!" (For Thanksgiving, turkey to order). The épicerie 'Thanksgiving' in the marais is the place to go for stocking up on all Thanksgiving dinner ingredients. Harry's Bar, the oldest American bar in Paris (they recently celebrated their 100th anniversary) does a special Thanksgiving day lunch, with a menu of pumpkin soup, club sandwiches, cole slaw, pecan pie and brownies.
Photo by Stuart Mudie [CC BY-SA 2.0] via Flickr
---
---
Leave a reply
Your email address will not be published. Required fields are marked *