Shopping for inexpensive French beauty products in Paris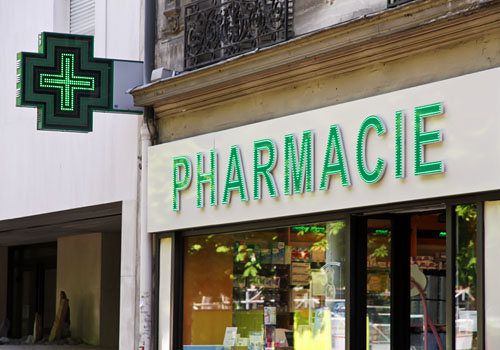 I am always astonished at the people who come to Paris to buy cosmetics and perfumes by Chanel or Dior. Why travel all that distance to buy something that is available in department stores across North America and the U.K.? Sure, it's fun to wander through the Chanel store on the rue Cambon to see the famous mirrored staircase and the Dior emporium on the avenue Montaigne (take a look at the wonderful ceiling) and there is no question that the products they sell are superb, but if you want to find something a bit more distinctive while saving money, you need to get off the beaten track. Here's an example. One winter day, I realized that I had left my small tube of hand-lotion back at the flat and my hands were feeling raw and dry. I looked around for the nearest green cross and popped into a Pharmacie. I explained what I wanted to the woman behind the counter, but all I really had to do was show her the state of my hands. She looked sympathetic and guided me to a display of lotions. I indicated that I wanted something purse-sized and she picked up a small tube. This was my introduction to products from the Couvent des Minimes in Haute Provence.  Apparently, they originate with a 17th century botanist called Louis Feuillée who developed all kinds of healing products and travelled the world in search of plants. Now where else are you going to get a history like that with your hand cream? More joys await in the city's many parapharmacies. Try Parashop (many branches throughout the city) or Citypharma (26 rue du Four, 6th arrondissement). These places are shopping heaven for cosmetics and skin care products. The products are arranged by brand, and the choice can be overwhelming. I generally aim for an unfamiliar brand, and stock up on gifts and useful items such as eye cream, make-up remover, or lip balm. This is the place to find the full range of products from French brands such as Avène, Caudalie, Klorane, La Roche Posay, Nuxe, and Vichy. Since all the products seem to be of excellent quality, you may find yourself simply choosing something with attractive packaging that will look good on the bathroom counter. You should also consider buying products from familiar international brands, because the European formulations may be higher quality than those available elsewhere. Since European consumers are very demanding about the quality of beauty products, some manufacturers reserve their best quality formulations for this market. The range of products may also be different from what you can find at home. Next stop, for the basics: good old Monoprix. I stock up on shampoo by Le Petit Marseillais, ear plugs by Quies, soap from Cadum, toothbrushes from Fluocaril, bath products from Le Petit Olivier, and house brand items like purse-sized packages of tissues and bottles of hand sanitizer. You need not spend a fortune, but you can make your beauty routines almost completely French, and that can give you a lift on a dull day when you are back at home. With what you save, you'll still be able to buy that bottle of Chanel perfume or that Dior lipstick anyway! Philippa Campsie, with her husband Norman Ball, write the blog Parisian Fields. The blog covers everything from Paris history to today's street scenes. All photos © Rachael Woodson  
Subscribe
for FREE weekly newsletters. BonjourParis has been a leading France travel and French lifestyle site since 1995.
SUBSCRIBE
ALREADY SUBSCRIBED?
BECOME A BONJOUR PARIS MEMBER

Gain full access to our collection of over 5,000 articles and bring the City of Light into your life. Just 60 USD per year.

Find out why you should become a member here.

Sign in

Fill in your credentials below.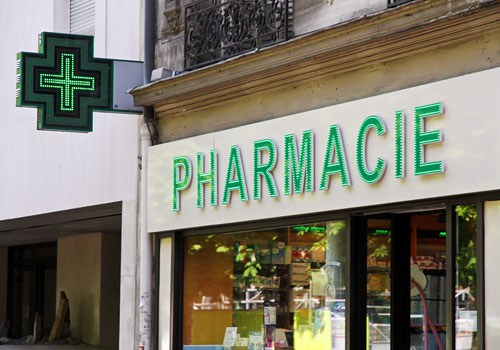 I am always astonished at the people who come to Paris to buy cosmetics and perfumes by Chanel or Dior. Why travel all that distance to buy something that is available in department stores across North America and the U.K.?
Sure, it's fun to wander through the Chanel store on the rue Cambon to see the famous mirrored staircase and the Dior emporium on the avenue Montaigne (take a look at the wonderful ceiling) and there is no question that the products they sell are superb, but if you want to find something a bit more distinctive while saving money, you need to get off the beaten track.
Here's an example. One winter day, I realized that I had left my small tube of hand-lotion back at the flat and my hands were feeling raw and dry. I looked around for the nearest green cross and popped into a Pharmacie. I explained what I wanted to the woman behind the counter, but all I really had to do was show her the state of my hands. She looked sympathetic and guided me to a display of lotions. I indicated that I wanted something purse-sized and she picked up a small tube.
This was my introduction to products from the Couvent des Minimes in Haute Provence.  Apparently, they originate with a 17th century botanist called Louis Feuillée who developed all kinds of healing products and travelled the world in search of plants. Now where else are you going to get a history like that with your hand cream?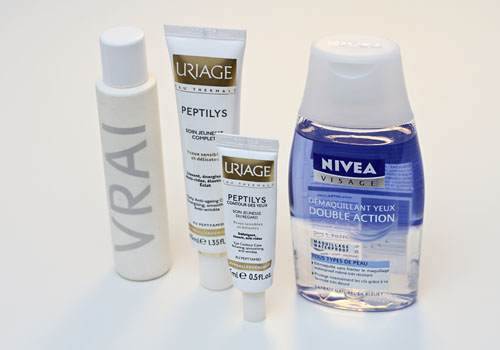 More joys await in the city's many parapharmacies. Try Parashop (many branches throughout the city) or Citypharma (26 rue du Four, 6th arrondissement). These places are shopping heaven for cosmetics and skin care products. The products are arranged by brand, and the choice can be overwhelming. I generally aim for an unfamiliar brand, and stock up on gifts and useful items such as eye cream, make-up remover, or lip balm.
This is the place to find the full range of products from French brands such as Avène, Caudalie, Klorane, La Roche Posay, Nuxe, and Vichy. Since all the products seem to be of excellent quality, you may find yourself simply choosing something with attractive packaging that will look good on the bathroom counter.
You should also consider buying products from familiar international brands, because the European formulations may be higher quality than those available elsewhere. Since European consumers are very demanding about the quality of beauty products, some manufacturers reserve their best quality formulations for this market. The range of products may also be different from what you can find at home.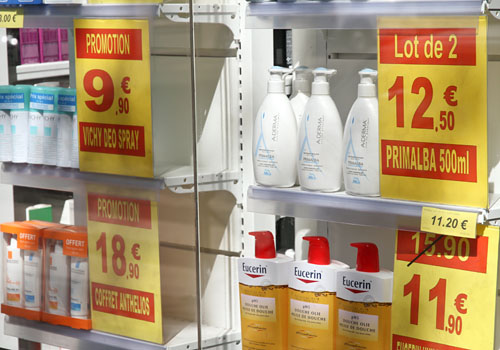 Next stop, for the basics: good old Monoprix. I stock up on shampoo by Le Petit Marseillais, ear plugs by Quies, soap from Cadum, toothbrushes from Fluocaril, bath products from Le Petit Olivier, and house brand items like purse-sized packages of tissues and bottles of hand sanitizer. You need not spend a fortune, but you can make your beauty routines almost completely French, and that can give you a lift on a dull day when you are back at home.
With what you save, you'll still be able to buy that bottle of Chanel perfume or that Dior lipstick anyway!
Philippa Campsie, with her husband Norman Ball, write the blog Parisian Fields. The blog covers everything from Paris history to today's street scenes.

All photos © Rachael Woodson

Subscribe for
FREE

weekly newsletters.
BonjourParis has been a leading France travel and French lifestyle site since 1995.
More in discount shopping, Paris shopping, pharmacies, pharmacy, Shopping
---
---