Les Bonnes Nouvelles à la Marché de Noël
Noël, the French word for Christmas comes from the French phrase, "Les Bonnes Nouvelles" or "The Good News".  In SW France, particularly in the rural farming communities of the Gers department, where I live, the good news is a good harvest at the end of the year.  This celebration usually begins the first weekend in December with the opening of the Christmas markets,  Marché de Noël. Nobody seems to celebrate Christmas better than the French and while Paris, Lille and Strasbourg are known to have the most spectacular, albeit commercial markets attracting visitors and shoppers throughout Europe, the small, sleepy villages of the southwest, by contrast, are delightful, homegrown family affairs. Recently,  I visited Christmas markets in three nearby villages.  On the first of December, a bitterly cold day. I bundled up and drove to Éauze, the capital of the Armangnac district.  Sparkling blue and white lights and Christmas decorations filled the village square. The market was held in the local school courtyard. Père Nöel, Father Christmas, Santa Claus, greeted everyone at 11 in the morning as the gates to the school opened.  There were rides for children, crepes sizzling on burners. and local Armagnac to savor.  Parents sold arts and crafts made by other parents and local artisans, as well as fois gras, chocolates, wine and pastries.  I purchased bags of bio herbs and teas for mere centimes which would make great stocking stuffers. Everyone ate and drank and had a wonderful time and after a while, the frosty air didn't bother. The following day, Sunday the second of December, I woke up early.  I'd read on signs posted along the road there were two Christmas markets and I wanted to have enough time to attend both.  The first, in the very small village of Estang, began at 9:30 and was held in the Mayor's, Mairie's, building.  From the outside this building is very plain, but inside it was a complete surprise.  There were festive Christmas decorations and music blared from the loudspeaker.  The quality of the items for sale was superb. Handmade linens – table clothes, napkins, aprons in bright Basque stripes caught my eye first. I purchased 2 full bags worth as I knew they were one of a kind and would make special gifts. Then, I was pulled towards lavender sachets, their scent as strong as anything I'd smelled in Provence. On the next table over were hand tooled leather goods – wallets, bags, purses and belts of exceptional quality.  I bought three small leather wallets with brass grommets for 5 euros each.  My Christmas present list was dwindling fast. By 10:30, I had seen everything I'd wanted to and sampled enough wine on an empty stomach to make a full glass, so I left for the village of Labastide d'Armagnac, where I knew they had a wonderful bakery with baked goods that would absorb the morning alcohol. Labastide d'Armagnac, just over the boundary in the Landes department, is one of my favorite villages, just a 20 minute drive from Estang.  Its arcaded square was full of Christmas displays from antiques to Armagnac, boasting one of the best Armagnacs in the region, Laberdolive. Laberdolive is served by the finest restaurants in Paris and the favorite of former Président Jacques Chirac.  One of the best restaurants in the area, Labastignac, was open selling hot cups of coffee and I went there straight away.  The terrace was full, so I ducked into their epicerie next door which is a delight in itself.  Wood paneled walls filled with local wines, confitures, chocolates and fois gras are displayed on bookshelves, evoking a feeling a stepping into an old general store.  One of my friends, Antoinette, the epicerie manager, was too busy with customers for a quick chat, so I walked down the street towards the bakery and waited in a line that was out the door. I bought a few warm, buttery croissants and pain aux raisins. By the time I returned to the epicierie, Antoinette was free.  She offered me a free sample of delicious espresso and I sat at one of 2 tiny tables to enjoy the coffee, a pain aux raisin and chat, while Bing Crosby crooned Christmas songs discretely over the stereo speakers. "Les Bonnes Nouvelles", the good news for this village was an influx of Italians hired to work on a new gas pipeline who desperately needed lodgings for several months.  Within fifteen minutes the next wave of people crammed into the small space.  I gave up my seat to a woman with two small children and left, hoping nothing inside the epicerie would be broken. I circled the arcade, finished my shopping and went home, fully satisfied with the purchases I'd made and the holiday experiences I had. The ancient traditions of these farming communities are still practiced, though slightly changed by the times.  The Sapin de Noël, Christmas fir tree, first appeared in France in 1837.  They were decorated with ribbons, paper flowers and apples.  Some people still cling to the old ways and choose to decorate their trees in this fashion, rather than using tinsel and ornaments made in China,  like my only neighbor, whose family has lived and farmed the same surrounding hectares for five generations. These trees fill homes, offices, schools, village squares, shops and wineries.  And children still put their shoes in front of the fireplace hoping Père Noël will fill them with treats. Locally grown mistletoe is hung over doors to bring good fortune and nearly every home displays a Creche or nativity scene. Although few still feel obliged to attend Midnight Mass, for most the gathering of brothers, sisters, aunts, uncles, grandparents, in-laws and the amicably divorced, is the highlight of the season, called Le Reveillon. This reunion of family and good friends, takes place after midnight in a home brimming with gastronomic delights and good cheer.  Fois gras, every…
SUBSCRIBE
ALREADY SUBSCRIBED?
BECOME A BONJOUR PARIS MEMBER

Gain full access to our collection of over 5,000 articles and bring the City of Light into your life. Just 60 USD per year.

Find out why you should become a member here.

Sign in

Fill in your credentials below.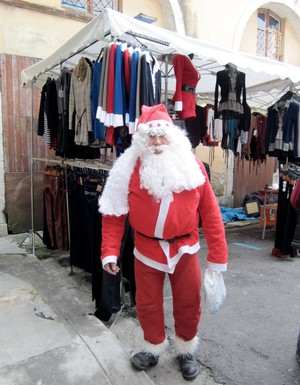 Noël, the French word for Christmas comes from the French phrase, "Les Bonnes Nouvelles" or "The Good News".  In SW France, particularly in the rural farming communities of the Gers department, where I live, the good news is a good harvest at the end of the year.  This celebration usually begins the first weekend in December with the opening of the Christmas markets,  Marché de Noël. Nobody seems to celebrate Christmas better than the French and while Paris, Lille and Strasbourg are known to have the most spectacular, albeit commercial markets attracting visitors and shoppers throughout Europe, the small, sleepy villages of the southwest, by contrast, are delightful, homegrown family affairs.
Recently,  I visited Christmas markets in three nearby villages.  On the first of December, a bitterly cold day. I bundled up and drove to Éauze, the capital of the Armangnac district.  Sparkling blue and white lights and Christmas decorations filled the village square. The market was held in the local school courtyard. Père Nöel, Father Christmas, Santa Claus, greeted everyone at 11 in the morning as the gates to the school opened.  There were rides for children, crepes sizzling on burners. and local Armagnac to savor.  Parents sold arts and crafts made by other parents and local artisans, as well as fois gras, chocolates, wine and pastries.  I purchased bags of bio herbs and teas for mere centimes which would make great stocking stuffers. Everyone ate and drank and had a wonderful time and after a while, the frosty air didn't bother.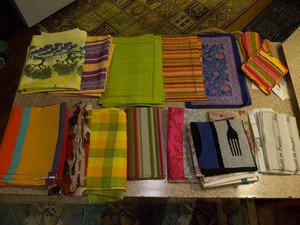 The following day, Sunday the second of December, I woke up early.  I'd read on signs posted along the road there were two Christmas markets and I wanted to have enough time to attend both.  The first, in the very small village of Estang, began at 9:30 and was held in the Mayor's, Mairie's, building.  From the outside this building is very plain, but inside it was a complete surprise.  There were festive Christmas decorations and music blared from the loudspeaker.  The quality of the items for sale was superb. Handmade linens – table clothes, napkins, aprons in bright Basque stripes caught my eye first. I purchased 2 full bags worth as I knew they were one of a kind and would make special gifts. Then, I was pulled towards lavender sachets, their scent as strong as anything I'd smelled in Provence. On the next table over were hand tooled leather goods – wallets, bags, purses and belts of exceptional quality.  I bought three small leather wallets with brass grommets for 5 euros each.  My Christmas present list was dwindling fast. By 10:30, I had seen everything I'd wanted to and sampled enough wine on an empty stomach to make a full glass, so I left for the village of Labastide d'Armagnac, where I knew they had a wonderful bakery with baked goods that would absorb the morning alcohol.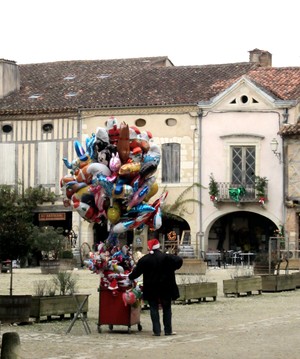 Labastide d'Armagnac, just over the boundary in the Landes department, is one of my favorite villages, just a 20 minute drive from Estang.  Its arcaded square was full of Christmas displays from antiques to Armagnac, boasting one of the best Armagnacs in the region, Laberdolive. Laberdolive is served by the finest restaurants in Paris and the favorite of former Président Jacques Chirac.  One of the best restaurants in the area, Labastignac, was open selling hot cups of coffee and I went there straight away.  The terrace was full, so I ducked into their epicerie next door which is a delight in itself.  Wood paneled walls filled with local wines, confitures, chocolates and fois gras are displayed on bookshelves, evoking a feeling a stepping into an old general store.  One of my friends, Antoinette, the epicerie manager, was too busy with customers for a quick chat, so I walked down the street towards the bakery and waited in a line that was out the door. I bought a few warm, buttery croissants and pain aux raisins. By the time I returned to the epicierie, Antoinette was free.  She offered me a free sample of delicious espresso and I sat at one of 2 tiny tables to enjoy the coffee, a pain aux raisin and chat, while Bing Crosby crooned Christmas songs discretely over the stereo speakers. "Les Bonnes Nouvelles", the good news for this village was an influx of Italians hired to work on a new gas pipeline who desperately needed lodgings for several months.  Within fifteen minutes the next wave of people crammed into the small space.  I gave up my seat to a woman with two small children and left, hoping nothing inside the epicerie would be broken. I circled the arcade, finished my shopping and went home, fully satisfied with the purchases I'd made and the holiday experiences I had.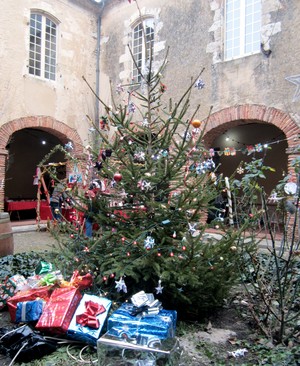 The ancient traditions of these farming communities are still practiced, though slightly changed by the times.  The Sapin de Noël, Christmas fir tree, first appeared in France in 1837.  They were decorated with ribbons, paper flowers and apples.  Some people still cling to the old ways and choose to decorate their trees in this fashion, rather than using tinsel and ornaments made in China,  like my only neighbor, whose family has lived and farmed the same surrounding hectares for five generations. These trees fill homes, offices, schools, village squares, shops and wineries.  And children still put their shoes in front of the fireplace hoping Père Noël will fill them with treats. Locally grown mistletoe is hung over doors to bring good fortune and nearly every home displays a Creche or nativity scene.
Although few still feel obliged to attend Midnight Mass, for most the gathering of brothers, sisters, aunts, uncles, grandparents, in-laws and the amicably divorced, is the highlight of the season, called Le Reveillon. This reunion of family and good friends, takes place after midnight in a home brimming with gastronomic delights and good cheer.  Fois gras, every manner of canard, oysters, wines, cheeses and winter vegetables are served in abundance.  Dessert is usually a Buche de Noël, Yule Log or a Galette de Roi, King's Cake, amongst twelve other desserts symbolizing Christ and the twelve apostles at the Last Supper.  Everyone seated around the table is encouraged to sample all thirteen to bring good luck the following year. Only the French seem to be able to morph religious symbolism into a culinary sweet dream.
After Le Reveillon, a candle is left burning in the window in case the Virgin Mary passes by.  Christmas presents will be exchanged and gifts given to the poor on Christmas day. All will sleep well, nestled in their beds, dreaming of sugared plums and the new year still ahead.
Note: Most Christmas markets in the SW are listed online, however, the smaller villages only post handmade signs along the road.

Subscribe for
FREE

weekly newsletters.
BonjourParis has been a leading France travel and French lifestyle site since 1995.
Readers' Favorites: Top 100 Books, imports & more at our Amazon store
We update our daily selections, including the newest available with an Amazon.com pre-release discount of 30% or more. Find them by starting here at the back of the Travel section, then work backwards page by page in sections that interest you.
Current favorites, including bestselling Roger&Gallet unisex fragrance Extra Vieielle Jean-Marie Farina….please click on an image for details.
Click on this banner to link to Amazon.com & your purchases support our site….merci!
More in holiday, marche, Shopping
---
---