For Devotees of Needlepoint and Quilting – Two Terrific Shops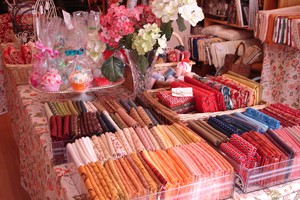 When the average person walks into a shop, they see the merchandise displayed and the people behind the counter. Little do they know of the lifetime of experience, talent, devotion, and sheer hard work that have gone into making the shop a success. There are two shops around the corner from each other just off the Quai de Montebello on the Left Bank in the Paris 5th whose founders fit that mold.
The first is Tapisseries de la Bûcherie, located at 2, rue du Haut Pavé, which is devoted to needlepoint; and the second is Le Rouvray, located at 6, rue des Grands Degrès, which is devoted to patchwork and quilting. Both shops were founded by women who are recognized as among the best in their respective métiers.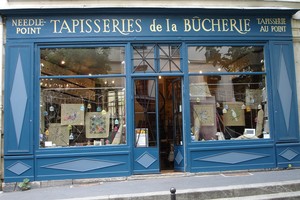 Tapisseries de la Bûcherie is owned and run by Madame Dominique Siegler-Lathrop. The shop derives its name from its first location on rue de la Bûcherie, where it was opened in 1990. It moved to its current location in 1995.
Madame Siegler-Lathrop designs many of the needlepoint patterns for sale in her shop, and hires artists to paint her designs on canvas. She currently has over 2,000 designs in her catalogue.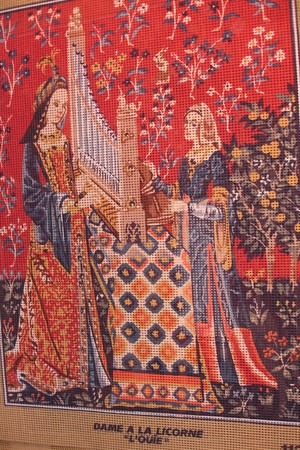 Madame Siegler-Lathrop, who was born in France, lived in the United States for 42 years and speaks English like a native. She thinks that needlepoint in the United States is different from the needlepoint she creates; in the United States, needlepoint is more a craft, whereas she considers her canvases more painterly and artistic. In fact, she considers needlepoint "painting with wool," and the execution of the design is of the highest artistry and quality, as is the all-important wool she sells in her shop – 450 colors in all. It is made in Aubusson, the French town famously known for tapestry manufacture in the 17th and 18th centuries.
Madame Siegler-Lathrop has authored two books on needlepoint. Her first, Les Secrets de la tapisserie à l'aiguille (The Secrets of Needlepoint: Techniques and Stitches), is unfortunately out of print in English, but her second, Tons et Textures (Tones and Textures), coauthored with Jeanne Mougenot, is due out in January. The text will be in both French and English.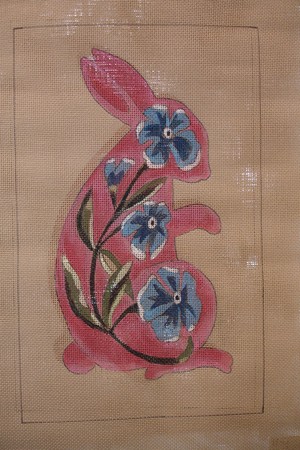 The website provides information on the decorative styles of the patterns the shop carries, which include French Medieval, Louis XIII through Louis XVI, Empire, and modern. Motifs include people, animals, flowers, fruits, and vegetables.
The kits the shop sells contain everything needed to complete a needlepoint project – canvas, wool, needles, and explanations of stitches. All are also available on the website.
Madame Siegler-Lathrop gives lessons, which can be arranged by contacting the shop, and the website contains several instruction videos that will help beginners get started and more advanced needlepointers complete their projects.  Classes include the necessary materials – frame, painted canvas, wool, needles – and instruction. The class that teaches the French technique of needlepoint is 200 euros, and will give the student a solid foundation for making cushions, pillows, chair covers, and footstools. The class that teaches the Gobelin and Hungarian stitches is 150 euros, and will enable the student to needlepoint smaller items such as box covers, book covers, panels, and purses.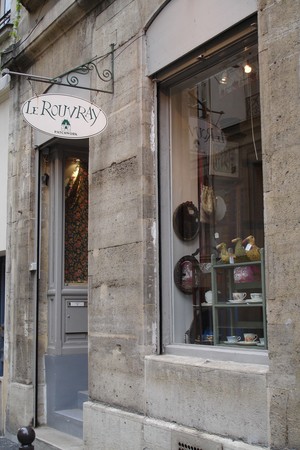 Le Rouvray is owned and run by Madame Diane de Obaldia, who is American but who has lived in France most of her adult life. The name of the shop is derived from the name of a farm she lived near in Normandy – Le Rouvray – which itself is derived from the medieval French word, rouvré, which means oak.
Madame de Obaldia grew up in Michigan and learned sewing from her mother, and from her grandmother in Tennessee she learned patchwork, which entails sewing "patches" or pieces of fabric together to make a larger project, and quilting, which is sewing the quilt layers together.  She also modeled at Chanel, Pierre Cardin, and Dior. She had never dreamed of opening a patchwork and quilting shop, but life sometimes has a way of showing us what it wants us to do, and through a series of circumstances and luck, which you can read about on the shop's website, Madame de Obaldia ended up not only opening such a shop – forty years ago – but also becoming one of the catalysts of widespread interest in patchwork and quilting in France.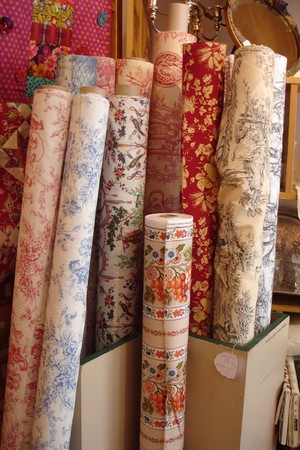 Le Rouvray carries several hundred high-quality French, American, English, and Japanese fabrics, including a number designed by Madame de Obaldia. They are all 100 percent cotton and come in various weights that can be used for curtains, clothing, furniture, handbags and, of course, quilting. The price is 18 euros (about $23) per meter (39 inches), and widths vary from 45 to 60 inches.
Besides fabric, the shop sells kits for quilts, at 150 euros (about $188 dollars), and handbags, at 26 euros (about $33), and other decorative objects. All are available via email or telephone.
Madame Obaldia works with several designers, and articles about them all appeared this spring in three quilting magazines – "Quilt Mania: Le Magazine du Patchwork," "Les Nouvelle: Patchwork et Création Textile," and "Magic Patch."
Because of the location of these shops – on the Left Bank just across the Seine from the southern flank of Notre Dame – both Tapisseries de la Bûcherie and Le Rouvray receive visitors from all over the world, testament to the worldwide interest in needlepoint and quilting. Because of the reputation of these shops among aficionados, many people make the shops a destination on their visit to Paris.
Whether you are a beginner or expert needlepointer or quilter, or just looking for a unique gift for someone who is, these shops should be on your Paris itinerary.
Tapisseries de la Bûcherie
2, rue du Haut Pavé, 5th
In France: 01 40 46 87 69
06 03 47 80 87
International: + (33) (0) 1 40 46 87 69
+ (33) (0) 6 03 47 80 87
Metero: Maubert Mutualité (Line 10), Saint Michel Notre-Dame (Line 4), Cité (Line 4)
Bus: 24, 47, 63, 86
Open: Mon–Sat 2pm–7 pm
Call or email for special appointments
Website (in both French and English)
Le Rouvray
6, rue des Grands Degrès, 5th
In France: 01 43 25 00 45
International: + (33) (0) 1 43 25 00 45
Metero: Maubert Mutualité (Line 10), Saint Michel Notre-Dame (Line 4), Cité (Line 4)
Bus: 24, 47, 63, 86
Open: Tues–Fri 1pm–7 pm; Sat 2pm–6 pm
Email

Subscribe for
FREE

weekly newsletters.
BonjourParis has been a leading France travel and French lifestyle site since 1995.
Readers' Favorites: Top 100 Books, imports & more at our Amazon store
We update our daily selections, including the newest available with an Amazon.com pre-release discount of 30% or more. Find them by starting here at the back of the Travel section, then work backwards page by page in sections that interest you.
Current favorites, including bestselling Roger&Gallet unisex fragrance Extra Vieielle Jean-Marie Farina….please click on an image for details.
Click on this banner to link to Amazon.com & your purchases support our site….merci!
Leave a reply
Your email address will not be published. Required fields are marked *