All That Glitters is Biarritz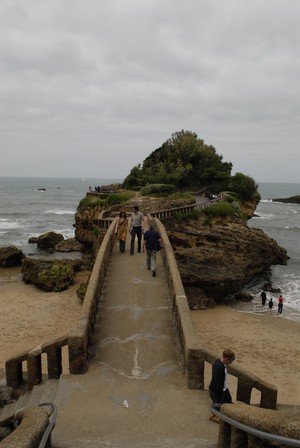 The Basque village of Biarritz was a glittering resort at the end of the 19th century.  Initially used as a port city by the Phoenicians for their trade route to England, Biarritz is said by the locals to mean, "Safe Harbor."  Before the 1860's, Biarritz was a very simple fishing village, but in the Middle Ages it was the heart of the Basque whaling industry.  Whales, once common in the Bay of Biscay, were hunted out of the area by the Basques, using their invention, the harpoon.  Basque history asserts that it was they who discovered Newfoundland in the 14th century after following the whales there and possibly other parts of the Americas.  So admired was their nautical prowess, even Christopher Columbus used a Basque navigator on his voyages.  However, by the 1800's Biarritz veered away from whaling as a mainstay and turned itself, instead, into a holiday resort by the sea.
Eugénia Maria, de Montjo de Guzmán, a seductive blonde, who at an early age became known as the only woman who didn't sleep with Napoléon III until they were married, frequently vacationed at the Biarittz seaside before she became Empress Eugénia and continued to do so after she was married by having the summer court on the beach.  Royal families followed as did grand hotels, stylish villas, casinos and eventually celebrities.  Empress Eugénia was a smart woman who captured the essence of the Second Empire.  She created the cult of fashion in Paris by making the House of Worth the first celebrity couturier and spawn the modern standard of the highly polished blonde personified by Marilyn Monroe.  As historian Edith Saunders has written in her book, A Distant Summer , "…To look like a film star is the dream of the present day woman of the post industrial age.  In 1855, however, every woman dreamed of looking like Eugénie."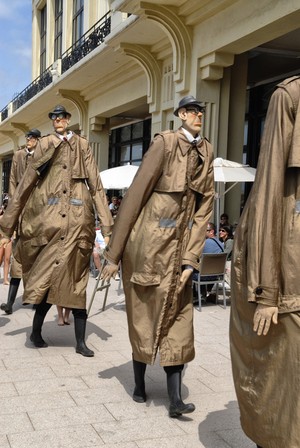 During the Belle Epoque, thousands of people visited glittering Biarritz. In 1918 Picasso arrived, followed by Cocteau and Hemingway in the 20's.  The German occupation and the Allied bombing wrecked havoc on Biarritz and from then on the town has rejuvenated and preserved over 800 buildings. Frank Sinatra arrived with Rita Hayworth and Marilyn Monroe in the 1950's.  Soon after, Hollywood embraced Biarritz as one of its glittering incognito getaways.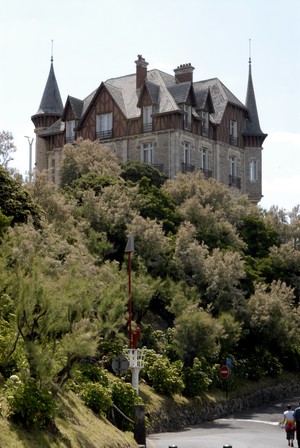 There is much to recommend Biarritz as a destination.  There are 10 golf courses and two Thalassotherapy Spas that use salt water to heal stress, reduce disease recovery time or simply pamper the guests. The Rocher de Vierge is the best place to stroll above the pounding sea while surfing lessons on the Grand Plage can be taken from one of 5 different schools.  There are museums and a mix of eclectic mansions to see.  Shops and restaurants line the promenade offering delicious meals and unexpectedly bizarre sidewalk shows.  Accommodations range from six luxury hotels to 65 modest ones and there is virtually no camping in close proximity, so pack your tent and gear away. Should you be looking for an off season spot to relax or recuperate, Biarritz turns, once again, into the safe harbor of its past where peace and quiet abound.

Subscribe for
FREE

weekly newsletters.
BonjourParis has been a leading France travel and French lifestyle site since 1995.
Readers' Favorites: Top 100 Books, imports & more at our Amazon store
We update our daily selections, including the newest available with an Amazon.com pre-release discount of 30% or more. Find them by starting here at the back of the Travel section, then work backwards page by page in sections that interest you.
Current favorites, including bestselling Roger&Gallet unisex fragrance Extra Vieielle Jean-Marie Farina….please click on an image for details.
Click on this banner to link to Amazon.com & your purchases support our site….merci!
Leave a reply
Your email address will not be published. Required fields are marked *