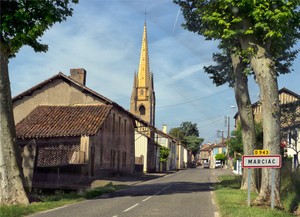 Celebrating its 35th year, Jazz in Marciac, is the largest jazz festival in France, and the most popular summer festival in Europe, attracting over 100,000 people in the course of 2 weeks.  This year the musical extravaganza begins on July 27 and runs through August 15th.  Marciac, a small, beautiful 13th century bastide village, southwest of Auch and northeast of Pau, turns itself inside out every year for 2 weeks, but is otherwise known for having the tallest tower in the Gers department, the 14th century Notre Dame du Marciac church, with it's spire reaching some 293 feet or 90 meters.
Originally a traditional jazz festival showcasing the best of New Orleans jazz, Marciac evolved with a more purposeful intention.  The shows, more varied and progressive, are chosen to broaden the listeners range of music appreciation.  Additions have been made to the Marciac repetoire that now include gospel, soul, rhythm & blues and free jazz. Afficianados have descended upon the village in past years from all over the world to hear the likes of Lionel Hampton, Dizzy Gillespie, Oscar Peterson, Stephane Grapelli, Michel Petrucciani, Keith Jarrett, Herbie Hancock and Ornette Coleman.  If you're lucky enough to be there on closing night, there is a not to be missed gospel mass in the church of Notre Dame du Marciac which rocks the heavens above with its joyful noise.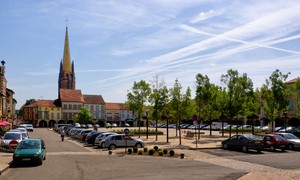 From the end of July to the middle of August thousands will hear the evening concerts or dip into side attraction shows which improvise at all hours around the main square and down cobble stoned side streets.  All day long there are free concerts and a large market for local foods and crafts as well as a lake for windsurfing.  There are a few hotels, many chambre d'hotes, and gites and if you have a car, the surrounding villages also offer good accommodations.
Marciac is the major cultural tourist attraction in Gascony.  If you love music, it is well worth going out of your way.  Some of the musicians featured this year will be: Sonny Rollins, Esperanza Spalding, Dianne Reeves, Ibrahim Maalouf, Wynton Marsalis and Harry Connick Jr.

Subscribe for
FREE

weekly newsletters.
BonjourParis has been a leading France travel and French lifestyle site since 1995.
Readers' Favorites: Top 100 Books, imports & more at our Amazon store
We update our daily selections, including the newest available with an Amazon.com pre-release discount of 30% or more. Find them by starting here at the back of the Travel section, then work backwards page by page in sections that interest you.
Current favorites, including bestselling Roger&Gallet unisex fragrance Extra Vieielle Jean-Marie Farina….please click on an image for details.
Click on this banner to link to Amazon.com & your purchases support our site….merci!
Leave a reply
Your email address will not be published. Required fields are marked *