The Ultimate Parisian Picnic Guide 2012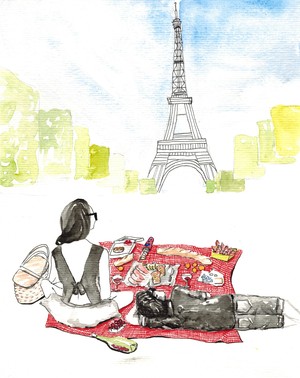 A French picnic is not only a welcome reason for friends to gather and graze, but also an unparalleled celebration of summer. Walking around any park in Paris, a picnic can be scoped out by a collective mélange of nosh spread across a patchwork of blankets, grazing adults at all levels of repose, all surrounded by an orbit of happy children. Whether seizing a sunny day on a trip to Paris or carousing up the pals, here is the ultimate Parisian picnic guide.
Le Pique-nique traditionnel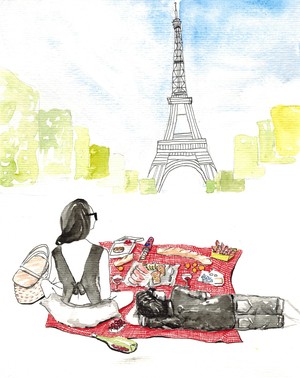 Although the Champ-de-Mars is swarmed with tourists during the summer months, under the watchful eye of the Eiffel Tower, it is still a picnic destination for traditionalists alike. Simply hop off the Metro at Ecole Militaire (line 8).
To stock up pre-picnic, cruise down the cobblestones on rue Cler, a classic pedestrian Parisian market street. It is dotted with every foodie's desire.  With a quintessential selection of butchers, fromageries, and impeccable produce, stock up on charcuterie, cheeses, and seasonal fruits and vegetables. Although it is changing, one-stop shopping is rare in France. But revel in the time-honored search for the best quality. Stock up on a barquette of tiny gariguette strawberries while they last or an early taste of this season's stone fruit at Les Quatre Saisons (4 Rue Cler 75007 Paris). Pick up a selection of French and Italian charcuterie and cheeses at the celebrated traiter, Davoli (34 rue Cler 75007 Paris). A family business for almost 100 years, there are hams hanging from the ceiling and a fine selection of beautifully-crafted and portable delicacies. For the curious picnicer in search of traditional charcuterie, try the sliced andouille de guéméné (30€50/kilo), the terrine de lapin (28€50/kilo), or œufs en gelee (3€50/each). Do not forget some olives, deliciously sweet tomates confites (31€50/kilo), and some homemade flan or crème brûlée to go. Round it out by picking up a bottle of wine and a baguette on the 5 minute walk down rue de Grenelle to Champ-de-Mars.
But for a bigger picnic party, Paris has plenty of parks to accommodate any number of picnic blankets. The Bois de Vincennes, just to the East of Paris, a quick trip from central Paris on line 1, can provide the atmosphere for any picnic. Whether on a grassy bit on the lush island on the Lac Daumesnil or in a clearing deep in the woods, the Bois de Vincennes is a welcome excuse to graze and get lost somewhere else other than Paris' jumbled city streets. For a post-picnic excursion, don't forget to explore the vast botanic gardens of the Parc Floral, the mighty fortress of the Chateau de Vincennes, and the curiously out-of-place pagoda, home of the Institut International Bouddhique.
For any serious picnic-er, Fricote Magazine (the ultimate 'zine for the "epicurian urbain" and a tasty picnic read) along with the cutlery expertise of Opinel, have officially mobilized sandwich making with "Le Sandwich Kit" (49€). A serrated knife for bread-cutting, a spreading knife for something saucy, and a traditional knife for the star of the sandwich are all rolled up in a transportable red gingham tea towel. Thrown into a picnic basket, "le sandwich kit" is the elementary toolbox for any serious sandwich maker and outdoor eating enthusiast.
Le picnic bobo.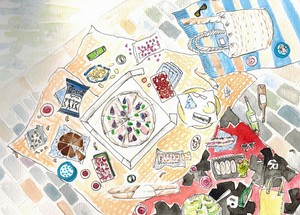 After a busy day, there is no reason to follow the traditional picnic rules. After all, anything can taste better eaten outside. Near the Canal Saint-Martin, in the 10e and 11e arrondisements, grab a few snacking supplies and supplement the rest of the picnic with an inspired takeaway pizza from Pink Flamingo (67 Rue Bichat, 75010 Paris). From l'Almodovar (a shrimp and chorizo-studded paella pizza) to La Basquiat (the gorgonzola, figue, and jambon cru incarnation), there is a pizza for every persuasion. Or pick up some fried spring rolls from Le Cambodge (10 avenue Richerand 75010 Paris). Don't forget a few beers along the way. Park the picnic on the Canal and dig in while watching the colorful people walk by.
For an astonishing view of Paris and enchanting picnic plots to choose from, the Buttes Chaumont in the19e arrondisement is a charming place to sprawl out a picnic under the sun.
Looking for a new way to experience Paris this summer? With a little creativity and planning, Paris' rich diversity and charm can be rediscovered with friends, a blanket, and whatever ends up in that picnic basket.
Jessie Kanelos is a recent American transplant to Paris. In addition to a background in costume for stage and film, having been thrown into the world's capital of gastronomy, she has recently crossed over to food styling.  She writes a Parisian expat food blog to document her adventures, observations, and recipes, which can be found at: thefrancofly.wordpress.com.  Jessie is also a talented illustrator whose work appears in this article.

Subscribe for
FREE

weekly newsletters.
BonjourParis has been a leading France travel and French lifestyle site since 1995.
Readers' Favorites: Top 100 Books, imports & more at our Amazon store
We update our daily selections, including the newest available with an Amazon.com pre-release discount of 30% or more. Find them by starting here at the back of the Travel section, then work backwards page by page in sections that interest you.
Current favorites, including bestselling Roger&Gallet unisex fragrance Extra Vieielle Jean-Marie Farina….please click on an image for details.
Click on this banner to link to Amazon.com & your purchases support our site….merci!
Leave a reply
Your email address will not be published. Required fields are marked *