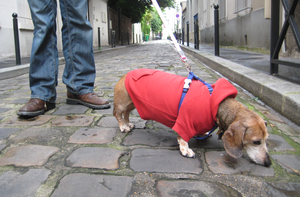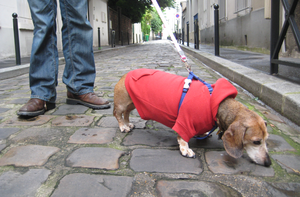 If you are considering taking a European sojourn with your dog then Paris is your ideal destination.  With its warm community of over 160,000 dog-owners, and long-founded appreciation of canine culture, the city of lights is a veritable pooch paradise.
Meet Daisy the Dachshund, a loveable Texan ex-pat who has been trotting the cobbled corners of Paris for the last 8 months. With her owner away on business, I was graced with her company for a few days and was offered a very new angle on 'la vie parisienne'. Discovering that in Paris dogs are decided royalty—owners being mere human servants— it was often difficult to ascertain which end of the lead I was on.
Paris' attachment to canines is well-known. The cliché of preened Parisian poodles is all too vivid as are the kitsch names attached to such animals; the sickliest creative depths of French affection have immortalised pet names "Fifi" and "Toutou," dashing any hopes of doggie dignity.  This patronising mentality seems fitting with the parade of dogs on show down Paris' most chic boulevards. The large majority are toy dogs—Paris may well have the most concentrated Chihuahua population in Europe— which many owners prefer to carry in designer dog bags rather than let walk independently. This has in turn lent itself to a negative view of Parisian pet owners, where dogs are seen as fashion accessories, and has spawned an industry of irresponsible sourcing of exotic pets, the likes of which can be seen most notoriously down "pet shop alley" Quai de la Mégisserie.
Such pampering does seem to have reached ridiculous heights. Paris is pregnant with grooming parlours, obedience schools for canine "betterment," and boutiques specialising in the most extravagant products in dog fashion. A real anthropomorphic nightmare, only in Paris can you buy your little pooch a prom dress, a wife-beater vest complete with macho "Top Dog" slogan, nail varnish, shoes and perfume, and then have it all carted back home in a Dog Taxi. Dogs have even infiltrated the French social networking scene with their very own dating website, where owners can arrange meet-ups, plot dog romances, and generally pant over everything "dog".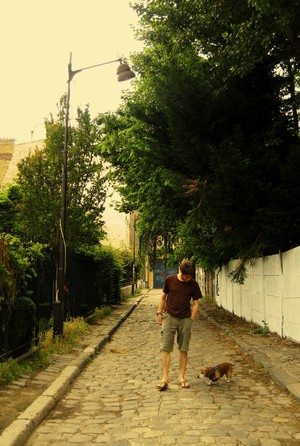 There are even theories circulating that Parisian dogs are cultured, conscious of their social image and better behaved than other dogs; I couldn't help but note on our walks that Parisian dogs would demurely trot by whilst Daisy snarled them away. Even on the saner end of the Parisian dog spectrum we see an enduring respect from Parisians towards canines, where dogs are courteously addressed as "Nos Amis les Chiens" on official signs restricting their access to parks and buildings. Aside from a few size conditions, dogs are given free rein on Parisian transport, are welcomed in most parks, and in some cases allowed to set paw in shops and restaurants.
As we see with the creation of "Le Cimitière des Chiens" in Asnières-sur-Seine in 1899, such veneration of dogs is historic. Here, the remains of over 3,000 pets are paid loving homage, from loyal police dogs killed "in action" to Hollywood canine stars and countless numbers of unknown animals. As the grave-robbing of "Tipsy" in February 2012 showed, where a €9,000 diamond-encrusted collar was stolen, the value placed upon dogs even after death is shocking. Equally shocking is the unpalatable truth that some Parisian dogs will always be wealthier than you.
This devotion is demonstrated at more humble level in every-day arrondissement life. On our walks, Daisy and I became more acutely aware of the dog-owning community and the respect radiated towards canines that we witnessed was heart-warming. The amount of smiles directed towards me on account of my attachment to Daisy by a thin polyester cord was particularly interesting; my association with her, it seems, immediately rendered me a better human being. It is this friendly and sociable attitude that makes having a dog in Paris so special. The most insignificant comments exchanged about your dog can lead to a long, interesting conversation with a local, allowing you to acquire insider tips about your area and practise your French.
Discovery was an added benefit. Daisy's propensity to sniff every shop lining the streets in my local area turned out to be rewarding for the both of us. Whilst she inspected yet another suspicious dark stain on the pavement, I let my eye amble around the contents of interesting little boutiques whose little windows had never before caught my notice. The near-spectacle of tragically long window shopping was diffused by the presence of my little scent-obsessed companion, and I have unearthed some interesting new haunts as a result. Similarly, the need to vary walks and avoid busy main roads has opened up a completely new side of my local area: shady lanes, quiet Pétanque pitches, secluded sports areas, striking wall art and even reservoirs being among new discoveries.
Regardless of nationality, the mere ownership of a dog seems to bring with it local acceptance and stands as a sort of badge of your residential status in Paris. If considering a more permanent move to France, be assured that a warm reception and abounding opportunities for you and your dog await you in Paris.

Subscribe for
FREE

weekly newsletters.
BonjourParis has been a leading France travel and French lifestyle site since 1995.
Readers' Favorites: Top 100 Books, imports & more at our Amazon store
We update our daily selections, including the newest available with an Amazon.com pre-release discount of 30% or more. Find them by starting here at the back of the Travel section, then work backwards page by page in sections that interest you.
Current favorites, including bestselling Roger&Gallet unisex fragrance Extra Vieielle Jean-Marie Farina….please click on an image for details.
Click on this banner to link to Amazon.com & your purchases support our site….merci!
Leave a reply
Your email address will not be published. Required fields are marked *