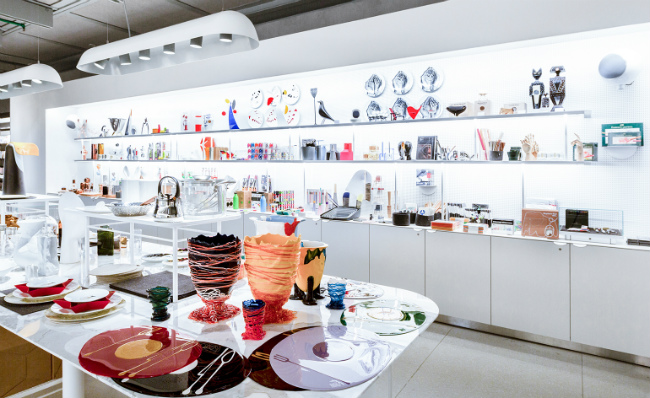 It's no secret that some of the best shopping can be found in museum gift shops. Around the globe, museums big and small tempt visitors with unique, one-of-a-kind finds… and many have gift shops online (the Château de Versailles, The Met, The British Museum, MOMA, to name a few).
Design fans will want to make a beeline to the Centre Pompidou—the iconic modern art museum and cultural space designed by architects Renzo Piano and Richard Rogers—to drool over the fabulous new boutique. Recently closed for a month for a makeover, the concept store was reimagined by interior architect Marie Deroudilhe, who honed her skills under top designers Sir Terence Conran and Patrick Jouin. Deroudilhe conceived the space in steel and concrete, paying homage to the museum that houses it.
Industrial lamps and marble tables showcase the marvelous new collection of merchandise—from ceramics and blown glass to jewelry, designer décor, and umbrellas that change colors with the weather. Of the myriad product displays, there's even a dedicated kids' section.
Centre Pompidou, Place Georges Pompidou, 75004 Paris. Metro: Beaubourg. Open every day from 11 am-10 pm. Tel: 01-44-78-15-78