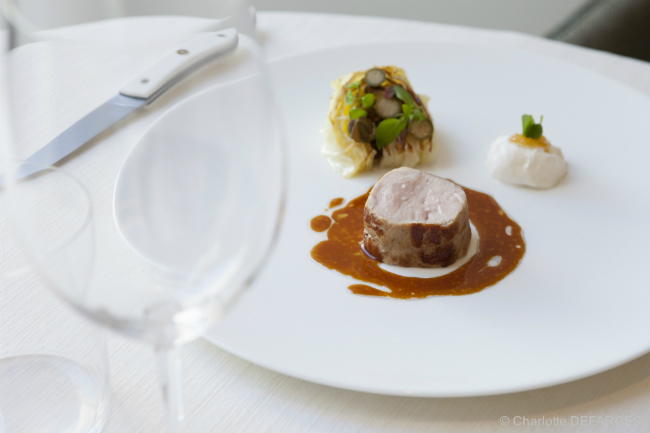 There's a surprise waiting for Bonjour Paris readers at Alliance, the bistro launched last November on the Left Bank, located on a quiet side street between the Seine and Boulevard Saint-Germain.
Chef Toshitaka Omiya and Restaurant Director Shawn Joyeux, who you may remember from Restaurant Rochat (Switzerland), Le Bristol and Agapé (Paris), will offer you a glass of wine and special amuse bouche while you study the menus. There's the Menu "Alliance" with six seasonal products (€70); the "Savory" lunch menu, with three dishes chosen by the chef (€29), or "Sweet" and "Savory" lunch with four sweet and savory dishes chosen by the chef (€34). (It's also possible to order à la carte.)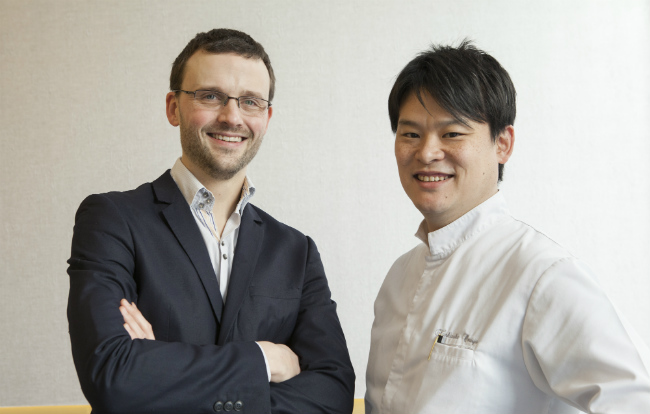 Alliance is the fruit of the meeting of two memorable men: Toshitaka Omiya and Shawn Joyeux who worked together at restaurant Agapé in the 17th arrondissement. Sharing a passion for all things culinary, the two men decided to join forces and create their own address, which opened last November.
The team is small. "6 people including the dishwasher, don't forget him; he's very important," says chef Toshi. For Shawn Joueux: "this restaurant is the alliance of two men, various trades, talents, a mix of cultures, skills and values, in fact the balance of all the elements essential to run a successful restaurant."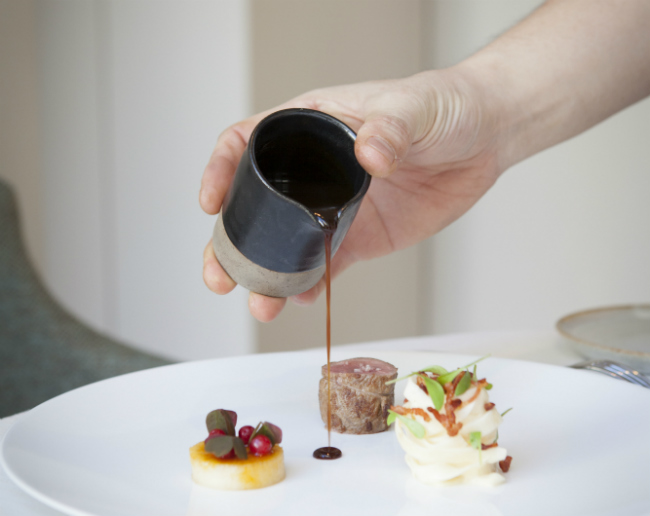 There's a relaxing zen atmosphere in the minimal 25-seater room decorated by interior architect Caroline Tissier. Colors vary from white to gray with touches of gold. Tasteful and uncluttered, the salle has large circular chandeliers by Jean Luc Le Deun of Maison Le Deun, and a cheering composition of fresh flowers. Shawn says: "We've tried to think of everything to make the client's journey one of amour, pleasure and passion while they are here. Simple twists that make the difference: cutlery drawers are soundproof, the chairs are super comfortable". Knives are by Perceval and attractive Japanese-style dishes were created by young ceramist Emma Nicaud.
The open kitchen is behind a big bay window; the chef looks up from time to time, discreetly, looking to see if diners are enjoying their meal. Here's a sampling of the starters: Paper thin raw Langoustine/Scampi, chervil, cream cheese (€26); Thick green asparagus from Roques Hautes with Osetra Italian Caviar and herbs (€29); Foie gras from Mr. Rigault, vegetables, duck consommé (€26); Allians potatoes, shallot crumble, mushrooms (€20). Mains include steamed Noirmoutier fish, white asparagus, morels (€46); Vendée coast rouget, red wine and rouget reduction, spinach and kumquat (€28); Milk fed veal, Pontoise cabbage, Burrata, Lemon (€42); Roast lamb, parsley, Calabria hazelnuts (€32).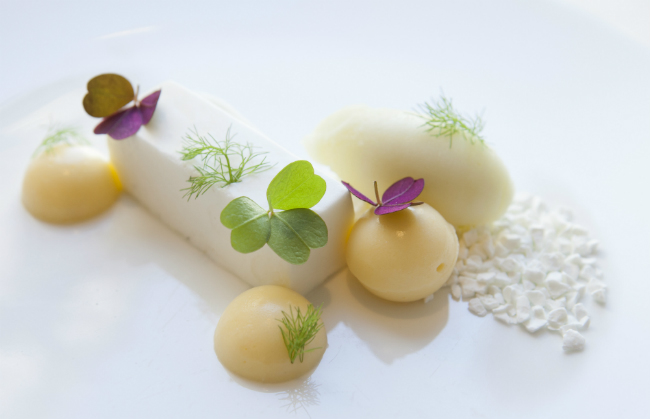 Cheese is from Laurent Dubois (€12) and desserts are by Benoit Nourrit (ex-Pierre Hermé) include Grand cru chocolate Samana with beetroot (€15). Shawn can choose five glasses to match the dishes for 40€, or order by the glass (about 8€). Don't miss the white Thierry Germain Saumur "clos Romans" Chenin Blanc 2013 (80€).
"When I arrived in Paris 15 years ago from Osaka, Tokyo, I didn't speak a word of French! My first job was with Joël Robuchon peeling vegetables and fileting fish", recalls Toshi. "I went on to work with Alain Passard, then Philippe Legendre and Eric Briffard, at the George V, and Agapé (with David Toutain) where I met Shawn. It's incredible to have my own kitchen, I am so happy to be able to create my own style of cuisine which I hope will give pleasure to the people that come here. In our space the client is king!'
So, when you book just say the magic words: "I'm a Bonjour Paris reader" and it's open sesame. Enjoy!
Restaurant Alliance, 5 rue de Poissy, 75005 Paris. Metro: Maubert-Mutualité. Tel: 01 75 51 57 54. Closed on Saturday and Sunday.