Three Great Restaurants in the Marais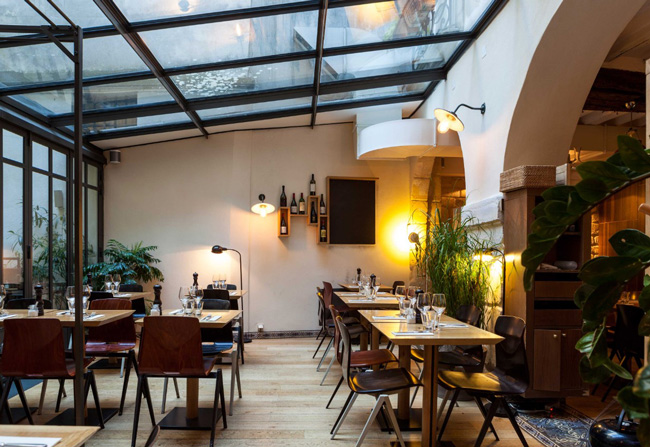 The Marais district is a popular area to visit in Paris and there are lots of food options. Lines form on the rue des Rosiers to sample the authentic falafel at L'As du Fallafel, and Breizh Café is famous for its crêpes. Sampling the many kebab, pastry, crepe, cheese and brasserie places is important, since they are part of the Marais adventure. But if you're looking for a welcoming, small restaurant away from the bigger crowds, here are a trio of suggestions. These three restaurants are perfect for enjoying fresh, original cuisine without the tourist hordes.
One of the beauties about Jaja is that it is hidden away in a garden courtyard that's easy to miss walking past. The entry is on the street but the front of the restaurant is a short walk to a glass-roofed garden with several tables that are available rain or shine. Behind is the inside area of the restaurant also with a glass roof and walls that look out to the courtyard, plus stone walls that say elegant Paris. The menu changes based on the fresh food that inspires the chef and is always creative, generous, and so well plated that it's sometimes hard to mess with the chef's artwork. But do so and the results are flavor combinations that impress. For example, a Jaja salad combination I first experienced was fluffy lettuce, black sliced olives, crumbled feta cheese and crispy fried onions topped with a black vinegar dressing. Seemingly simple but it was an enjoyable sweet/tart combo. The fish and meats are seasonal and always accompanied by flavorful sides such as a hummus of carrots, peas and new onions or glazed chard with Italian colatura fish sauce. Very creative and delicious. And there's a nice selection of wines that go well with the food, as do the desserts.
3 rue Sainte-Croix de la Bretonnerie
Tel: +33 (0)1 42 74 71 52
Email: [email protected]
It's possible to reserve directly on the website.
Lunch menu of entrée – plat or plat – dessert costs 21 euros. Or go for the entrée – plat – dessert for 25 euros.
When your husband loves – I mean loves – sardines, the discovery of Tasca Comme à Lisbonne, a bistrot épicerie, became a treat for both of us. The bistrot has a wide choice of the best of Portugal's canned sardine and other fish flavors to choose from and I enjoy a grilled chicken tostas (sandwich) with roasted tomatoes, onions, melted cheese and a fresh salad. Plus, a lovely glass of Portuguese wine including the vinho verde unique to Portugal. For sardine lovers and those who want to enjoy a restaurant that's different than the many restos and brasseries in Paris, this is a nice experience. The choice of sardines – along with anchovies, octopus, calamari and tuna filets – is literally on the wall. The wrapped cans are chosen by each customer from a wall cabinet and offer a wide variety of flavors such as packed in olive oil, spicy oil, tomatoes, bell peppers and smoked. Add some toast and salad and canned sardine and fish lovers are in heaven.  It's a small restaurant with a swarm of ceramic sardines decorating one wall and the service is friendly and good, plus there is no pressure to leave when finished. The Comme á Lisbonne gourmet shop is next door where Portuguese wines and cans of fish are on sale, along with olive oil, honey, home-made jams, coffee and pastries. The fish ceramics by artist Rafael Bordallo Pinheiro that decorate the wall of the restaurant are also available for purchase.
37 rue du Roi De Sicile
Tel: +33 (0)7 61 23 42 30
Email: [email protected]
Tuesday to Sunday lunch service from 12- 3:30 p.m. Tea room from 3 – 6:30 p.m. No reservations.
Away from the Marais crowds but still in the historic area is Page 35. It overlooks a park (Square Léopold-Achille) where local kids play and is down the street from the Musée Carnavalet. Chef Eric creates original menu selections then serves his customers by waiting tables and delivering the food his kitchen staff prepared while wearing his toque, or pleated chef's hat. His specialty is Le tigre qui pleure (the crying tiger), a Thai spice-marinated faux filet, which is Chef Eric's version of the traditional Le lion qui plure (the crying lion) which uses spices from Leon. It's delicious accompanied by creamy mashed potatoes and is always on the menu. Chef Eric has fun with the menu calling his roast chicken poulet jaune en colère (angry yellow chicken) or the scallop and shrimp brochette Le retour de la mer (the return from the sea.) But he is very serious about the lively flavors that animate his versions of traditional cuisine. There is always a selection of creative, flavorful burgers (meat, bacon-topped and fish), salads, and desserts that pair untraditional products but really work. Example: apple sorbet and Calvados. Very different apple bases but the combo is refreshingly miam (good.) Dietary options are available including gluten free and vegetarian, plus the restaurant is filled with artwork that changes monthly so even the walls are a fresh experience.
4 rue du Parc Royal
Tel: +33 (0)1 44 54 35 35
Open seven days a week.
Menus are available for 17 euros (entrée + plat or plat + dessert) or 21 euros for all three courses.
There are many small, welcoming restaurants throughout Paris that offer a different experience for travelers. It's nice to have a few in the Marais.
Lead photo credit : Jaja in Marais, taken from their website
More in Marais, Paris restaurants, Restaurant reviews, Restaurants in Marais, Restaurants in Paris
---
---