It's Not All Paris Plages: Summertime Cinéma Has Arrived
Yes, the Cinémathèque Française takes a vacation in the summer, the "important" films won't come out till fall, the most prestigious awards and festivals are done with. Still, there's a lot going on with the movies in the French capital: open-air screenings, releases and re-releases of light or classic fare, theme festivals and more.
The Louvre is presenting a series of open-air showings in the Cour Carrée from July 15 to 18. Cinéma Paradiso Louvre is a partnership of the Louvre museum and MK2, the "cultural" movie theater chain. The movie screenings of films old and new are paired with musical entertainment. In fact the festival is being called a celebration of film, music and food. Not exactly Woodstock, but the price is right … free! But unlike Woodstock, entry is being allocated in very Cartesian order by a series of online lotteries. Several were conducted in June, but there's still time to get a limited number of entrance registrations. For information about additional entrance possibilities go to: www.mk2festivalparadiso.com/louvre
The program opens with Fire of Love, a sneak preview of a film directed by Sara Dosa. The U.S.-Canadian documentary is about two French volanologists, and is accompanied by Nicholas Godin's music. The screening is from 10:15-11:45. (It's followed by a "DJ set" by Godin at midnight.)
Another sneak preview, of The Gray Man, directed by Joe and Anthony Russo, is scheduled for Saturday (10:15 pm to 12:30 am). The film stars Ryan Gosling and Chris Evans as the protagonists of a deadly international cat-and-mouse game. The CIA-themed thriller is presented in partnership with Netflix before the platform makes it available in late July.
The musical entertainment "DJ set" preceding the film is by the founders of the French pop group La Femme (8:30-9:30 pm).
Milos Forman's classic Amadeus is on Sunday (10:15 pm – 1:15 am). The hugely entertaining 1984 film portrayed the duel between F. Murray Abraham's tragic villain Salieri and Tom Hulce's gibbering genius. It won eight Oscars, including Best Picture (among 40 other awards) and was a smash hit.
The pianist Jean-Philippe Riopy will play before the film (8:30-9:30). The self-taught musician is currently Number 1 on the U.S. Classical Music chart with his album "Tree of Light".
Closing the series on Monday is Paolo Sorrentino's La Grande Bellezza (10:15 pm – 12:30 am). Sorrentino is one of the heirs the great generation of Italian filmmakers, and La Grande Bellezza (2013) has been described as a spiritual descendent of Fellini's La Dolce Vita, with Toni Servilo reprising the Marcello Mastroianni character. Sorrentino's film won the Best Foreign Film Oscar as well as a Golden Globe.
The "DJ set" and "closing party" (8:30-9:30 pm) is by the funk duo Breakbot and Irfane (their latest single is "Remedy").
This being the Louvre, refreshments aren't limited to a popcorn stand. A food court will be set set up in the Cour Carré. Five food-trucks and five bars will be stationed in the Cour in case of audience hunger pangs and summer thirst. Pierre Sang Express, Malins & Fish & Chips, Les Niçois, Le Trotter, French Toque. Just try pronouncing those names without salivating!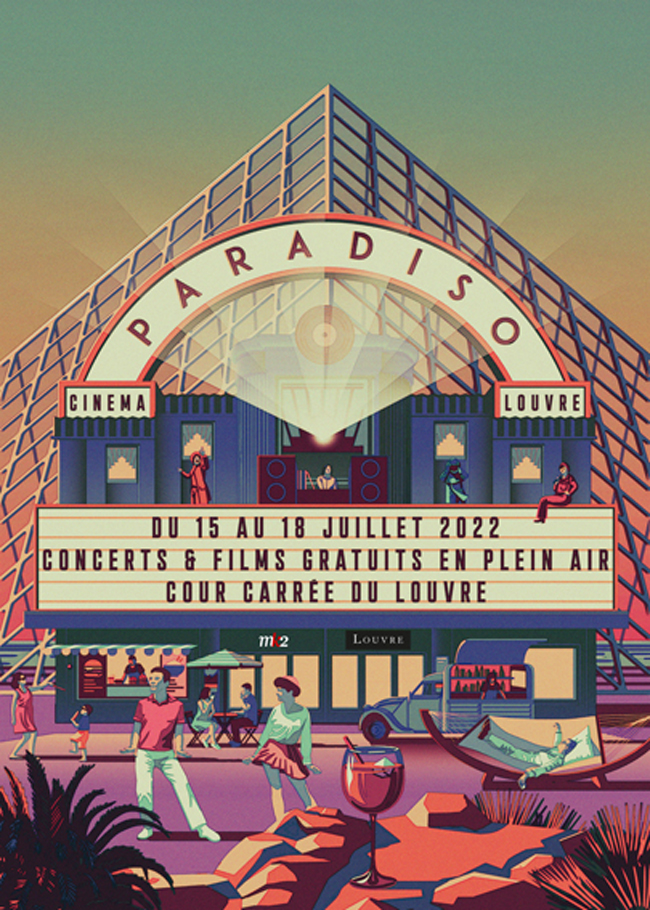 Other attractions will include … karaoke ? Yes! Karaoke Konbini will project famous scenes from Les Demoiselles de Rochefort, as well as what's billed as a pop tracklist. In addition, Dior is putting up a combination fragrance pop-up and designer beach party called Espace Fun & Chill. Paris Plage, eat our fake sand!
Lead photo credit : courtesy of Festival Cinema Paradiso Louvre
More in outdoor cinema, summertime cinema, The louvre
---
---