Le Pré Verre: Where to Eat in the Latin Quarter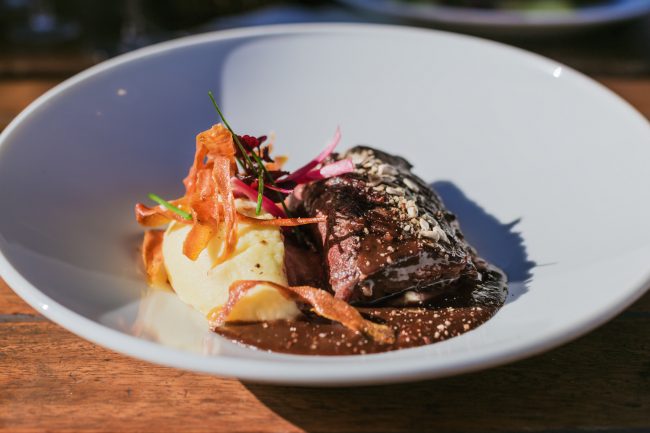 One of the requests we receive the most often at Bonjour Paris? Restaurant recommendations and great places to eat in the City of Light, particularly in sightseeing neighborhoods. If you're planning a morning on the Left Bank (5th arrondissement), we're happy to recommend lunch at a fabulous neo-bistro called Le Pré Verre. This was a great recent discovery. All "fait maison," the traditional cuisine— accented with spices like Kampot pepper and tonka beans— shines the spotlight on fresh, organic vegetables.
The prix-fixe lunch menu could be one of the best values in the French capital. Priced at just 14,9 euros for the entrée and plat du jour, plus a glass of wine and a coffee, the lunch at Le Pré Verre is affordable and delicious.
A stone's throw from the Sorbonne, Le Pré Verre has a great location steps from Boulevard Saint-Germain and the Musée de Cluny (the lovely museum devoted to the Middle Ages). Le Pré Verre was first opened in 2003 by the Delacourcelle brothers, whose address was a symbol of top Paris bistronomy (the "bistronomy" movement has sought to showcase gastronomic cuisine at "bistro" prices). Now run by Jean-François Paris, the restaurant pays homage to the great poet Jacques Prévert (1900-1977), who loved word plays, riffing on the sound and sense of words. As expressed by the restaurant team, "Prévert was a gourmet of simple words who took real pleasure in playing with them. Translated to the kitchen, this means that one can combine or create contrasts with "everyday products"… In short, it's about realizing the work of goldsmith in giving the dish a vivacity and strength that are the chef's signature."
A recent lunch was the perfect antidote to the bitterly cold weather. Escaping the rain, we were ushered inside by the friendly team. Judging by the locals who crowded the tables (many of them regulars), we realized we'd found a gem. We chose warming starters of stuffed razor clams and the cure de cochon, a signature dish accompanied with a date puree. Main dishes include slow-cooked chuck beef with celery and salsify; suckling pig with spiced crunchy cabbage; scallops with a hazelnut emulsion; and a mushroom-stuffed macaroni- a nice vegetarian option.
Do leave room for dessert. The chestnut moelleux, served with poached pear and caramel ice cream, is divine. There's also a superb banana financier; honey-glazed roasted clementine; and a dark chocolate truffade, topped with molasses ice cream. Miam.
Le Pré Verre, 8 Rue Thénard, 75005 Paris, Tel +33 (0)1 43 54 59 47. Tip: In the warmer months, there's a sun-soaked terrace of 120 covers. Lunch menu is 14,9. Other menus include the "Si j'etais Patron" menu, which includes an appetizer and main course, or main course and dessert, for 26 euros; and the "Voyage surprise", appetizer, main course, and dessert for 33 euros. Closed Sunday and Monday.
Lead photo credit : Le Pré Verre
---
---