L'Abeille at the Shangri-La Hotel, Paris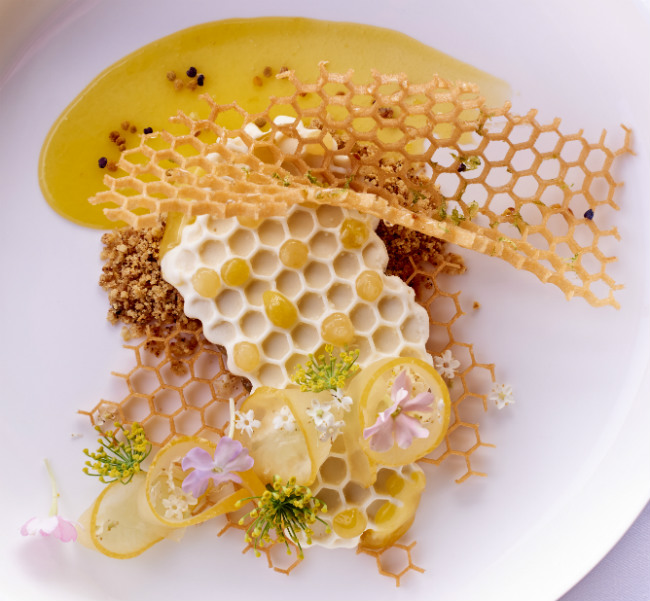 BP take: It was a dark and stormy night when we arrived at 10 Avenue d'Iéna. Umbrellas were pointless against the relentless rain- falling in sheets as the wind lashed the Paris streets. What a place to take shelter! All marble and gilded accents, the Shangri-La Hotel, Paris occupies the sumptuous 19th-century mansion built for Prince Roland Bonaparte, Napoleon's grand-nephew. And L'Abeille, the gastronomic restaurant named for Napoleon's imperial insignia (the bee), is a soothing, elegant escape from everyday worries (and rain storms!)
Executive Chef Christophe Moret, who took the helm of the kitchen last year (and introduced 100% veggie dinners!), delivers a culinary experience to remember. He's worked in some of the world's best restaurants including Le Louis XV, the Hotel Plaza Athénée (where he kept Alain Ducasse's three stars for seven years) and Lasserre. To celebrate a special occasion, the seven-course dégustation menu delivers mouthful after splendid mouthful of creative haute cuisine.
Of course you can always go à la carte, in which case you shouldn't miss one of Chef Moret's signature starters: the délicate royale of sea urchin, calamari, and caviar, served with a smoked eel emulsion. Another must: the John Dory, sautéed abalone and Bay of Somme seaweed, which comes with a side of green asparagus pesto.
If dessert is meant to leave a last, lingering memory of a place, an experience… the "Miel de Corse" makes for a magnificent takeaway that you'd be hard-pressed to forget. In a fitting gesture from a restaurant called L'Abeille, different types of honey are sourced for this pretty composition: honey ice cream, waffle resembling honeycomb, dotted with pollen, candied citrus fruits and caramelized nuts, atop a sauce of olive oil and honey, and sprinkled with small white flowers. "It tastes like a hot day in the wild maquis of Corsica," our dining companion said.
And then we looked up– just in time to see the Eiffel Tower light up on the hour. We ran outside, giddy from the delicious meal, and watched The Iron Lady put on her sparkling show from the hotel's verdant courtyard garden. The rain had stopped, and Paris was ours for the taking. A memorable soirée, indeed.
L'Abeille, Shangri-La Hotel, 10 avenue d'Léna, 75116 Paris. Tel: +33 (0)1 53 67 19 90. Dinner-only. Seasonal prix-fixe menu €210. Average à la carte meal €250.
Lead photo credit : The "Miel de Corse" dessert. Photo: Shangri-La Hotel, Paris. ©Winkelmann
More in best Paris restaurants, Michelin starred restaurants in Paris, top chefs
---
---