Go Green in Paris: 100% Veggie Dinners at the Shangri-La Hotel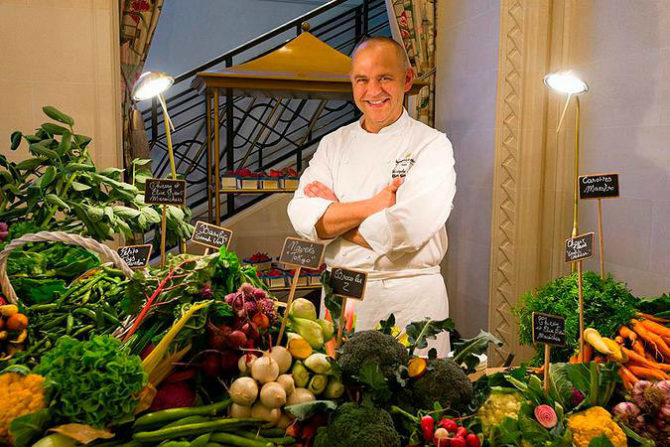 In a fun new offering at the Shangri-La Hotel in Paris, diners at La Bauhinia restaurant can indulge in a five-star menu that's entirely vegetable focused. The 100% Green Dinners also allow guests to meet the hotel's market purveyors. Taking place the first Thursday of the month (not in August), the dinners showcase the creative talents of Executive Chef Christophe Moret. Think Tomato Bloody Mary and Spring Rolls made from watermelon stuffed with soup herbs; Kasha and Green Vegetables En Cocotte with almond milk; Turnips and Red Beetroots roasted in a wood-burning oven and Tofu Ravioli with borsch vinaigrette; Strawberries scented with Sangria, and coconut and lime sorbet.
All the menu ingredients—even the choice of sugar—are carefully selected. Paired with the meal are biodynamic wines chosen by Head Sommelier Cédric Maupoint. Also included are special teas, coffees and non-roasted cocoa beans, all hand-picked and distributed through fair-trade channels. Cocktails go green with the addition of a shot of cucumber, kale, celery and ginger juice.
To reserve a table, visit the La Bauhinia reservation website or call: +33 1 53 67 19 91.
Overlooking the Eiffel Tower, the Shangri-La is housed in a magnificent mansion once owned by Prince Roland Bonaparte, Napoleon's grandnephew. Steeped in history while offering all the contemporary creature comforts, the Shangri-La is a palace hotel par excellence in the French capital.
For a recent review of L'Abeille, the hotel's gastronomic restaurant, see this France Today article by noted restaurant critic Alexander Lobrano.
Leave a reply
Your email address will not be published. Required fields are marked *