Where to Eat Now in Paris: Double Dragon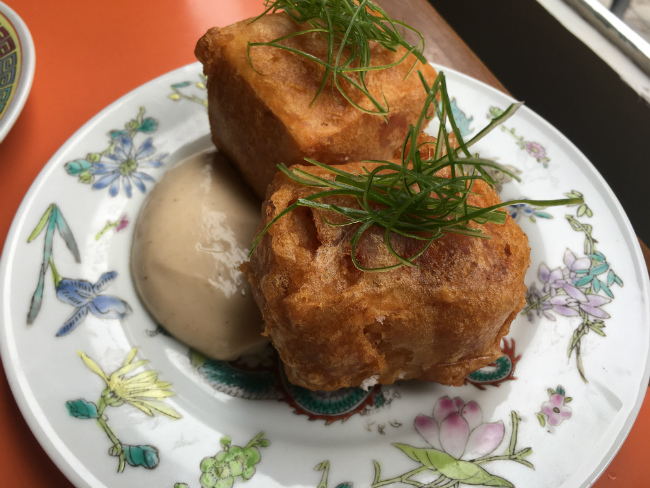 It's no secret that the cool kids of Paris flock to the 11th arrondissement for hip eats. Some of the city's most talented young chefs are cooking up creative dishes in this eastern corner of Paris— the restaurant decor as cool as the affordable menus.
One of the tastiest tables we've tried recently is Double Dragon, located on the same stretch of Rue Saint-Maur as the buzzworthy Atelier des Lumières. (Housed in a former foundry, this digital arts space immerses visitors in a high-tech visual world— a sensory experience of the works by great artists like Klimt.)
The Levha sisters (Tatiana and Katia), also behind the popular bistro Le Servan, opened Double Dragon in summer 2018 and it's been packed ever since. On the menu— inspired by the cuisine from the sisters' childhood growing up in the Philippines and Thailand— is a melange of Asian and French flavors, accented with lots of spice. The menu is so enticing, in fact, that it's best to order a bunch of dishes to share.
Pork ravioli dipped in homemade sriracha sauce, spring rolls stuffed with paleron de bœuf, delicious caramelized joues de porc, Tom Yam soup with foie gras, crispy fried chicken accented with Tamarin, sesame green beans, fish ceviche, a divine stuffed tofu with Comté cheese… All priced between 7 and 16 euros.
Get there early to avoid waiting in line (no reservations).
52, rue Saint-Maur, 11th arrondissement, Tel: +33 (0)1 71 32 41 95. Open from 12 noon to 14h30 and from 19h30 to 22h30, closed Mondays and Tuesdays.
Lead photo credit : The to-die-for tofu dish at Double Dragon. Photo: Bonjour Paris
---
---
Comments