Brasserie Bellanger, Paris's new 'it' brasserie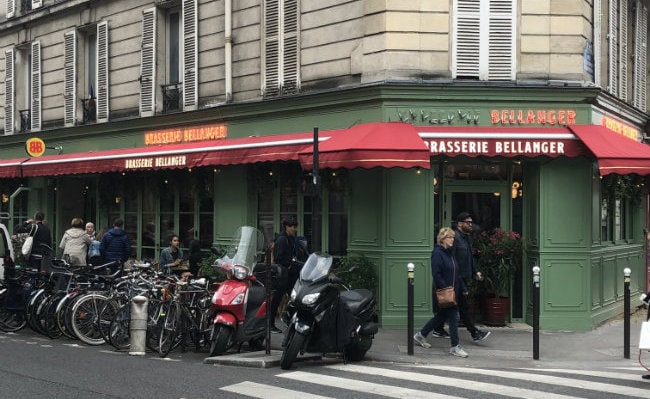 Brasserie Bellanger by Victor Dubillot and Charles (Charly) Perez is a traditional brasserie complete with black-and-white tiled floor, shiny bar stools, gorgeous bar, open kitchen and a terrace. On Rue du Faubourg Poissonnière, a hop, skip and jump between Barbés-Rochechouart and Gare du Nord, the corner plot is inviting, and the tiled name in the entrance welcoming.
Before midday on a Saturday, a queue has already formed as the brasserie does not take reservations, and the young, friendly waiting staff pop out in regular intervals to assure us it is only another five minutes to go until opening. Once in, we have the choice of two main rooms, one by the bar, the other by the open kitchen. The seating fills quickly.
The menu is simple, with only a few choices, which, in my book, is always a good sign. The standard brasserie choices are there at lunch: light starters, croques, salad, steak, and fish of the day, a handful of desserts, with all ingredients regionally sourced and everything cooked in house, based on old recipes by Charly's great-great-grandmother Marie-Louise Bellanger.
I start with the white truffled ham, while my Plus 1 has the Spanish cured ham. Arriving in small blue-and-white dishes with still warm bread, these are a delight. A perfect size for a starting nibble over an aperitif, and the truffled ham is simply to die for. For mains we choose a Croque-Madame with said truffled ham, and for me the fish of the day.
The Croque not only comes with a side salad but also a portion of crispy fries, and is the best I have tried in a long time. No over-powering bechamel sauce, just good country bread and melted cheese, an egg and that ham which gives it a nice truffle note.
My own choice of cod arrives with superb crispy skin, sitting on a bed of freshly shelled peas, orange and red cherry tomatoes and courgette spaghetti, a colorful delight for the eyes and oh, so tasty. A great choice for those wanting something a little lighter, or to alleviate the guilt of stealing the Plus 1's fries…
Feeling quite full, we decide to share a dessert, and opt for the Île flottante, a light, fluffy dessert, speciality of the house and perfect for ending a really good meal.
All in all, I will certainly come here again, the brasserie is so pretty, the staff genuinely lovely, the food great and the prices very good indeed. Looking forward to next time…
Brasserie Bellanger
140 Rue du Faubourg Poissonnière, 75010 Paris
Prices: Oeuf mayo for 2 euros, Croque-Monsieur for 10 euros
For more Bonjour Paris food recommendations, click here
Lead photo credit : Brasserie Bellanger. Photo: Ulrike Lemmin-Woolfrey
---
---