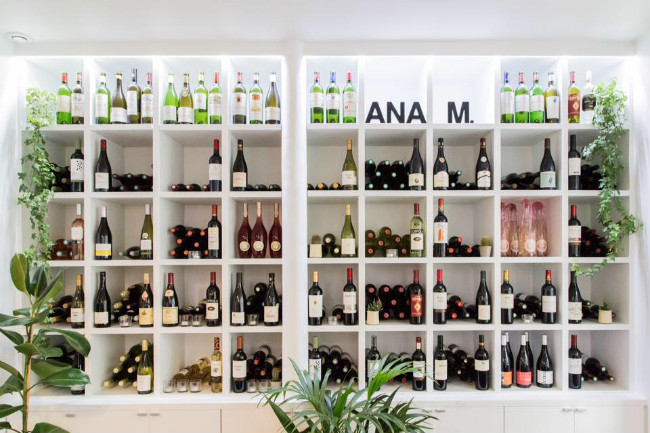 BP take: When it comes to food in Paris, we're spoiled for choice. Whether you're looking for hearty bistro fare or haute cuisine, the City of Light has it all. And we're not just limited to Gallic grub; these days, you can find an exciting international selection of food from all over the world. Case in point: Ana M., a wonderful recent discovery for us in the Gobelins area of the 13th arrondissement.
Just a quick stroll from the Jardin des Plantes, this friendly neighborhood restaurant serves refined "Tex Mex cuisine." But this is a far cry from the well known Tex-Mex chains in the USA; Ana M serves gourmet plates showcasing flavors from Latin America. Did we mention they also offer some of the best barbecue ribs in town? (Owner Ana Maria, who hails from El Salvador, trained with one of America's top pitmasters.)
A recent meal highlighted fresh, original ingredients; the guacamole—for example—was topped with cilantro, leafy greens, and diced onions, while the Enchiladas De Carne Pico De Gallo (16 euros) was served as a gratin, atop vegetable-studded quinoa, heated in the oven until the cheddar was perfectly crispy. Wash it down with one of the groovy cocktails like a Tequila Sunrise or a Margarita.
Also on the chalkboard menu when we stopped by: vegan chili (13 euros), ceviche (11 euros), chorizo quesadillas (highly addictive! 9 euros), chicken tacos with salsa verde (15 euros), and Cesar salad (11 euros). All in all, excellent value for money in a beautiful, light-filled space.
So if you're in Paris and craving Latin flavors, head to Ana M. for your South American fix.
Ana M. 14 rue du Jura, 75013 Paris. Tel: +33 (0)9 52 64 63 48. Website: http://ana-m.lafourchette.rest/en_GB/ Open for lunch from 12 noon to 2:30 pm, and for dinner from 7 pm – 10 pm. Closed Sundays.
Lead photo credit : courtesy of Ana M./Facebook
---
---