Recipe for Zucchini Parmesan Soup or Soupe Courgettes Parmesan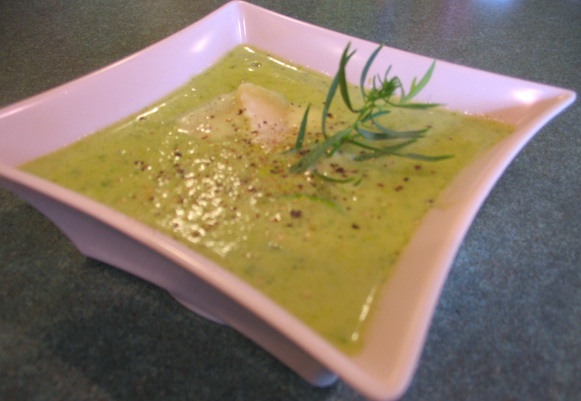 INGREDIENTS
2 Tbsp. olive oil
1 onion, chopped
2 garlic cloves, peeled and crushed
2-1/4 lbs. zucchini, sliced in 1/2-inch slices
1 large Yukon Gold potato, cubed
3 to 4 cups vegetable (or chicken) broth
1/4 to 1/2 cup cream
2 Tbsp. fresh grated Parmesan + extra Parmesan, shaved, to serve
Freshly ground pepper
PREPARATION
Heat the olive oil in a large saucepan. Add the onion and garlic and cook until the onion softens, 1 to 2 minutes. Do not allow garlic to burn.
Increase heat. Add the stock and cubed potato to the saucepan and bring to a boil.
Allow to cook about 10 minutes or until the potatoes are soft.
Add the zucchini and cook about 3-5 minutes until zucchini is soft. Remove from heat.
Stir in the grated Parmesan and cream. Taste and adjust seasonings, adding more grated Parmesan, cream, salt and pepper to your taste.
Using an immersion blender, blend the soup until smooth. Alternatively, you can purée in batches using a blender.
TO SERVE
Ladle the soup into four bowls, season with freshly ground pepper and garnish with shaved Parmesan.
Et voilà!
Debra Fioritto contributes delicious French recipes to weekly issues of BonjourParis. Click on her name to read more about her Tour de Forks culinary tours or to collect the many recipes she has shared here.

Subscribe for
FREE

weekly newsletters with subscriber-only content.
BonjourParis has been a leading France travel and French lifestyle site since 1995.
Readers' Favorites: Top 100 Books, imports & more at our Amazon store
We daily update our selections, including the newest available with an Amazon.com pre-release discount of 30% or more. Find them by starting here at the back of the Travel section, then work backwards page by page in sections that interest you.
You'll find over 130+ cookbooks available in our selections, including some available at pre-release 30% discount. Find them by starting at the back of the Food & Wine section, then work backwards page by page.
More recipes, including 60 from Bistro Paul Bert in Paris (French Bistro: Seasonal Recipes)….please click on an image for details.
More in Cafe, Hotels, Monument, Neighborhood, Paris, Shopping
---
---