Recipe: Ragoût boeuf aromatisé cognac, moutarde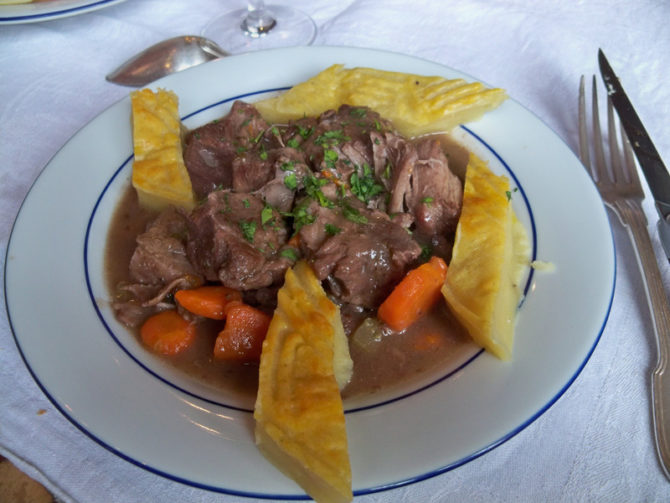 Ragoût de boeuf aromatisé avec cognac, moutarde ~ Beef Stew flavored with Cognac and Mustard
INGREDIENTS
3-4 Tablespoons olive oil
1/4 lb. bacon, cut into 1/2-inch slices
2 sweet onions, chopped
2 garlic cloves, pressed
2 shallots, finely chopped
3 Tablespoons unbleached, all-purpose flour
Salt and freshly ground pepper
2 lbs. beef chuck, cut into 1-inch cubes and patted dry
1/2 cup cognac
3 cups beef broth
1 (14-1/4oz) can diced tomatoes, drained
1/4 cup Dijon mustard
2 parsnips (or potatoes if you prefer), peeled, quartered, cut into 1/2″ pieces
8 oz. mushrooms (Cremini are nice), sliced
1/4 cup good, drinkable red wine
PREPARATION
Heat 1 tablespoon olive oil in a large Dutch oven over low-medium heat.
Add the bacon and cook until crisp. Remove with a slotted spoon and drain on paper towels.
Increase the heat to medium and cook the onions and shallots for about 15 minutes. Stir so they do not brown; they should just be golden. Add the garlic and cook, stirring constantly for about 30 seconds. Using a slotted spoon, transfer the onions to a large bowl.
In a small bowl, stir together the flour, salt and about 1/4 teaspoon of pepper. Pour the seasoned flour into a large sealable plastic bag. Add the meat and shake to coat the pieces.
Working in 3 or 4 batches, brown the meat on all sides in the Dutch oven over med-high heat. This will take about 5 minutes per batch. Add each batch to the onions before starting the next. Repeat with rest of meat, adding more olive oil if necessary.
Add the cognac and scrape up the brown bits. Stir in the broth, tomatoes and mustard and stir until combined.
Return the meat/onion mixture and the bacon to the pan. Reduce heat and simmer partially covered for about 2 hours.
After two hours, add the parsnips (or potatoes), cover the stew and cook an additional 45 minutes.
Meanwhile, in a large skillet heat 1 tablespoon of olive oil over med-high heat and add the mushrooms. Cook until they are browned.
Stir the mushrooms and the red wine into the stew and cook for 10 more minutes. Taste for seasoning, adding more salt and pepper as necessary.
TO SERVE
Serve the stew accompanied by a simple green salad and some crusty bread.
YIELD
Makes 4-5 generous servings.
Et voilà!
Debra Fioritto contributes delicious French recipes to weekly issues of BonjourParis. Click on her name to read more about her Tour de Forks culinary tours or to collect the many recipes she has shared here.
Photo by Véronique PAGNIER (Own work) [GFDL or CC-BY-SA-3.0-2.5-2.0-1.0], via Wikimedia Commons

Subscribe for FREE weekly newsletters with subscriber-only content.
BonjourParis has been a leading France travel and French lifestyle site since 1995.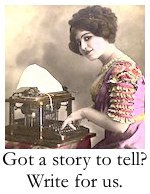 Readers' Favorites: Top 100 Books, imports & more at our Amazon store
We daily update our selections, including the newest available with an Amazon.com pre-release discount of 30% or more. Find them by starting at the back of the Food & Wine section, then work backwards page by page in sections that interest you.
"Essential Pepin: More Than 700 All-Time Favorites from My Life in Food" includes a DVD with demonstrations.
More in Hotels, Neighborhood, Paris, Shopping
---
---