Pousse Rapière – A Taste of the Past (with Recipe)
Pousse Rapière, a rapiers thrust, is the signature aperitif of Gascony.  It is an orange flavored Armagnac and sparkling wine cocktail that will enter your digestive tract so smoothly you won't know how you wound up on the floor shedding copious tears of joy.
During the late 16th century wars between France and Italy, Blaise de Monluc, a Maréchal (marshal) of France, brought back the rapière (ropera or dress sword) that the Italians used so skillfully in sword to sword combat. It was a long, light sword that could be easily hidden by a flowing cape and proved to be quite adaptable by his Gascon captains and the swashbuckling Mousquetaires (musketeers) some 40 years later.

Pousse Rapière is considered a liqueur, defined as a spirit infused with herbs and or fruits and sugar.  The first liqueurs (latin – liquefacere – to dissolve) were medicinal. Monks in monasteries developed their own liqueur remedies for various ailments. After trade expanded world wide in the 16th century, liqueurs became available to the upper classes, then the masses and still remains a drink for special occasions, although in Gascony, every day is a special occasion.
The name, Pousse Rapière, was coined by its sole commercial manufacturer, Domaine de Monluc. In the 1960's the winemaker, René Lassus, invented the liqueur at his Chateau Monluc vineyards in St. Puy, from an old family recipe that to this day remains a closely guarded  secret.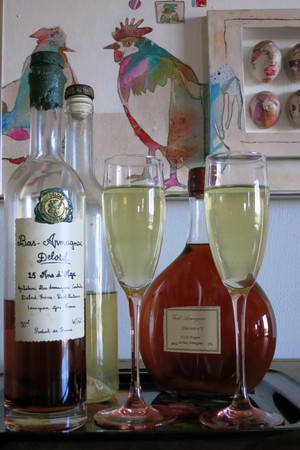 Armagnac, the oldest brandy in France, is a distilled drink made from grapes.  The down to earth qualities of Armagnac, literally, come from the earth, the terroir, covering 3 departments in Gascony- The Gers, where I live, the Lot-et-Garonne and the Landes. Armagnac has been produced in Gascony since the 14th century in a special still called an alembic armagnacais, a great copper behemoth consisting of 5-8 sections, not unlike a Willy Wonka double boiler. From the beginning of the 20th century, the distiller would travel the country roads with his unwieldy, but portable still, drawn by either a horse or a tractor. He worked several days at each farm, round the clock, keeping oak logs burning under his still because once the distillation process began it couldn't be stopped until every last, recently harvested grape was used. The first pressing of these grapes releases a clear liquid called eau-de-vie (water of life).  This clear liquid is then aged in giant casks of black oak from the forests of Monlezun.
I was first introduced to Pousse Rapière 7 years ago.  My husband and I had just purchased chez nous and were invited down the road for a morning aperitif by our welcoming neighbors, Jeanette and Roger Ducourneau. We were jokingly warned by Roger that Jeanette's homemade Pousse Rapière was the best in the Gers.  Jeanette pulled a non-descript, green bottle out of a cupboard which she said contained her secret recette (recipe). She then pulled out a chilled bottle of sparkling wine, also called mousseux, which is champagne that isn't made in the Champagne region.  After filling 1/5 of a champagne flute with her secret recipe, she topped off the glass with the sparkling wine.  The orange and vanilla scents wafting from the glasses was nothing short of heavenly.  I took a small sip while my husband drank half a glass in a long drag. Roger and Jeanette both gulped and laughed heartily, "Ooh, la la!" I had only tasted Pousse Rapière from the Monluc winery which is featured on every restaurant menu and sold in every grocery store. I had to agree with Roger that Jeanette's recipe was the best. I savored another sip while my husband finished his glass. He was offered a refill to which he gleefully responded, "Oui, oui, oui!" I slowly pushed my champagne flute away from me, already feeling the rapier's thrust. Jeanette then told us a few embarrassing stories of finding Roger and the local distiller early in the morning, passed out in the field across from the house.  Roger and Jeanette  generously insisted my husband have one more glass, after which he was reduced to shedding copious tears of joy on our walk home, his legs buckling beneath him like the straw man in the Wizard of Oz. HIs sublime, though emotional experience, can be yours for the mixing.
Jeanette Ducourneau's Pousse Rapière
4 +1/4 cups white Armagnac (eau-de-vie)
Zest of 3 organic oranges
Zest of 1/2 organic lemon
1 cup + 2 oz. of organic sugar dissolved in 1 cup of water
1 package of vanilla sugar
1 vanilla pod split
Keep in a large glass jar or covered pot for 21 days.
Stir every day.
Can be made in large quantities.
(I have a friend who makes it in 5 gallon batches)
More in armagnac, French wine, Pousse Rapière, wine
---
---
Comments