Piment d'Espelette: The Ultimate Basque Spice
If you've ever toured around the French Basque region, you've likely seen bunches of bright-red chili peppers draped and drying on the whitewashed walls of quaint red-shuttered Basque homes. And you undoubtedly tasted these peppers in the cuisine of the region.
Grown only within a specified region in and around the village of Espelette in France's Southwestern-most corner, these  chiles have A.O. P. (Appellation d'Origine Protégée) status; that is, they can't be labeled as true Piment d'Espelette unless they are from this well-specified area.
This isn't just any chili pepper: While some dried chilis are more about the heat than anything else, the Piment d'Espelette is mostly about everything else: It's beautifully warming, richly spicy, and lightly fruity—with a tinge (rather than flare) of heat as its backdrop.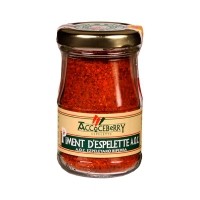 Basque cooks use it—often in place of black pepper—to flavor all kinds of dishes, such as chicken, sausage, seafood, meats, and especially eggs. It is the hallmark ingredient in Pipérade, a dish to the French Basque region what Ratatouille is to Provence. Producers of Jambon de Bayonne, a prosciutto-like dried ham, often rub Piment d'Espelette onto the hams as a finishing touch.
Curious? Head to the best spice store or gourmet shop in your region—I bet they'll carry it. It won't be cheap. I'm used to paying $12 or more 45 g (roughly 1/2 cup). Fortunately, a little goes a long way to add that "Wow! What is it?" appeal. Still, I like it so much that I go through about four jars a year.
Ready? Try it in my recipe for Pipérade.
Photo of hanging Piment d'Espelette by Lezzles via Flickr.
Pipérade
From The Bonne Femme Cookbook: Simple, Splendid Food That French Women Cook Every Day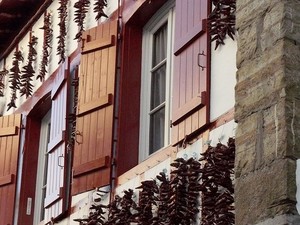 Like Ratatouille, Pipérade defies categorization. Is it a side dish? A relish? A sauce? An appetizer? Indeed, I've enjoyed Pipérade in many ways in the Basque country. I've seen it served over a slice of ham, alongside grilled fish, and simply spooned over roasted chicken. However, this sweet, fresh sauce is especially tailor-made for eggs—I give some serving suggestions, below.
Note: If you truly can't find Piment d'Espelette powder, a combination of smoked paprika and cayenne will do. It won't be exactly the same, but it will be good.
Makes 4 servings as a side-dish/relish (about 2 1/2 cups total)
2 tablespoons extra-virgin olive oil
1 red bell pepper, seeded and cut into very thin strips
1 green bell pepper, seeded and cut into very thin strips
1/2 cup finely chopped onion
2 garlic cloves, minced
1 (14.5-ounce) can diced tomatoes
1/4 teaspoon piment d'espelette, or 1/4 teaspoon mild paprika plus a dash of cayenne pepper
Salt and freshly ground black pepper to taste
Heat the oil in a large skillet over medium heat. Add bell peppers and onion and cook until tender, about 8 to 10 minutes. Add garlic; cook 30 seconds more, or until fragrant. Add tomatoes (don't drain them) and piment d'espelette. Simmer until the piperade thickens. Season to taste with salt and pepper.
You can serve the piperade now, in its chunky form. However, if you want a smoother piperade, cool the mixture slightly, then pulse in a food processor until desired thickness (a saucy mixture with chunks of red and green pepper is especially nice for egg dishes).  Reheat if needed, then serve.
Serving suggestions:
•  Tuck a scant 1/2 cup warm Pipérade into a French Rolled Omelet.
•  Top fried or scrambled eggs with warm Pipérade.
•  Use in Baked Eggs Pipérade.
•  Use as a sauce for a soufflé
•  Spoon warm Pipérade over slices of ham as a main course. Serve with Baked Rice
•  Serve aside a slice of baked ham or grilled fish.
Refrigerate leftovers Pipérade for up to three days. In the unlikely event that you have some left after three days, freeze it and add it to the next chili you make.
Wini Moranville is the author of The Bonne Femme Cookbook: Simple, Splendid Food That French Women Cook Every Day, and the co-author of The Braiser Cookbook. Follow Wini on Facebook at Chez Bonne Femme.
More in French recipes, Pipérade, recipe
---
---