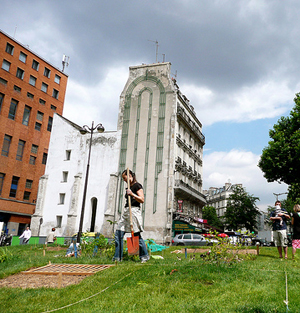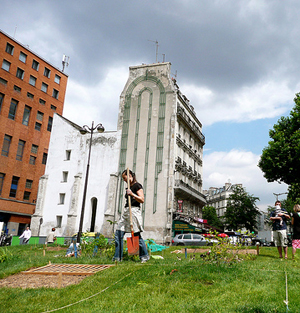 Neighbourhood cooperative gardens
The former mayor of Paris pursued a project of turning the 400 or so grungy Paris squares into gardeners' delights and several kilometres of the present routes bordering the Seine back into a haven for strolling lovers. But Bertrand Delanoë was not alone in his efforts to make the capital over into a garden city. Visitors to Paris often picture privacy as inherent to French culture. Still relationships count in France and the word "ami" (friend) takes on a whole other meaning as you get to know their way of life better.
There is also a strong collective urge connected to French history. Maybe it goes back to the hard grained historical heritage of the French Revolution and maybe to the social movements like the Montmartre Communes or, more recently, to the way May '68 changed education in France? In any case a lot of neighbours are also getting together at present, especially in the north and east of Paris, the less affluent quarters, and helping change the Paris landscape.
Inhabitants are gathering in associations and salvaging everything from abandoned railroad tracks to vacant lots, mostly city owned land. In some cases even roofs are being turned into vast vegetable and flower gardens. Called "un jardin partagé" (a shared garden) they are smiled upon by the city fathers, who are even organizing ecology oriented gardening workshops, to help the associations' members learn how to manage and help make these flower and vegetable gardens thrive.
Nothing surprising about this when you learn that there are actually bee hives all over roofs and terraces in Paris, including on the roofs of the Grand Palais and the Paris Opera House! What is surprising however, far from all pesticides or other harmful elements, Parisian bees are producing some of the best honey in France. According to the newspaper Le Monde, each hive in Paris is producing up to 100 kg of honey as opposed to only 10 kg in the country. In fact, the bees are flourishing to such an extent that numerous other French cities are following the example.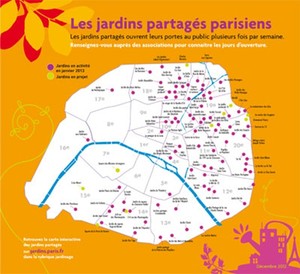 You might want to check and see if there isn't a Jardin Partagé in your neighbourhood? Not only do they help make the quarter more attractive, the gardens offer a perfect opportunity to meet and share gardening activities in French or English with your neighbours. Very different from public gardens, they form a perfect meeting place for adults and children alike. Maybe you know someone who plays the guitar? You can even help organize local cultural events such as concerts amid all that oxygen and greenery! Here is a link to the Mayor's website, with everything you need to contact most of the garden sites.
Les jardins partagés parisiens – Paris.fr
La Maison du Jardinage
Maybe you are just looking for a plant to offer that will bloom each year or not sure which plants will survive summer heat and winter cold on your Paris terrace? Before dropping by the local florist's, you might want to check out the Maison du Jardinage. And if you decide that you would like to start a local gardening project yourself, there are plenty of people available to share their experience with you and give you tips on where to buy the best seeds or plants in Paris, even if it is for your own personal needs.
Centrally located in the new 35 acre Parc de Bercy, across from the Cinémathèque française, the Maison is an 18th century home that once housed the local tax collector. Actually, like the organic farm in the Bois de Vincennes where horses are used to pull fallen trees, it's one of five points in Paris that are a part of the Mayor's ecological project. You can get all the information you need about the shared garden projects or simply wander about and take it all in.
Open every day except Mondays and holidays November to February 1:30 pm – 5:00 pm, March to October 1:30 pm – 5:30 pm plus 1:30 pm – 6:30 pm on weekends from April to September. There is a library and regular fun filled exhibits are offered to adults and children alike.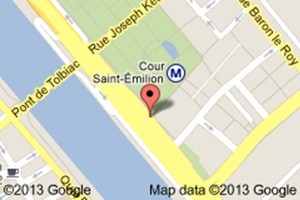 Maison du jardinage
Parc de Bercy – 41 rue Paul-Belmondo – Paris 12e
M° Bercy – Bus 24, 87, 62
Tel : 01 53 46 19 19
The herb and vegetable gardens offer both common and rarer varieties of plants. For those who have the time, motivation and enough French to get by, the Maison offers regular three hour long gardening workshops organized by the city's 150 year old horticultural school, l'Ecole du Breuil. The classes normally cost 15€ a session, but they are half price for those aged 26 and under, totally free for those 60 or over. You can register by calling the school:
Ecole du Brueil
Tel. 01 53 66 14 00
You can also get a program of other events taking place at the Maison du Jardinage by calling them.  I did so on a late Sunday afternoon expecting to get an answering machine and, instead, got two absolutely charming Frenchies who were delighted to take the time to confirm hours and answer any and all of my questions.
photo 1 by Yves Cosentino [CC BY-SA 2.0], via Flickr
Leave a reply
Your email address will not be published. Required fields are marked *