Mahonnaise, mayennaise, bayonnaise or mayonnaise: France's Famous 'Sauce'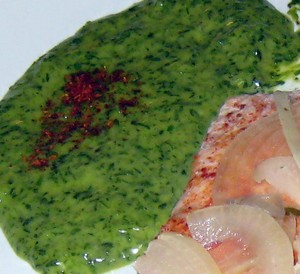 When I tell people that I'm a fan of French cuisine, invariably I hear, "Oh, but all those sauces, it's so heavy." Sometimes, I'll try to explain that it's not really as it seems, other times I just smile and let it go.
Undeniably though the French do have a way with sauces and one of the most famous and well-known throughout the world is mayonnaise.
As with many French dishes, it's fun to learn the history of the particular dish. The origins of mayonnaise is not really known but the name has undergone quite a few transformations.
One spelling, 'mahonnaise' supposedly commemorates Richelieu's capture of Port Mahon from the English in 1756. Others claim that an over-indulgence in chicken with 'mayennaise' caused the Duc de Mayenne to be defeated at Arques in 1589.
The gastronome, de la Reynière claims that is should by 'bayonnaise' to honor Richelieu's capture of the town of Bayonne Carême, one of France's first famous chef, claims all of this to be ridiculous and that the sauce's name of mayonnaise comes from the French verb, manier, which means to stir. As you know you have to do a lot of 'stirring' to make mayonnaise.
No matter what the evolution of the name, the basic recipe has not changed since Carême's recipe appeared in his book, Cuisinier Parisien in 1828.
The picture shows a wonderful, herby mayonnaise verte* that makes a perfect addition to grilled or poached salmon.
Basic Mayonnaise Recipe (by hand)
Important: All ingredients should be at room temperature.
• 2 egg yolks
• 2 Tablespoons white wine vinegar
• 1 teaspoon Dijon mustard (optional but recommended especially for the flavor)
• salt & pepper
• 1-1/4 cups olive oil (or a combination of ½ vegetable oil, ½ olive oil)
1. Place the room temperature egg yolks, Dijon mustard, vinegar and a pinch of salt and pepper in a bowl. Whisk together.
2. Using a small spoon, slowly and drop by drop whisk the olive oil into the egg mixture. As it begins to thicken, you can start to add the oil in a slow, steady stream rather than drop by drop.
Mayonnaise – Blender method
Important: All ingredients should be at room temperature
• 1 whole egg
• 1 egg yolk
• 1 teaspoon Dijon mustard
• 1 teaspoon white or red wine vinegar
• salt
• 2/3 cup of olive oil
1. Place the whole egg, egg yolk, mustard, vinegar and a pinch of salt into the blender. Pulse to combine.
2. With the blender running, slowly drizzle the olive oil into the egg mixture. Blend until thick.
*Mayonnaise aux herbes:
After making the basic recipe, whisk in 2-3 Tablespoons of chopped tarragon and parsley for a delicious accompaniment to grilled fish.

Subscribe for
FREE

weekly newsletters.
BonjourParis has been a leading France travel and French lifestyle site since 1995.
Readers' Favorites: Top 100 Books, imports & more at our Amazon store
We update our daily selections, including the newest available with an Amazon.com pre-release discount of 30% or more. Find them by starting here at the back of the Travel section, then work backwards page by page in sections that interest you.
Current favorites, including bestselling Roger&Gallet unisex fragrance Extra Vieielle Jean-Marie Farina….please click on an image for details.
More in appetizer recipe, cooking at home, Debra Fioritto, French recipes, Paris cooking class, recipe, recipes
---
---