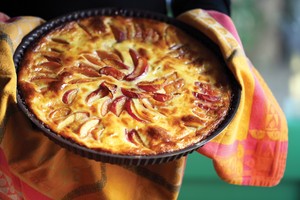 Living in the south of France for over 11 years in the village of Bar-sur-Loup gave me the opportunity to make close friends with my neighbors, who took me under their wing when I first arrived by taking me with them on trips to local open air markets and in sharing their recipes with me.
My favorite cooking guide was my neighbor, Madame, who lived just up the hill. My first weeks learning how to cook local cuisine from her were spent baking. One of my favorite lessons was this peaches and cream tart, which I am not sure can be claimed to be authentically Niçoise (probably more likely from Normandy region) but which I know came from her mother's hand-written notes, that were laid out on the table as we cooked. Since this is the season for peaches, I wanted to share her recipe with you.
The first time we made the tart, we sat down and ate half of it warm, right out of the oven. A pot of tea was on hand, along with a wee little glass of homemade orange liqueur that Monsieur poured for us; then disappeared.
Madame's Peaches and Cream Tart
Serves 8
1 stick unsalted butter, room temperature
2 cups all-purpose flour
3/4 cup sugar, divided, plus 2 tablespoons
7 peaches, unpeeled, sliced thickly
2 eggs
1 teaspoon vanilla extract
1 teaspoon almond extract
1 cup heavy cream
Preheat oven to 400 degrees F. Butter and flour a 9-inch pie plate or a tart pan with a removable bottom.
In a bowl, beat the butter until fluffy. Add the flour and 1/4 cup sugar and work with your hands until it comes together into a dough. Press dough into the pie plate or tart pan.
Lay the peaches in a decorative pattern in the pie plate. Sprinkle with 1/2 cup sugar.
Bake at 400 degrees F. for 20 minutes.
Beat the eggs with 1 tablespoon sugar and vanilla and almond extracts. Whisk in the heavy cream and pour all on top of the peaches. Sprinkle with remaining 1 tablespoon sugar and return to the oven. Bake for 30 minutes, until the top is golden. Allow to cool and set before slicing and serving.
Photo credits:  Steven Rothfeld
Hillary Davis is the author of French Comfort Food and Cuisine Niçoise: Sun-Kissed Cooking From The French Riviera, where this recipe comes from. She is a food blogger at Marchedimanche.com, food journalist, and cooking instructor.
More in French recipes, peaches, recipe, tart
---
---