Pierre Gagnaire : Artisan de la Truffe : La Gare & Terrace Mirabeau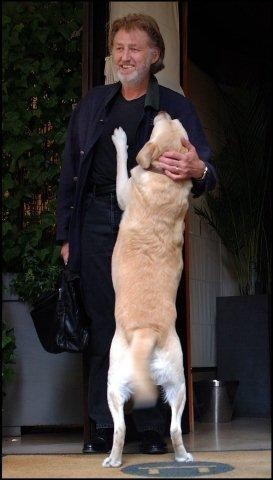 Lotte Group is named in tribute to "Charlotte", heroine of Goethe`s masterpiece "The Sorrow of Young Werther".   "Charlotte is a woman loved by readers over the world", explained Morten Andersen General Manager, Lotte Hotel Moscow.
We meet for lunch chez Pierre Gagnaire, who is Executive Chef at Les Menus, the Lotte's Moscow restaurant. "Such a fantastic city", smiles the chef. And explains his mission thus:
"To run a restaurant 'facing tomorrow but respectful of yesterday' ("tourné vers demain mais soucieux d'hier"). The overall concept unites both a contemporary view on classics and bold transformation of French traditional dishes into my signature works", he explains.
Mr Andersen adds: "Unquestionable talent lies in Pierre Gagnaire's innovative blend of products with tastes and textures that never seem to match; but always do! A hot dish features cold sorbet, fragrant Italian truffles accompany simple ingredients with style and dignity.
We begin with Red mullet/anchovy mousseline, piquillos, karashi, seaweed. A side of Wild green asparagus, broad beans, peas on a bed of apple jelly. "This is not on the menu in Moscow, nothing is the same, I evolve with the seasons, I'm always composing", says the jazz loving Gagnaire.
Blue lobster, girolle and wild mushrooms bouillon are flavoured with verbena, on the side bright green spinach leaves and fresh bright white almond bisque.
"The big luxurious space that is Les Menus par Pierre Gagnaire, Moscow, has elegant decor by Wilson & Associates. Important furniture with gold and silk fabrics bring to mind medieval France, paired with with Russian ornaments on walls and  ceilings. We are delighted to have chef Gagnaire with us", says Mr Andersen.
The main to-day in Paris is long, slow-roast Veal shank, a suggestion of curry, caraway seeds, matched with slow-simmered sorrel, raspberries, green olives and aubergine cannelloni. On the side the tiny zucchini flower is stuffed with spelt from the Sault region.
"In Moscow the restaurant is famous for its wine card containing over 500 references. The core principle we stick to in the process of working out the wine card for Lotte Hotel Moscow, and Les Menus, is harmony with the menu. We are passionate about our wine pairing: designed to strengthen the taste structure, continues Mr Andersen.
Today at lunch, Bugey Cerdon, Brut Rosé from Domaine Bernard Rondeau: Pouilly Vinzelles "Les Quarts" 2011 Domaine de la Soufrandière and Givry 1er Cru "A Vigne Rouge" 2011 Domaine Français Lumpp.
"I love the backstory of Lotte Group, founded in 1948, the owners began by selling chewing gum in post-war Japan, to-day they're a major multinational corporation, a leading Korean enterprise", it's a wonderful success story, and I'm proud to be associated with them", said chef Gagnaire.
So, in Paris book well ahead for Pierre Gagnaire, rue Balzac and, if you're lucky enough to be passing through Moscow:
Get A Room: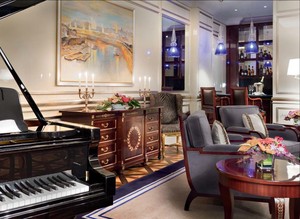 The Lotte has 300 chambres and suites + La Suite Royale
Le Mandara Spa, Pool, Bars, Restaurants Gagnaire and Megu (Japanese)
Leading Hotels of the World
Pierre Gagnaire,
T: 01 58 36 12 50
6 rue Balzac, 8th
M: Georges V
Valet Parking,
Shut Sat-Sun,
Lunch 115€ + wine
Dinner about 280€
Truffle shuffle: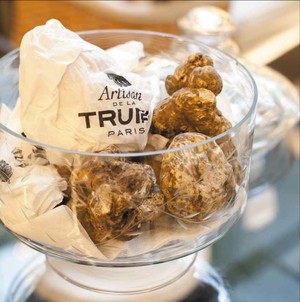 Bonnes nouvelles for hungry truffle lovers/shoppers on the left bank, Artisan de la Truffe, Paris, have created a "corner" in the newly transformed La Grand Epicerie.
Eat-in or takeaway from a sensational selection of seasonal truffles and truffle related products. Great gift ideas. If you lunch try: Ravioli with summer truffles, parmesan or tomato sauce, truffled, bien sûr, roquette salad: Salade Fraîcheur, shrimp, avocado, celery, lettuce, truffle mayo and truffle shavings. Scrambled egge, grated truffles: Truffle risotto: A glass of Côtes de Provence AOP, Jas d'Esclans rosé (8€). An assortment of truffled cheeses, dessert du jour. Bliss ! "If I can't have too many truffles I'll do without". Colette
Artisan de la Truffe,
La Grande Epicerie,
38, rue de Sevres, 7th
M: Sevres/Babylon
La Gare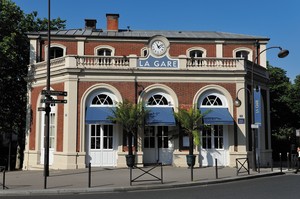 Check the clock and it's all aboard for a magical journey at the monument historique, La Gare, former train station, circa 1854, which took passengers and goods to St. Lazare (the gare not Eric Frechon's brasserie !) encircling Paris, it was called Petite Ceinture. It's now an achingly chic brasserie/bar, created by Olivier Bertrand with dramatic decor by the young talented Laura Gonzalez. Chef Régis Bregère has created a modern carte with all your favourites : Velouté frais petit pois, mint : Daurade marinée aux agrumes : Salmon tartare, mango, avocado, King Crabe, œuf Mimosa : Fish & Chips de la Gare : Roast Landes Chicken and Angelina cheese-Cake : Baba-Au-Rhum : Café Gourmand : Mango and Passionfruit Trifle « La Gare ». Book early, it's the talk of the town.
19, Chausee de la Muette, 16th
M : La Muette
Valet Parking Open 7/7
T : 01 42 15 15 23
Lunch 24-29€
Dinner
Sunday Brunch 39.50€
Leave a reply
Your email address will not be published. Required fields are marked *