Le Dali : Petit Retro : Les Fees Pâtissieres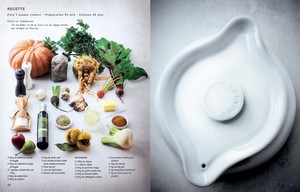 At Le Meurice, as well as Bar 228 and the magnificent Alain Ducasse haute couture restaurant, there's  Le Dali ; alert readers know it's a BUZZ favourite. The 45- seater café chic, designed by Philippe Starck, with awesome painted ceiling by his daughter Ara Starck, always buzzes with ze beautiful « pipole »
Alain Ducasse, with Christophe Saintagne, Head of Restaurant Le Meurice -Alain Ducasse, have created a dawn to dusk concept, without interruption. Pop in for breakfast until 11.30. Then, say, order a Club Sandwich an M. Burger, Croque Monsieur, Beef Tartare. Afternoon tea ? Why not ?
At lunch the menu stars two seasonal French products, at present organic milk-fed Agneau de Lait and Green Asparagus from Jérôme Galis in Vaucluse, Provence.
Also consider, Chicken Fricassé, baby vegetables and morels mushrooms. Buttery sole meuniere Grenobloise (capers, parsley, lemon juice) a side of baby spinach leaves : Beef entrecôte, shallots, pommes de terre dauphine. Or, Monsieur Ducasse's signature Cookpot. Inside the shiny hand-made pot a variety of ingredients, but, vegetables first! A healthy, popular, option on the menu of Ducasse restaurants world-wide.
To finish, divinely decadent desserts by pâtissier Cédric Grolet : Vacherin : Strawberry Tart, Lime Souffle, Ice Cream.
Dali's spirit of adventure is alive and well at Le Meurice : "At the age of six I wanted to be a cook. At seven I wanted to be Napoleon. And my ambition has been growing steadily ever since." Salvador Dali 1904-1989
Des Produits & Des Hommes,
Le Dali – Le Meurice
T : 01 44 58 10 44
228 avenue de Rivoli, 8th
Menu 54€ + A La Carte
M : Tuileries
Open 7/7
Website
Le Petit Retro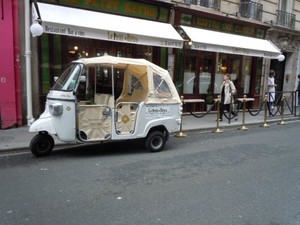 « Maison Fondée 1904 » is emblazoned on the outside blind of this charming listed bistro, located just off Place Victor Hugo, in the same street as the excellent Marché Saint-Didier (Wednesday & Saturday).
Since last year Le Petit Retro has new owners, Grégory Poitier and his wife Muriel Bonvicini. « We're from the 16th arrondissment and, when I heard Petit Retro was for sale I bought it immediately, it was time for me to change jobs ! » explained Poitier,  a former TV journalist/producer.
The Art Nouveau bistro has a handsome zinc bar, is decorated with mirrors and original tiles by Charles-Edouard Haviland. The shiny Victorian coffee machine, still in use, takes pride of place. Regular clients have their « ronde de serviette » and the white tuk-tuk style auto will fetch and deliver if you're in the 16th, 17th or 7th arrondissements. « It means customers can drink what they like and not worry », grins Poitier.
Wearing the whites, Miguel Gonzalez (ex-Café des Musées & Casa Olympe). His blackboard menu changes daily according to suppliers such as Joël Thiebault : www.boucheries-nivernaises.com – Bodega des Pyrénées, Charcuterie Bobosse :   Jean-Luc Poujauren's freshly baked bread arrives at table, warm, in brown paper bags, spread with Bordier butter, without moderation.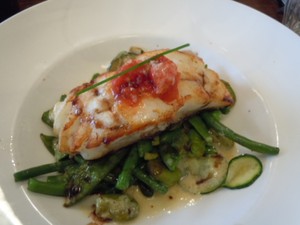 We liked : BOB (Best of Bistro) a traditional assortment of truffled œuf mayo, céleri remoulade, leek vinaigrette/ frit, grated carrot, lemon and coriander : Pata Negra : Planche de la Maison Bobosse : Croque-Messieurs, Comté, Cheddar, jambon fermier : Jolie Salade Niçoise : Fat white asparagus :  Mains of : Rognons de Veau, moutarde violette, pâtes fraîches.  Marrowbone : Ris de veau aux noisettes : Poulet Fermier VH, laque gingembre & citron de Menton : And, cherry on the gateau : Each day Vanessa the pâtissière makes a « dessert for two » Paris-Brest : Baba : Sweet !
Wine by the glass from 5-9€ Sancerre blanc : Moulis AOC No.2 Château de Maucaillou or from the wine-card. Book ahead, Petit-Retro's a star, you read it here first !
5 Rue Mesnil, 16th
M : Victor Hugo
T : 01 44 05 06 05
Shut Sunday
Connaissez-vous Les Fées du Pâtissieres ?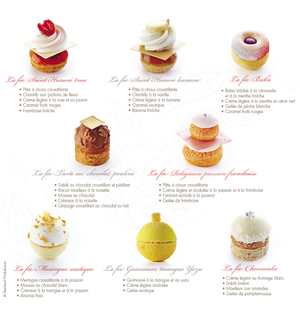 Deborah Levy and Susan Harb are « Cake Fairy Start-Ups » who found a niche market for their mini-pastry jewels, delicious spins on classic French favourites. Working with Eddie Benghanem (Executive Pastry chef at Le Trianon Palace, Versailles) each season produces a collection. At present about 12 melt in the mouth versions to taste : Make a Wish !
Les Fées Pâtissiéres
21 rue Rambuteau, 4th
T : 01 42 77 42 15
From 3.50€
Shut Monday
Leave a reply
Your email address will not be published. Required fields are marked *