A Guide to Summer Terraces in Paris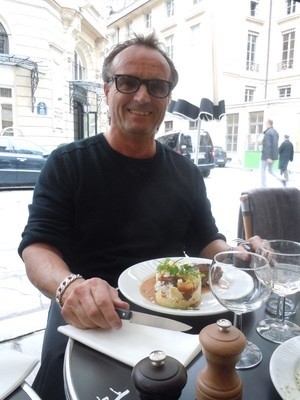 Palais Royal perfection :
Laurent Chainel's shady terrace is located in the mews, once the stables of Louis-Philippe and the family d'Orléans.  Handy for the Comédie Française and Théatre du Palais Royal.
The black and white awnings are Chainel's homage to Daniel Buren's columns  dominating the Palais Royal courtyard. Sip a "ballon de rouge", a "piscine", choose a little/large snack or a hearty meal and don't rule out a planche of charcuterie by Maison Laborie et Fils, crusty bread from Master Baker Jean-Luc Poujauran.
Try Le Hambourgeois, pommes grenailles, an uptown burger made with goat's cheese, served with a well-dressed salad, to match the clientele darling. Perfect!
Bistrot Valois,
1bis place de Valois, 1st,
T: 01 42 61 35 04
Average Spend – 30-45€
M: Palais Royal,
Shut Sunday
A Pigalle Terrace :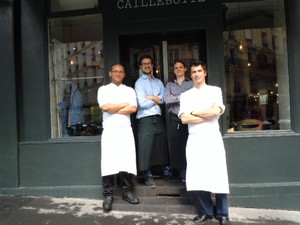 Franck Baranger and Edouard Bobin's neo- bistro (their flagship, Le Pantruche, is just around the corner) has a tiny atmospheric patio, book ahead to taste a cuisine of spontaneous, sublime dishes. « Ideas come with cooking », says Baranger, Lebey Cook of the Year & Le Fooding Best Bistro. Why Caillebotte ? « The artist's brother lived in this road », says Baranger who grew up in the 9th. And, if you were a dish ? « Bœuf Bourgignon, my mum's recipe bien sûr ! »
8 rue Hippolyte-Lebas, 9th
M : Pigalle,
T : 01 53 20 88 70
Shut Sat-Sun
Lunch 14-19€ + A La Carte 34-49€
La Terrasse Fruitée – Cake Heaven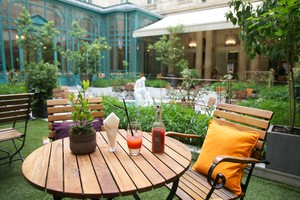 In a chic green and pleasant garden setting Chef Pâtissier Ken Thomas presents « Damier » (to match your check pattern Vuitton, of course).  Read, an elegant version of classic Battenberg cake, created for the wedding of Queen Victoria's grand-daughter to Prince Louis of Battenberg. «Perfect at tea-time with Alain Milliat's fresh fruit juices, flutes of champagne, or Thé Jing, suggested by Antoine and Ibrahim Westin's Sommeliers de Thé. « The Damier is a cake for four seasons », explains Ken Thomas.
« At present we're on myrtille/blackberry, wonderful with Milliat's strawberry juice, or, un thé vert. Perfect pause while shopping on the Faubourg darling. Divine !
The Westin, Paris-Vendome.
Terrasse Fruitée, Le First Restaurant,
About 16€
Lunch & Dinner served here in summer
3 rue de Castiglione, 1st
M : Tuileries
Piscine Molitor Terrace – Up on the Roof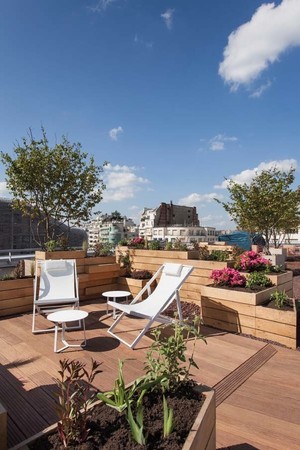 The newly transformed Molitor has two swimming pools, a gym, personal trainers,  private club, restaurants, and hotel M-Gallery with 124 Jean-Philippe Nuel designed bedrooms. The roof terrace, with fragrant herb and flower garden by Thierry Dalcant, has views over the city. Perfect for grills, salads, cocktails.
8 avenue de la Porte Molitor, 16th
M : Porte d'Autheil,
T : 01 56 07 08 50
On the beach – Pop-Up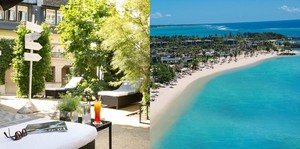 In collaboration with Long Beach Corner means al fresco eating, relax in the magnificent garden with exotic cocktails, tapas etc.
Le Relais du Parc Plage,
Renaissance Le Parc Trocadero,
55-57 Avenue Raymond Poincaré, 16th
T : 01 44 05 66 10
Open 7/7
Until 28 September 2014
Valet parking
A Room with a View & You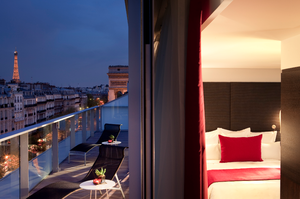 Le Private Makassar : top floor suite at Le Renaissance Arc de Triomphe. During summer this Christian de Portzamparc decorated suite is available for dinner with views over le tout Paris. Dinner à deux by chef Mickaël Foubert with a nod and a wink to Indonesia. And why not stay the night ? Because you're worth it.
Dinner 150€ pp
Hotel Renaissance Arc de Triomphe, 17th
M : Ternes/Charles de Gaulle Etoile
39 Avenue de Wagram,
Reservation on : 01 55 51 55 03
Chez Julien
Yes, that is Jean Dujardin ! He's on the leafy terrace, opposite Saint-Gervais Church lunching Chez Julien the 18th century former boulangerie. Inside, exposed beams, frescoed ceiling, upstairs sexy black & white Rococo boudoir. Up/down/outside on the terrace, chefs Le Boeuf and Uemura suggest: Crab, Roquefort and avocado salad. Tomates "Jouno", organic oeuf mollet: Scallops & Couteaux: Terrine de Foie Gras: Follow with excellent Cabillaud `a la grenobloise, caviar d'aubergine: Chateaubriand, pepper sauce, frites maison: Canette de la Dombes, purée de navet `a l'orange: Riz de veau, gratin aux fruits du mendicants. Desserts include lemon meringue pie/ honey crème brûlée/yogurt ice-cream. By the glass sip Sancerre de Pascal Jolivet or red Bourgogne Domaine Chevalier (€8).  Worth going just to spot Dujardin !
Rue du Pont Louis-Philippe, 4th
M: Pont Marie
T: 01 42 78 31 64
Terrace
Open 7/7
Average Spend 49-77€
Le Flandrin
Brasserie revised and corrected by Joseph Dirand (Monsieur Bleu, also with a lovely terrace). Delicious menu by ex-Passard chef Olivier Denis.
4 place Tattegrain, 16th
M: rue de la Pompe,
T: 01 45 04 34 69
Average spend from 2€ espresso to 85€
Open 7/7 Valet Parking
No site.
And don't forget:
Mini-Palais
Le 8 Iéna at Le Shangri La
Le jardin du Mandarin Oriental
Le Royal Monceau
Leave a reply
Your email address will not be published. Required fields are marked *