A recipe for a wonderful and simple poached egg salad (aka: Salade Lyonnaise)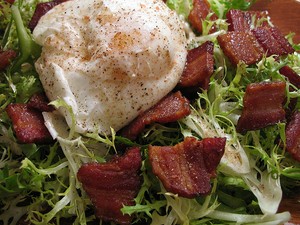 In the spring of 1997, my husband and I were driving on a country road from Paris to the Loire Valley; we stopped at Orgères-en-Beauce, a tiny town (population, about 950) with a little café; the sign outside advertised the day's 55-franc menu routier (a prix-fixe menu created especially for truck drivers).
Once inside, we found that the menu routier was our only option. The choices were salade de gésiers (salad with gizzards) or pâté for the starter; pork or roast chicken for the main dish; and ice cream, a tarte maison (house-made tart), or crème caramel for dessert.
Craving a salad, but not quite in the mood for gizzards, I asked the proprietress of this maman-et-papa café if the kitchen could simply leave the gizzards off the salad. She asked if I'd like to substitute eggs. I thanked her and said yes, assuming she meant hard-boiled eggs (this was long before poached eggs became de rigueur in American bistros).
Out came a plate of greens tossed in a garlicky vinaigrette, topped with two jiggling poached eggs. Skeptical at first, I cut in. The warm yolks added lusciousness to the dressing and pleasantly wilted the greens, while the whites added texture. I was astonished—and to this day I can never get enough of this salad.
Here's my recipe, with the little bits of bacon added for a nod to Salade Lyonnaise. Note that if you're lucky enough to live in a place (like France!) that sells lardons (thick bacon cubes), you could use those. Otherwise, bacon will do.
Poached Egg Salad with Bacon // Salade Lyonnaise
With one egg per person, this is a great starter course. Or, serve two eggs per person and make it a main dish for a light lunch or supper.
Makes 4 first-course servings.
4          slices bacon, cut into 1-inch pieces
3          cups torn mixed greens, such as baby spinach, radicchio, Belgian endive, frisée, and arugula*
1/2      cup sliced red onion
4          large eggs
1          recipe Sherry-Mustard Vinaigrette (see recipe, below)
Salt and freshly ground black pepper to taste
1. Cook the bacon in a skillet over medium heat until crisp; remove the skillet from the heat and set it aside.
2. Toss the greens and red onion in a medium-size salad bowl.
3. Using an egg poacher, poach the eggs to the desired doneness according to the manufacturer's directions. Drain the eggs and set them aside.
4. When the eggs are almost done, reheat the bacon in the skillet over medium heat; remove the bacon pieces with a slotted spoon and add to the greens mixture in the bowl. Toss in enough vinaigrette to coat the leaves nicely; you may not need the entire recipe.
5. Arrange the salad among four serving plates and top each with a poached egg. Season each egg with salt and pepper and serve immediately.
Sherry-Mustard Vinaigrette: In a small bowl, combine 1 to 2 cloves minced garlic with salt and freshly ground black pepper to taste. Mash them together with the back of a spoon to make a rough paste. Add 1 tablespoon sherry vinegar; whisk with a fork or small whisk until the salt is dissolved. Whisk in 2 teaspoons Dijon mustard. Slowly add 3 tablespoons extra-virgin olive oil, whisking until incorporated. Whisk in a drop or two of hot pepper sauce, if desired.
* Note: A classic Salade Lyonnaise generally uses frisée or other strong-flavor lettuces, but it's fine to mix it up if you like.
Photo by Tiny Banquet Committee via Flickr.
Wini Moranville is the author of The Bonne Femme Cookbook: Simple, Splendid Food That French Women Cook Every Day, and the co-author of The Braiser Cookbook. Follow Wini on Facebook at Chez Bonne Femme.
More in appetizer recipe, French recipes, recipe
---
---