Flâneries in Paris: The Gardens of Versailles
This is the 20th in a series of
walking tours
 highlighting the sites and stories of diverse districts of Paris. As I stood at the top of the gardens of the
Palace of Versailles
and gazed down, a truly splendid vista was spread out before me. It was an enticing prospect for a walk and I broke with the usual flânerie tradition by arming myself with a map supplied at the garden's entrance. The sheer size of the grounds is overwhelming and I didn't want to miss any of the highlights.          Geometrical parterres were laid out to right and left and, as I looked over the symmetrical pools of the water parterre between them, the long, straight, central Great Lawn led my eye into the distance, towards Apollo's Fountain and beyond to the Grand Canal. Its orderly arrangement of straight lines and right angles gave it a pleasing formality, but I knew too that as I explored, I would find hidden groves and pathways, full of surprise statues and fountains. The Grande Perspective before me was begun before the reign of
Louis XIV
, but it was the Sun King himself and his master gardener, André Le Nôtre, who perfected it.   The route led straight ahead to one of the central splendors of the garden, Latona's Fountain, where Latona's statue stands atop four layers of gilded frogs and lizards. They recall the punishment of peasants who were turned into ugly creatures for refusing the goddess a drink of water. It served at least two of the purposes dearest to Lous XIV's heart. Firstly, it was one of his endless tributes to Apollo – Latona was Apollo's mother – and, equally pleasing to him, it was a fantastic display of surplus wealth. How everyone would envy a king who could spray gold around a pond with such abandon! And I imagine Louis hoped they would grasp the subtext, namely the idea that crossing those in power always ends badly.    Latona Fountain detail, Palace of Versailles gardens. Photo by Marian Jones Following a path looping round to the left, I heard piped classical music, a sure sign that the Ballroom Grove was not far. Suddenly, the oval space opened up, surrounded by tiers of stone seating on grassy banks, a secluded space where musicians played high up above artificial waterfalls and dancers performed on summer evenings. Every aisle between the seats was studded with golden urns and vases. When the grove, created by Le Nôtre at the height of his powers, was opened, the Grand Dauphin staged a celebratory grand dinner. I could almost hear the laughter and the clinking of crockery.  Next came the Queen's Grove, one of the many little woodland spaces which open up unexpectedly, hidden enclaves surrounded by trees, where symmetry has been imposed on nature by a pattern of pathways leading to a central feature. When Le Nôtre designed this one for Louis, he filled it with charming fountains shaped like the animals from Aesop's fables, but a century later it was redesigned as a place for Queen Marie Antoinette to walk in private. It was filled with sweet-scented Tulip Trees imported from Virginia and bordered by rose beds, idyllic, but also a place of intrigue. A scene from the "Diamond Necklace Scandal" played out here, when a cardinal who thought he was meeting secretly with the queen was duped by an imposter. It made me wonder what other subterfuges unfolded in these little hideaways and I could just imagine the whispered plotting and the shadowy figures flitting between the hedges.  Ballroom Grove at the Palace of Versailles gardens. Photo by Marian Jones
SUBSCRIBE
ALREADY SUBSCRIBED?
BECOME A BONJOUR PARIS MEMBER

Gain full access to our collection of over 5,000 articles and bring the City of Light into your life. Just 60 USD per year.

Find out why you should become a member here.

Sign in

Fill in your credentials below.
This is the 20th in a series of walking tours highlighting the sites and stories of diverse districts of Paris.
As I stood at the top of the gardens of the Palace of Versailles and gazed down, a truly splendid vista was spread out before me. It was an enticing prospect for a walk and I broke with the usual flânerie tradition by arming myself with a map supplied at the garden's entrance. The sheer size of the grounds is overwhelming and I didn't want to miss any of the highlights.         
Geometrical parterres were laid out to right and left and, as I looked over the symmetrical pools of the water parterre between them, the long, straight, central Great Lawn led my eye into the distance, towards Apollo's Fountain and beyond to the Grand Canal. Its orderly arrangement of straight lines and right angles gave it a pleasing formality, but I knew too that as I explored, I would find hidden groves and pathways, full of surprise statues and fountains. The Grande Perspective before me was begun before the reign of Louis XIV, but it was the Sun King himself and his master gardener, André Le Nôtre, who perfected it.  
The route led straight ahead to one of the central splendors of the garden, Latona's Fountain, where Latona's statue stands atop four layers of gilded frogs and lizards. They recall the punishment of peasants who were turned into ugly creatures for refusing the goddess a drink of water. It served at least two of the purposes dearest to Lous XIV's heart. Firstly, it was one of his endless tributes to Apollo – Latona was Apollo's mother – and, equally pleasing to him, it was a fantastic display of surplus wealth. How everyone would envy a king who could spray gold around a pond with such abandon! And I imagine Louis hoped they would grasp the subtext, namely the idea that crossing those in power always ends badly.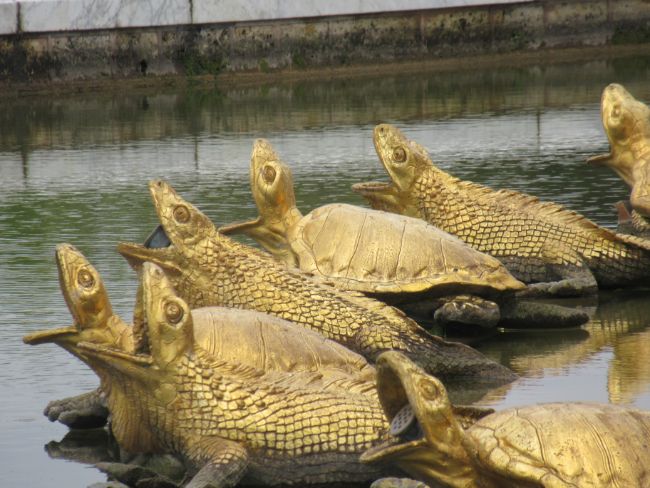 Following a path looping round to the left, I heard piped classical music, a sure sign that the Ballroom Grove was not far. Suddenly, the oval space opened up, surrounded by tiers of stone seating on grassy banks, a secluded space where musicians played high up above artificial waterfalls and dancers performed on summer evenings. Every aisle between the seats was studded with golden urns and vases. When the grove, created by Le Nôtre at the height of his powers, was opened, the Grand Dauphin staged a celebratory grand dinner. I could almost hear the laughter and the clinking of crockery. 
Next came the Queen's Grove, one of the many little woodland spaces which open up unexpectedly, hidden enclaves surrounded by trees, where symmetry has been imposed on nature by a pattern of pathways leading to a central feature. When Le Nôtre designed this one for Louis, he filled it with charming fountains shaped like the animals from Aesop's fables, but a century later it was redesigned as a place for Queen Marie Antoinette to walk in private. It was filled with sweet-scented Tulip Trees imported from Virginia and bordered by rose beds, idyllic, but also a place of intrigue. A scene from the "Diamond Necklace Scandal" played out here, when a cardinal who thought he was meeting secretly with the queen was duped by an imposter. It made me wonder what other subterfuges unfolded in these little hideaways and I could just imagine the whispered plotting and the shadowy figures flitting between the hedges.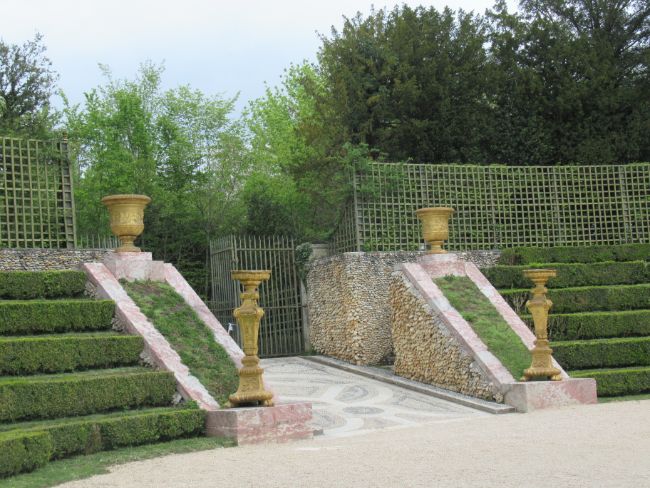 Further along the route was the Bacchus Fountain, where the god of wine reclined amid his nymphs, some gorging on grapes, others sated and stupefied. Their golden bodies shone amid the deep purple of the abundant fruit. At the Mirror Pool, spurts of water rose and curved in time with the music, gushing high, then higher, all choreographed like a ballet. When the music started, the ducks scuttled to the edge of the pond. When it finished some of the onlookers burst into spontaneous applause. And, set back against the trees, Venus and Apollo looked on.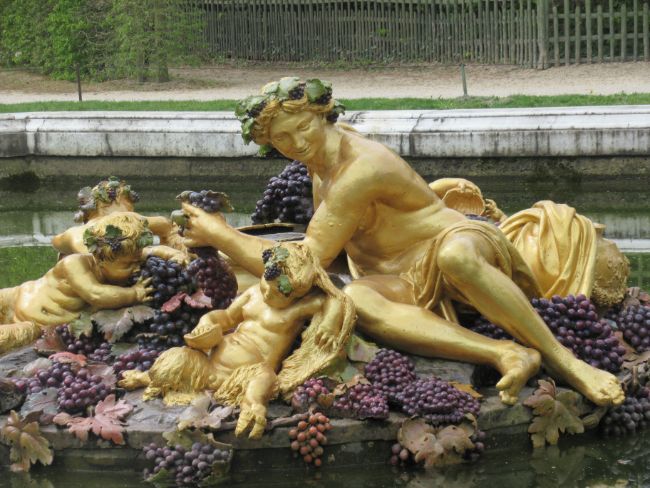 At the Colonnade Grove, a grand circle of marble columns supported 32 arcades decorated with cheerful bas-reliefs of children playing instruments, some strumming, others piping. They told of frolicsome summer evenings, filled with music and pleasure. But in the middle was a more disturbing image, a massive statue of Pluto abducting Prosperina. His muscles rippling, his face set in entitlement, he was carrying her off to the underworld where he ruled. He'd fallen madly in love at first sight, said the story, but there was no mention of her side of things. Neither in mythology, nor in the 17th century when the statue was made, had that seemed important.
From here, the path led to Apollo's Fountain which was under covers for restoration work, but it was still inspiring to stand there, at the end of the Petit Parc and look ahead to where the Grand Canal and woodlands begin. I thought about the countless water festivals which were held on the canal, where Louis kept the gondolas he had been gifted by the City of Venice. I knew too, that to celebrate the wedding of Louis XVI and Marie-Antoinette, guests gathered after the masquerade ball to see the entire canal lit up in the dark.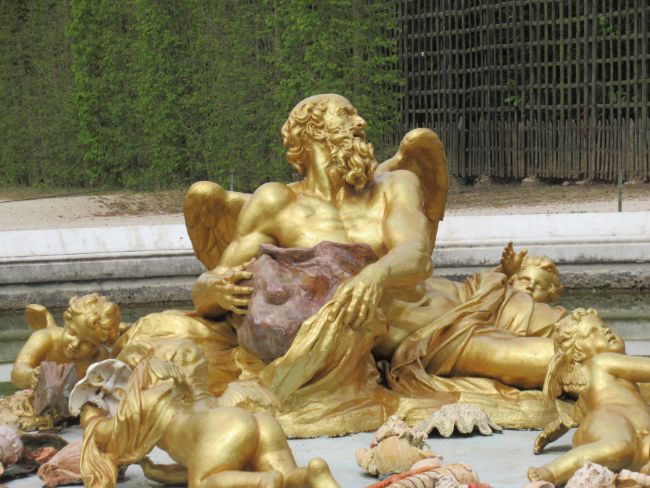 Doubling back into the garden, I arrived first at the Enceladus Grove with its  disturbing centrepiece. A statue shows the fate of Enceladus, the giant who tried to oppose the gods and was suffocated by the rocks he threw at them. The terrifying sight of the golden figure, head thrown back in anguish, disappearing into the earth was created by Le Nôtre, prompted by Louis XIV. However strong you are, warns the scene, you must never oppose those who rule over you. I remembered the fate of Nicolas Fouquet, whose beautiful Vaux-le-Vicomte château so infuriated the jealous Louis that he had his rival arrested and imprisoned for life before designing his own even more stunning palace at Versailles. 
Some delightful fountains followed, one showing the golden Flora garlanded in colorful flowers, another where Ceres, the goddess of fertility is surrounded by nymphs and ears of corn. But the Water Theatre Grove was odd. Originally designed by Le Nôtre as a setting for theater performances, it was destroyed under Louis XVI and has been recently redesigned. The lake displays a number of modern sculptures, described in the guidebook as "arabesque fountains in ornate Murano glass evoking Louis XIV's dance steps." More than two centuries after his death, it seems designers are still indulging his whims.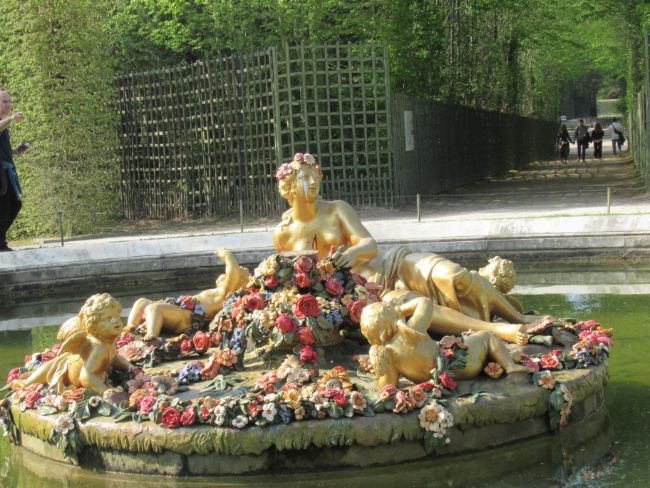 Soon came another monster in its death throes, Python, the serpent dragon. He had  crossed Apollo and so was pierced with arrows until he expired. One of the tallest fountains in the garden, it's an impressive sight, as is the Neptune Fountain where 99 water jets combine to produce an exuberant display. But by this time, I was a little jaded, wondering if there was any sign that Louis XIV was ever not in total control of everything. And then came the Three Fountains Grove, designed to accommodate his immobility as he aged. Ramps were placed up the slope, where three different fountains are displayed on separate terraces, each a little higher up than the last, so that he could be pushed up in a bathchair. There, at last, was one small sign of fallibility.     
But it would be mean to take pleasure in that. It made Louis seem only human after all, as did reading that he loved to walk in these grounds daily, taking his dogs along and stuffing his pockets with pastries from the kitchens to feed them. Louis had many questionable attitudes, but I had just spent two delightful hours enjoying the fruits of his imagination, the haven where, as the guidebook puts it, he "bullied nature, taming it with art and treasures." Really, I thought, there's no pleasanter way to while away a sunny afternoon than a wander through the gardens at Versailles.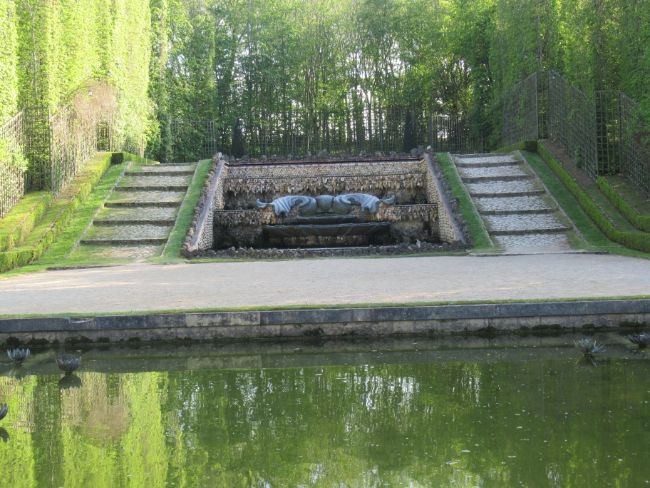 Lead photo credit : A statue showing the fate of Enceladus, (Photo by: Marian Jones)
More in Flâneries in Paris, Versailles, walking tour
---
---
Comments