The Fifth Arrondissement, the Paris Latin Quarter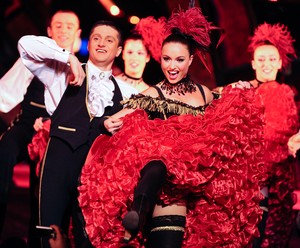 Paris' Latin Quarter, the 5th Arrondissement, is home to the heart of the city, the Notre Dame de Paris, a church that has stood its ground for 850 years and has welcomed millions of worshippers through its doors. The Latin Quarter is home to other legendary institutions and cultural monuments, too, such as La Sorbonne, the Pantheon and the city's original cabaret, the Paradis Latin. During my many sojourns in Paris, I had never invested much time in the 5th. Perhaps it was from a sort of reverse snobbism… A decade ago the neighborhood was referred to as a quartier for students and tourists. Today, while there are still a good amount of students and tourists to rub shoulders with, you will also find that this oldest and most historical part of Paris – and one of the most expensive in real estate terms – is experiencing a re-blossoming of city-centric go-to references such as Terroir Parisien, Chef Yannick Alleno's local food bistro, and this year's La Revue du Vin de France Best Wine Shop, Le Quinze Vins. Both are a stone's throw from Notre Dame de Paris… and the Paradis Latin. Geo-Locating Yourself An area that more or less stretches from the St. Michel Fountain (Fontaine St. Michel) up Blvd. St. Michel to the Luxembourg Gardens (Jardins Luxembourg) then over to encompass the Pantheon, Place de la Contrescarpe, the famous rue Mouffetard and Arènes de Lutèce (the old Roman arena dating back thousands of years that still stands more or less intact), all the way to Jardins des Plantes and then circling back to encompass the Institut du Monde Arabe, La Tour d'Argent (famous to the foodies among you) and then closing the circle back at the Notre Dame. Proposed Game Plan Say you have 5-7 days in Paris and you want to make the most of it – feel the vibrancy of the city, walk the pretty little cobblestone streets, kiss on the bridge as the bateaux glisten by along the Seine underneath… You want to walk out of your hotel lobby and be in the middle of the action but still have a quiet enough room so you can sleep soundly at night and perhaps take a restful stroll through the sprawling Luxembourg Gardens one afternoon or around the majestic Pantheon to pay homage to the great men like Victor Hugo, author of Les Misérables, who are buried within. Here are some suggestions for you and your family or your romantic partner to have it all – fun, romance, food, culture, monuments, Parisian vibrancy, elegance, youthful appeal and contemplative restfulness – all within a concentrated radiant. Dinner And A Show Top on your list is Paradis Latin. This is a French Cabaret show like none other. Firstly, still in the original building designed by Gustave Eiffel where he first imagined the theater "Jardin d'Eden," it has now been designated a cultural heritage site since its re-discovery and refurbishment in the 70s. And the girls here certainly Can-Can. More than that, the evening offers a full repertoire of entertainment, 8pm to about 11pm, and in this respect it stands apart from its Right Bank brethren. It's something like a Vaudeville act in the most traditional and best sense. It's a family-run house and you very much get that feeling, as if you've been invited to be part of a select group at a King's Court. Between the dance numbers, which are all costumed, feathered and expertly choreographed, you will also enjoy a juggler who catches three champagne flutes on a tray balanced on his nose while riding a unicycle on stage. Yes. You have to see it for yourself. And then there's "Christopher, l'oiseau du Paradis" which is a play on words and means "the bird of Paradise." He flies above guests' heads on a suspended trapeze when he's not doing handstands on the tautly suspended ropes. It's been awhile since I've seen a live circus, but I caught myself with my jaw dropping on more than one occasion during his performance. In fact, the entertainment throughout the evening was so superb that it almost entirely eclipsed the meal. Which is saying a lot because the dinner here is good quality – steak or fish cooked just right, salmon or foie gras starters, a bottle of champagne or red wine left at your table. An evening at Paradis Latin is truly Dinner And A Show, in the old-world, Father Knows Best sense. Look out for the Paradis Latin 
Atelier CanCan
. You can learn the French dance yourself, in classes with the Paradis Latin pros. Be advised – whooping at the top of your lungs goes along with the kicking high into the air of your stockinged legs. 28 rue du Cardinal Lemoine, Paris V, Quartier Latin Notre Dame de Paris Either before or after the show, you can easily swing by the Notre Dame de Paris. It's just a stone's throw (5 minute walk) from the Paradis Latin. Best to follow rue Cardinal Lemoine down to the Seine and then walk along the Quai the few hundred feet until you get to the small bridge that leads you to the majestic cathedral. The Seine and the church at night are gorgeous, regardless of the weather. Paris is magical for that – the lighting is always superb. In celebration of the church's 850th year, in 2013 the city built a viewing platform just in front of the entrance to the Cathedral. You can read more about this special commemoration of Notre Dame de Paris (in English)
here
. Whether you are or aren't religious, celebrating a mass at the Notre Dame de Paris is an experience like no other. I highly recommend it. Where To Stay The fifth has dozens of hotels. These two are solid, stylish bets. Hotel Observatoire Luxembourg
I want to say that this is a hotel ideal for a romantic sojourn. But on the morning that I visited the site, I saw the sweetest…
SUBSCRIBE
ALREADY SUBSCRIBED?
BECOME A BONJOUR PARIS MEMBER

Gain full access to our collection of over 5,000 articles and bring the City of Light into your life. Just 60 USD per year.

Find out why you should become a member here.

Sign in

Fill in your credentials below.
Paris' Latin Quarter, the 5th Arrondissement, is home to the heart of the city, the Notre Dame de Paris, a church that has stood its ground for 850 years and has welcomed millions of worshippers through its doors. The Latin Quarter is home to other legendary institutions and cultural monuments, too, such as La Sorbonne, the Pantheon and the city's original cabaret, the Paradis Latin.
During my many sojourns in Paris, I had never invested much time in the 5th. Perhaps it was from a sort of reverse snobbism… A decade ago the neighborhood was referred to as a quartier for students and tourists. Today, while there are still a good amount of students and tourists to rub shoulders with, you will also find that this oldest and most historical part of Paris – and one of the most expensive in real estate terms – is experiencing a re-blossoming of city-centric go-to references such as Terroir Parisien, Chef Yannick Alleno's local food bistro, and this year's La Revue du Vin de France Best Wine Shop, Le Quinze Vins. Both are a stone's throw from Notre Dame de Paris… and the Paradis Latin.
Geo-Locating Yourself
An area that more or less stretches from the St. Michel Fountain (Fontaine St. Michel) up Blvd. St. Michel to the Luxembourg Gardens (Jardins Luxembourg) then over to encompass the Pantheon, Place de la Contrescarpe, the famous rue Mouffetard and Arènes de Lutèce (the old Roman arena dating back thousands of years that still stands more or less intact), all the way to Jardins des Plantes and then circling back to encompass the Institut du Monde Arabe, La Tour d'Argent (famous to the foodies among you) and then closing the circle back at the Notre Dame.
Proposed Game Plan
Say you have 5-7 days in Paris and you want to make the most of it – feel the vibrancy of the city, walk the pretty little cobblestone streets, kiss on the bridge as the bateaux glisten by along the Seine underneath… You want to walk out of your hotel lobby and be in the middle of the action but still have a quiet enough room so you can sleep soundly at night and perhaps take a restful stroll through the sprawling Luxembourg Gardens one afternoon or around the majestic Pantheon to pay homage to the great men like Victor Hugo, author of Les Misérables, who are buried within. Here are some suggestions for you and your family or your romantic partner to have it all – fun, romance, food, culture, monuments, Parisian vibrancy, elegance, youthful appeal and contemplative restfulness – all within a concentrated radiant.
Dinner And A Show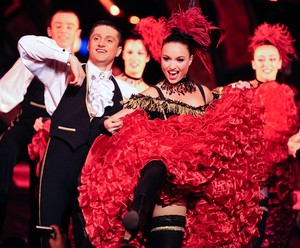 Top on your list is Paradis Latin. This is a French Cabaret show like none other. Firstly, still in the original building designed by Gustave Eiffel where he first imagined the theater "Jardin d'Eden," it has now been designated a cultural heritage site since its re-discovery and refurbishment in the 70s. And the girls here certainly Can-Can. More than that, the evening offers a full repertoire of entertainment, 8pm to about 11pm, and in this respect it stands apart from its Right Bank brethren. It's something like a Vaudeville act in the most traditional and best sense.
It's a family-run house and you very much get that feeling, as if you've been invited to be part of a select group at a King's Court. Between the dance numbers, which are all costumed, feathered and expertly choreographed, you will also enjoy a juggler who catches three champagne flutes on a tray balanced on his nose while riding a unicycle on stage. Yes. You have to see it for yourself. And then there's "Christopher, l'oiseau du Paradis" which is a play on words and means "the bird of Paradise." He flies above guests' heads on a suspended trapeze when he's not doing handstands on the tautly suspended ropes. It's been awhile since I've seen a live circus, but I caught myself with my jaw dropping on more than one occasion during his performance. In fact, the entertainment throughout the evening was so superb that it almost entirely eclipsed the meal. Which is saying a lot because the dinner here is good quality – steak or fish cooked just right, salmon or foie gras starters, a bottle of champagne or red wine left at your table. An evening at Paradis Latin is truly Dinner And A Show, in the old-world, Father Knows Best sense.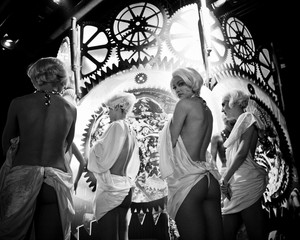 Look out for the Paradis Latin Atelier CanCan. You can learn the French dance yourself, in classes with the Paradis Latin pros. Be advised – whooping at the top of your lungs goes along with the kicking high into the air of your stockinged legs.
28 rue du Cardinal Lemoine, Paris V, Quartier Latin
Notre Dame de Paris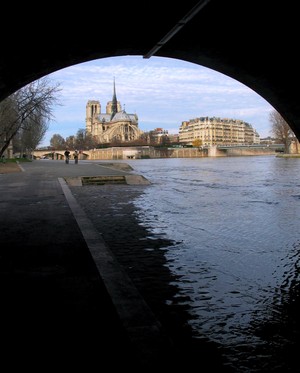 Either before or after the show, you can easily swing by the Notre Dame de Paris. It's just a stone's throw (5 minute walk) from the Paradis Latin. Best to follow rue Cardinal Lemoine down to the Seine and then walk along the Quai the few hundred feet until you get to the small bridge that leads you to the majestic cathedral. The Seine and the church at night are gorgeous, regardless of the weather. Paris is magical for that – the lighting is always superb.
In celebration of the church's 850th year, in 2013 the city built a viewing platform just in front of the entrance to the Cathedral. You can read more about this special commemoration of Notre Dame de Paris (in English) here.
Whether you are or aren't religious, celebrating a mass at the Notre Dame de Paris is an experience like no other. I highly recommend it.
Where To Stay
The fifth has dozens of hotels. These two are solid, stylish bets.
Hotel Observatoire Luxembourg

I want to say that this is a hotel ideal for a romantic sojourn. But on the morning that I visited the site, I saw the sweetest little American family having breakfast in the charming breakfast room adjacent to the lobby. The self-standing building that dates back to the Belle Epoque is high up on the Blvd. St. Michel – meaning it's across the street from the Luxembourg Gardens and just up past the Pantheon. It's delightfully quiet, surprisingly so given that it's right in the center of the Left Bank. That's because behind the building is a city block of a walled garden that belongs to the deaf-persons school that dates back over a hundred years, still operational today.
Recently redone, Hotel Observatoire Luxembourg's owners, Georges and Caroline Bonneau, and their architect-designer, Alexandre Danan, took inspiration from the "Paris Meridien" which was first articulated by Francois Arago, a physician and astronomer, and is referred to as the Arago Line in the Da Vinci Code by Dan Brown. Decor is luxurious and crisp, lobby is artistic with a touch of modern whimsy. Wi-Fi is free throughout the hotel.
Stylish, quiet, excellent service and superb proximity to both the fulcrum of the 5th (Pantheon, Pl. Contrescarpe, rue Mouffetard, Blvd. St. Michel) and gateway to the 6th (Luxembourg Gardens, St.-Germain-des-Prés, Odeon). Check their website for seasonal specials and the best rates.
107, Blvd. Saint-Michel 75005
Villa d'Estrées
Taking its name from one of King Henry IV's more famous mistresses – Gabrielle d'Estrées (d. 1599) – this luxurious Villa/Hotel is just off the popular and bustling rue Saint André des Arts. It's on a small street that leads straight down to the Seine, about a half-block walk. From that perch, you are gazing right onto Notre Dame.
This area is loved by both tourists and local Parisians. The rue Saint André des Arts begins just this side of the Fontaine St. Michel and you can follow it all the way to the heart of Saint-Germain-des-Prés, gazing at all the enticing little creperies offering their special savory crepe of the day which almost always includes a "bowl" of hard cider and a dessert crepe all for under about 10 euros. Just across the street from the Villa d'Estrées is the Theatre St. André des Arts, a cult classic movie theater and one of the oldest operating family owned theaters in Paris, known for highlighting auteur directors and cineastes for a season or an extended period of time.
The lobby of the Villa is luxurious, warm and welcoming. Rooms are large and the boutique hotel is all suites and jr. suites. It's a 4-star property decorated in richly-colored silks and velvets. Across the street is their sister property, Hotel Residence des Arts Paris which is a three-star property, mostly because it has no lobby. You check in at the Villa.
The Residence comes with equipped kitchenettes so it's an ideal choice for small families or extended stays. The exposed beams and cubby rooms give the place its charm and unique feel.  Both choices are ideal for their location, with St. Michel, Notre Dame, and Saint-Germain-des-Prés at your doorstep. Because of the popular bars on the corner, it can get a little loud on a Saturday night. But likely if you're visiting Paris for a few days, it's unimaginable that you'd be in early on a Saturday night. Check the hotel website for seasonal deals and 3-night packages.  Both fill up fast for Fashion Week(s) so book in advance.
17 rue Gîte le Coeur Paris
More Not To Miss In The 5th
Pantheon (including all the little streets around it – some small good restaurants)
Institut du Monde Arabe (museum and for tea)
Arènes de Lutèce (original Roman name for Paris: Lutèce)
Luxembourg Gardens
La Sorbonne
Musée de Cluny (Musée national du Moyen Âge – Thermes et hôtel de Cluny)
rue Mouffetard (lots of small good restaurants/shops)
Place Contrescarpe (some good Parisian Bistros, building where Hemingway once lived nearby)
Maubert Mutualité Market
Place Monge Market
Jardins des Plantes
Flower Market on Ile de la Cité
Comptoir La Tour d'Argent (pick up affordable goodies from this ground-floor boutique shop of the famous restaurant)
Le Retour à la Terre –  Beautiful organic foods shop near Pantheon
More in 5th arrondissement, Latin Quarter, notre dame, Notre Dame de Paris, Paris tourist tips
---
---