La Rotonde Continues to be a Favorite
In Hemingway's The Sun Also Rises, the character Jake Barnes states, "No matter what café in Montparnasse you ask a taxi driver to bring you to from the right bank of the river, they always take you to the Rotonde."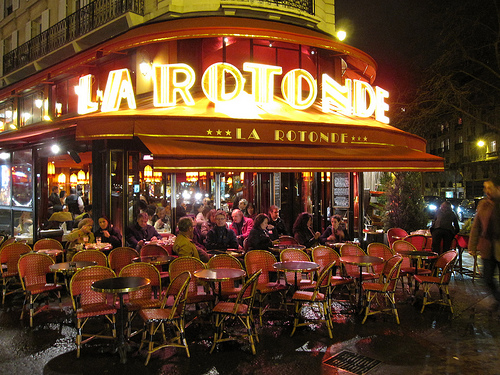 Cafe de la Rotonde has stood the test of time continuing to be a popular meeting place for locals because of its welcoming staff, good traditional French cuisine, lively atmosphere and beautiful decor. Located at 105, Boulevard du Montparnasse, La Rotonde
was opened in 1911 by Victor Libion.
Libion's cafe is renowned as having been a meeting spot for artists and writers during the interwar period. There were other popular cafes in the Montparnasse quartier—La Coupole and Libion's Le Dôme—but La Rotonde was particularly endearing. It was a time of great poverty and many of these artistic men and women barely had a roof over their heads let alone money for food. Libion would allow these (literally) starving artists to sit in his café for hours with a ten-centime cup of coffee. He would turn a blind eye if the ends of the baguettes were stealthily removed. More importantly, if they did not have the money to pay for food he would hold the artist's work as collateral and then graciously return the art when they were able to pay their bill. As result, La Rotonde became a showplace for all of the great impressionist painters. The paintings on its walls are now copies, but you will find a good mix of art from its former patrons adorning the walls.
Montparnasse is most noted as the spot where painters, sculptors, writers, poets and composers flocked: they arrived from many places including Europe, Russia, the Ukraine, the United States, Canada, Mexico, Japan, Central and South America. Creativity was clearly embraced and each time a new artist arrived they were welcomed, despite politics or religion. The list of individuals who congregated in Montparnasse has been a veritable who's who since the cafe opened its doors. Among the famous are Pablo Picasso, Ernest Hemingway, Man Ray, Max Ernst, Henri Rousseau, Henry Miller, Gertrude Stein, Samuel Beckett, Fernand Léger, Henri Matisse, Marc Chagall, Edgar Degas, Diego Rivera and Marcel Duchamp. One could say that this is where the art of meeting and interacting was born and refined.
One of the more colorful and beloved characters of that time was nightclub singer, painter and model Kiki de Montparnasse (born Alice Ernestine Prin in 1901). I have found that only Parisians remember Kiki, which is sad given this woman's life tells the real story of France in the early 1900s, and more specifically in Montparnasse. Kiki's story recounts pain, suffering, and optimism in the face of adversity, liberation, creativity, energy and the audacity of a remarkable place and time.
Kiki had a long-term romance with Man Ray, who photographed her extensively and has kept her alive as a symbol of bohemian and creative Paris. The most famous of his images is Le Violon d'Ingres (1924), which is currently at The J Paul Getty Museum in Los Angeles.
The autobiography, Kiki's Memoirs, was published in 1929 in France and the following year it was published in the United States by Black Manikin Press in New York City, but was banned by the U.S. government until the 1970s. In 1996, Kiki's Memoirs was translated, published and distributed in the United States. Best read in its original language, the English translation is also delightful: take note of the introduction written by Ernest Hemingway. In his introduction, Hemingway writes: "She was very wonderful to look at. Having a fine face to start with she had made of it a work of art. She had a wonderfully beautiful body and a fine voice, talking voice not singing voice, and she certainly dominated that era of Montparnasse more than Queen Victoria ever dominated the Victorian era."
As was the case with so many artists, Kiki died at 51 from complications of alcoholism and drug abuse. Kiki's friend, Japanese-born painter/printmaker Léonard Tsuguharu Foujita, is reported to have said, "[with Kiki] the glorious days of Montparnasse were buried forever." She is buried at Cimetière du Montparnasse where her tomb reads: "Kiki, 1901-1953, singer, actress, painter, Queen of Montparnasse".
La Rotonde offers a good selection of beef and fish. There are favorites such as foie gras, French onion soup and les escargots—all are well prepared and beautifully presented. For the true gourmand, there is an excellent selection of les huitres (oysters), les coquillages (shellfish) and les crustaces (crustaceans) served on giant platters. The selection of wine is superb with a good price ranges to accommodate a variety of budgets.
Practical Information
105, Boulevard Montparnasse, Paris 6th
Tél: 01 4326 4826
Hours: Daily noon-3pm; 7-11pm
Métro: #4 Vavin
Bus: 91
Loui Franke is a Paris resident and the author of Parisian Postcards. Please click on her name to learn more about her and to see other stories by Loui published by BonjourParis.
Subscribe for free
weekly newsletters with subscriber-only content.
BonjourParis has been a leading online France travel and French lifestyle site since 1995.
Top 100 France-themed books & more: Readers' Favorites.
Leave a reply
Your email address will not be published. Required fields are marked *