BUZZ Extra: Anne-Sophie Pic, Helene Darroze and Paris des Chefs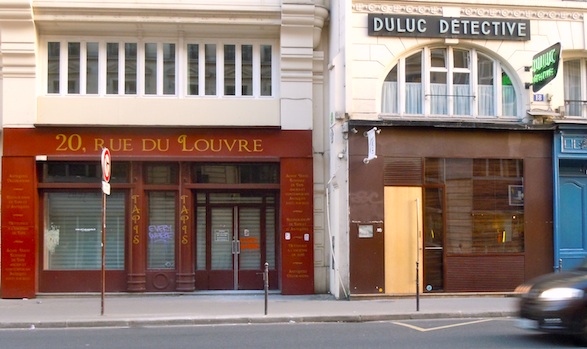 Coming soon from Anne-Sophie Pic on the Right Bank, Paris. Photo by M. Kemp.
Anne-Sophie Pic Opening New Right Bank Restaurant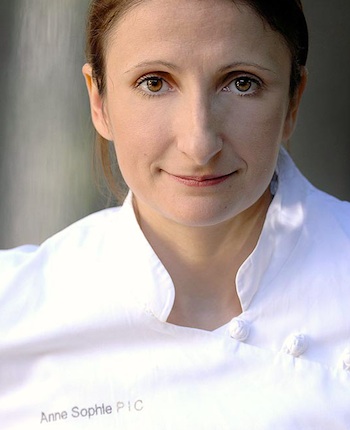 Maison Pic (headed by Anne-Sophie Pic) celebrates its 120th anniversary and three generations have earned the coveted three Michelin stars in the France Guide.
Anne-Sophie decided it was time to think outside the box and become the first family member to open up away from Valence. So, she opened an eponymous restaurant in the newly transformed Hotel Beau-Rivage Palace, Lausanne, Switzerland and soon after won 2 Michelin stars for her original and delicious cuisine. That gives her five and counting because….
Now there's good news for Parisians who don't want to schlep to Valence or Lausanne.
Work is about to begin on a Paris address!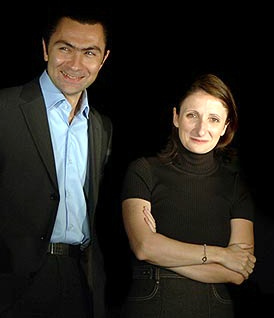 Anne-Sophie and her husband David Sinapian ("The Rock") are transforming 20, rue du Louvre, a former carpet store, into a two-story restaurant with a state-of-the-art open kitchen that will be part of the restaurant.
"It'll be a very bright feminine space, between a bistro chic and a gastronomic restaurant," says Anne-Sophie.
There will be 45 covers and a private room for ten. It's just around the corner from Daniel Rose's Spring and right next door to the mysterious Duluc Detective Agency.
Exciting!
20, rue du Louvre, Paris 1st (not yet open)
Valence information:
Weekday lunch Menu 90€
Lunch A La Carte – 210/320€
Dinner 150/275€
12 rooms and 3 suites from 260/410€
Le RN7 Bistro (at the Valence property) Menu 29€ A La Carte 38/69€
Need to know: Hélène Darroze now a chevalier de la légion d'honneur
Brava to French chef Hélène Darroze, who was awarded the distinction of chevalier de la légion d'honneur—she's a knight in the French Legion of Honor. She has two richly deserved Michelin stars for Restaurant Hélène Darroze in Paris and The Connaught in London (see photo to right, from a past BUZZ column).
4, rue d'Assas, Paris 6th
Tél  01.4222.0011 Reservations strongly suggested
4, rue d'Assas, Paris 6th
Métro: Sèvres-Babylone or Rennes
Open: Tuesdays through Saturdays, 12:30—2:30pm for lunch and 7:30—10:30pm for dinner
Paris des Chefs starts Sunday in Paris
If you're now in Paris, you won't want to miss the 4th edition of Paris des Chefs, sponsored this year by Alain Ducasse, from Sunday, January 22 through Tuesday, January 24.
It's a bonding of 20 chefs, designers, actors, and more, such as: Alexandre Gauthier, La Grenouillère, Montreuil-sur-Mer and Bruno Mantovani, composer. Pop-up stores, conferences, demos, workshop and the must-have guide Paris des Chefs Food Design.
Many of the events take place at la Maison de la Mutualité, recently renovated by architect Jean-Michel Wilmotte and where a new restaurant directed by Yannick Alleno opens soon. (Wilmotte's also doing Guy Savoy's new gastronomic restaurant at Palais de la Monnaie, Quai Conti, opposite the Seine, which is scheduled to open in September 2012.)
Everything you need to know in English is at the website.
See you there.
When: January 22-24, 2012
Where: Maison de la Mutualité, Paris 5th

Margaret Kemp is a Cordon Bleu graduate who spent a year traveling the world, working and watching in the kitchens of top chefs from Sydney, Australia via Bangkok, Hong Kong, California, New York and France. She reports for BonjourParis on the latest European trends, restaurants and hot spots. Please click on her name to see her weekly stories dating back to 2003 . . . et merci, Margaret.
You are reading an excerpt from PREMIUM CONTENT sent first to Premium Members who read our Sunday BUZZ column for the latest top chef news, restaurant openings, trends and happenings in Paris, London, Nice, Cannes, New York and other international destinations. If you're a culinary traveler, please consider an annual Premium Membership with exclusive content and members-only benefits.

Subscribe for
FREE

weekly newsletters with subscriber-only content.
BonjourParis has been a leading France travel and French lifestyle site since 1995.
Readers' Favorites: Top 100 Books, imports & more at our Amazon store
We daily update our selections, including the newest available with an Amazon.com pre-release discount of 30% or more. Find them by starting here at the back of each section, then work backwards page by page.
All new, including Ducasse, Pierre Hermé and "French Bistro: Seasonal Recipes" by Bertrand Auboyneau, the owner of Bistrot Paul Bert in Paris.
Click on this banner to link to Amazon.com & your purchases support our site….merci!
Leave a reply
Your email address will not be published. Required fields are marked *