Insider Tips to Enjoy Disneyland Paris on its 30th Anniversary
Across the world, Disney World and Disneyland draw people together to enjoy what they call "the Happiest Place on Earth." In the last few years, each park has been celebrating milestone anniversaries, such as Walt Disney World's 50th anniversary in Orlando.
This year, Disneyland Paris fetes its 30th anniversary until September 30th, 2023. After a recent trip, I'm happy to share the reasons you must visit during this special celebration.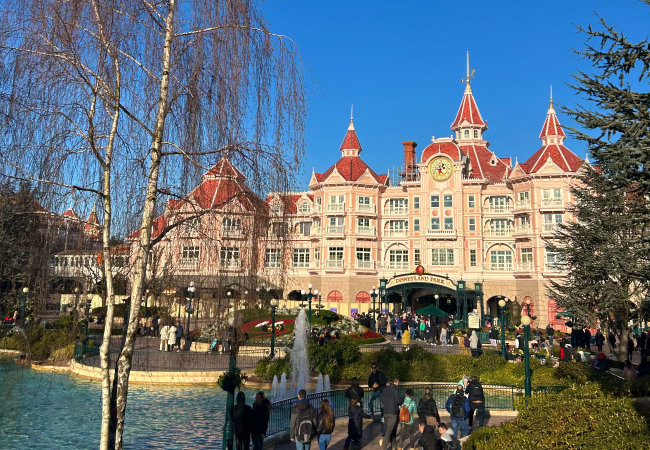 Thematic Decor
With each anniversary, the park is decorated from head to toe in style. The park is covered with 30th-anniversary flowers and spinning windmills, each incorporating the signature dark blue, purple, and gold that was also used in the iconic 50th celebration for Disney World.
Purple banners and silks adorn the entrances to both parks with silver stars, each piece of decor made to sparkle in the sunlight throughout the day. The characters you'll see are wearing new costumes that reflect this anniversary theme as well. For example, there are showings of Mickey and Minnie Mouse at the entrance to the Fantasy Land park throughout the day, both dressed to match the decorations around them. The suit and dress have purple, pink, and blue swirls, along with a silver metallic top hat for Mickey and a flowery bow held together by a silver 30 for Minnie.
If you're one for Disney's immaculate attention to detail, you don't want to miss this celebration. Disneyland Paris is already unique with its pink Sleeping Beauty castle and different attractions than the ones found in the United States. This 30th-anniversary decor is a once-in-a-lifetime experience.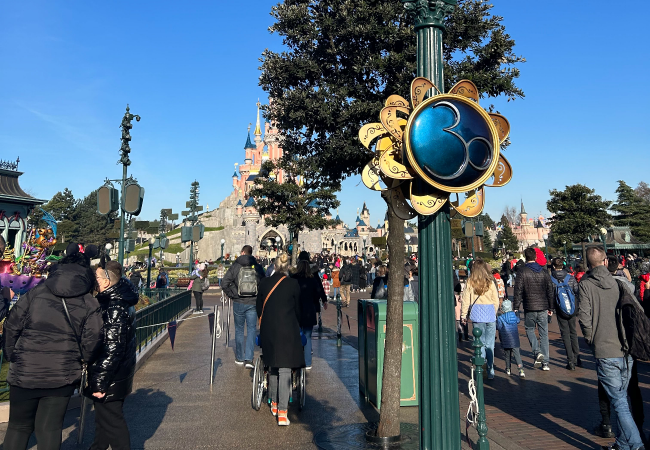 Special Shows
The Paris park already offers a unique show and signature parade song, but the anniversary is kicking things up a notch with special experiences throughout the year.
There's a new signature tune for each parade called "Dream… and Shine Brighter!" It was created especially for the anniversary. The daytime parades that use this song are all themed in the anniversary outfits, as well as showcasing new floats and accessories. A handful of the floats resemble stained glass, while others are created alongside artists to be one of a kind. All the characters you know and love will be showcased and celebrated outside and around the castle, and the show itself runs for about 30 minutes throughout the day until nightfall.
Starting in the summer of 2023, there will be an original new light show around Sleeping Beauty's Castle that celebrates the 30th anniversary. Called "Disney D-Light," it's the first-ever drone show— never before seen in any Disney park.
A Unique French Location
Disneyland Paris stands out from other worldwide locations. The first main difference is the trademark of Sleeping Beauty's Castle (the other parks revolve around Cinderella's Castle). Designed with details from the movie, the pink castle even has a dragon in the basement and stained glass portraits on the inside. That castle is the focal point, imbuing Fantasy Land with a charming pink hue, channeling the ambiance of Paris and other French cities, while Main Street has a retro American vibe.
The traditionally loved rides, while all present, have specific touches. There are a few rides in particular that are created differently only in this park: Space Mountain, which is now Hyperspace Mountain, the Haunted Mansion, and Big Thunder Mountain.
Hyperspace Mountain takes the traditional Space Mountain and changes it to a Star Wars theme, that starts through a canon that takes off as if the ship goes into Hyperspace in the movies. It's also unique that it begins outside, while the original is entirely an inside ride. The Haunted Mansion ride is set to be more realistic to the story and has a much more grim and scary appearance compared to the Disney World attraction, which strives to be more lighthearted. An iconic ride, Big Thunder Mountain has just completed a refurbishment. With a track that is over 1.5 miles long, the ride lasts four minutes. Your maximum speed will be 41 miles per hour. At its highest point, the ride is 108 feet high, which is as high as a 12-floor building.
Along with Disneyland in California, Disneyland Paris is the only Disney park to feature the Marvel Avenger's campus and its unique experiences.

Merchandise
Everything from food and drink to ears and clothing is customized with the anniversary theming.
There are numerous new desserts and pastries, as well as cocktails and meals that are all decorated with the 30th birthday branding. Just look at the Disneyland Paris website and you'll see a photo gallery of examples. Cocktails with the number 30 written in foam, as well as number decor and cookies that are placed on various ice creams and desserts. Gold dustings on pastry domes, everything you could think of. You can eat the theme as well as enjoy it in the attractions.
As far as merch goes, there are naturally a lot of specialized items that use the same theme. They have every item that you could find in the Disney store beforehand, now adorned with the anniversary theming. Most of it displays the big silver 30, along with the overall color scheme of purple, blue, and gold. However, the signature for all of the merch surrounds fireworks and firework spirals of those signature colors, around the characters and logos. The most unique piece of merch for this year, which is also unique to Disneyland Paris, is the create-your-own magic wand. Not only is this souvenir a once-in-a-lifetime chance at this park, but even more special when you use the anniversary theming while you create it.
You don't want to miss out on this year's 30th anniversary inside the Disneyland Paris parks. From the attractions to the food— down to every minor detail — Disney continues to create once-in-a-lifetime experiences for each guest. If there is a year to go, it's this one.

Lead photo credit : Disneyland Paris. Photo credit: Emily Sanders
---
---