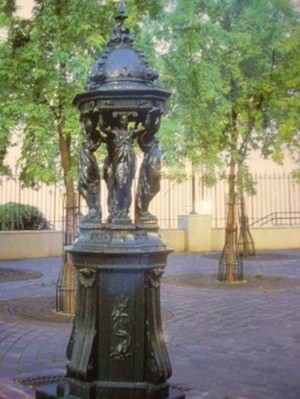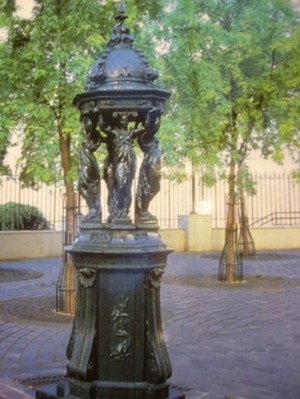 Fontaine Wallace
Paris is forever.
After a long recess, I returned to some minor changes but still the city of my heart. This time we were situated in the Panthéon area of the fifth arrondissement. It was a wonderful decision.
Not only is this one of Paris' great sites but since it is surrounded by universities like the Sorbonne and other learning institutes, it is a region of youth, bars, restaurants and secluded meeting places.
Only a short walk from the entrance to the Luxembourg gardens, a walk down rue Sufflot offers places to rest, eat, drink or live in relative silence. While at the Luxembourg, we were able to enjoy the latest Chagall exhibition.
We also spent a few hours at the wonderful Quai D'Orsay Museum with lunch facing the city through their emormous clock. This is an eye opener; a regular treat.
Our rented apartment, on rue Latour, was a street, too tiny for two way traffic. There is no place to park and even though it's very short, it boasts a few top notch restaurants. In the evening the bars and restaurants are filled with students from the Sorbonne but they are cordial, if a bit noisy and the air is sprinkled with words like, "Super', "Voila", and "Attention", "Bien Sur".
But a walk down the hill leads us to a mecca of activity in all directions. We spend our evenings on the Square Contrascarpe a few feet from Hemingway's home on the rue Cardinal Lemoyne above the sign that announces a store called "UNDER HEMINGWAYS" or around the corner on rue Descartes, where he used an apartment to get away from the noise of the busier street and his tiny son, John, where he could write in silence…These streets are no longer quiet.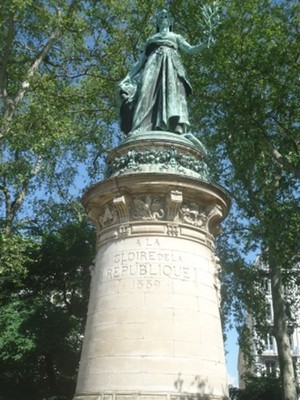 Statue of the Republic
The restaurants are often jammed and students from the Sorbonne gather at the end of the day. Yes, it's quiet during the later hours but there's a live sense of activity during the day.
After a long absence, we walked past all our old haunts, through the Luxembourg gardens, Rue Ferou (another Hemingway abode), past Gertrude Stein's, a look at Alfred Dreyfus's broken sword, and the great restaurants on Montparnasse. Of course, Paris isn't Paris without Picasso's home on place Ravignon #13 in Montmartre, with a Fontaine Wallace in front, for drinking water.
Here on the Place de Tertre, near the Sacre-Coeur, we enjoyed our lunch surrounded by artists and cartoonists. A purchase of two small paintings will help keep the memory alive.
While in Paris, we were lucky enough to find comfortable seats in front of the City Hall where a huge screen showed matches of the French Open from Rolland Garros part of what the French call Le Grand Chelem (Grand Slam). Nostalgia is my middle name, and I couldn't look up at the City hall window from where Lindburgh greeted the crowd after his famous trip across the Atlantic.
But it was soon time to move on and we headed for the Gare St Lazar where we booked TGV tickets for Lyon, a city we had visited years ago. As luck would have it, a street market offered wonderful 'baguettes' (French bread) and enough to prepare a tasty lunch for the two plus hour trip. TGV stands for tres grand vitesse or very fast trains that race over the countryside at about 300 KM an hour.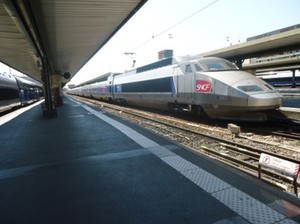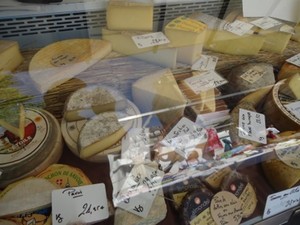 Lunch for the TGV
We decide to go to the south end of the city and get off at Gare Perrache. That way we could dine at Brasserie George, in the hotel district. We had been there once before and brought our memories with us.
But friends in Lyon introduced us to l'Ouest. There are four such restaurants, one in each direction. The service we discovered was the best we had in Paris. The hostess and Maitre D were charming and the food was all we dreamed about.
Paris had other things to attract us, but we'll be back later in the month to try a few other highlights.
Brasserie Georges  Since 1836…30 Cours de Verdun, Lyon, Perrache.
L'ouest, Paul Becuse…1 Quai du Commerce, Lyon…tel : 33) 4 37646464
Leave a reply
Your email address will not be published. Required fields are marked *