Paris is a Woman with an Umbrella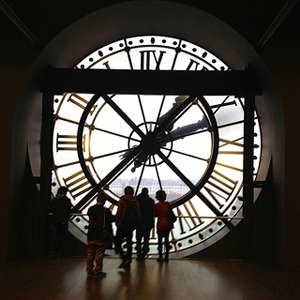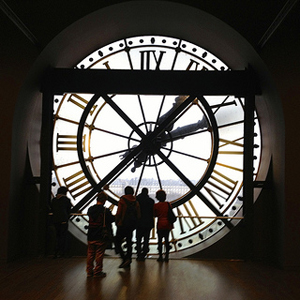 I left just as Paris was beginning to feel like home. I'd been studying there for months and had seen and done just about everything worth doing. Played the guitar for coins on the steps of Sacre Coeur. Shared wine with the gypsies who lived by the canal. Visited the greats who have made their eternal homes in the cemetery of Pere Lachaise. Met and enjoyed beautiful women. Stood in ponderous lines to fight my way through the Louvre. Ordered a Royale-with-Cheese and a keg cup of beer to-go from McDonalds.
You know—culture.
Finally it was my last day, and I didn't feel like doing anything. All I wanted was to walk the streets and to stop at random cafes and drink and take it all in one last time. I'd just returned to France from a monthlong trip through Spain where I had done enough adventuring. The near plane crash on the way into Granada. A high speed car chase away from two Spanish military trucks who seemed to be after me for no reason at all. Sleeping in a beach bunker from the civil war one night, then in a shipwrecked fishing boat the next. By the time I was back, Paris had become a different place. The people I'd known there were mostly gone, those who remained were mostly crazy. It was time to reflect, and, I supposed, to move on.
I sat in the hotel bar and talked to the hostess who was a beautiful woman from Morocco and had played a key role in my integration into the city.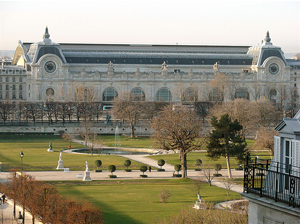 "I don't think I'm going to do anything. Go have a bottle at the Luxembourg maybe. Maybe have a nice dinner. I don't know."
Naima clucked her tongue and shook me another of the mystery cocktails that we who knew her best had named the Sexy Naima. "But you have not been to Musee D'Orsay. It is my favorite. And it's not even noon yet so you will have plenty of time to see the whole thing."
I knew instantly that she was right. Musee D'Orsay had a reputation for being beautiful, more accessible than the Louvre crowd-wise, and filled with truly fantastic art—Impressionists being the stand out.
Besides, the walk between my home on Rue la Fayette and Qui D'Orsay was a good one, and it would give me a chance to give the city a thorough look over.
So down the canal, up Quai de l'Hotel de ville, across the river past Notre Dame and through Saint Michelle I went. The late June sun was hot and the old, grey buildings all looked like postcards. Before getting in line I stopped at a little place I knew to have a reasonably priced beer, then into the D'Orsay I went, the line being entirely manageable and— unlike the Louvre—nothing to put me off.
Musee D'Orsay is housed in an old train station. Its proportions and architecture are nothing short of magnificent. It has all of the stark grit of an industrial wasteland coupled with the French sensibilities for style and composure. It is not unlike the serving room in a large ship. And not surprisingly it is filled with masterpieces.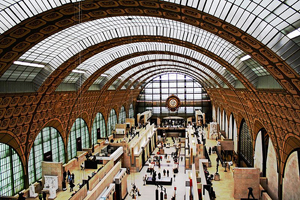 As I walked through each massive showing room voices echoed gently. The air was filled with wellwarranted awe. I spent a good deal of time with the Redon. Visited Cezanne and Matisse. Then, as I came around a corner, there looked the Woman with the Umbrella. I had never been particularly fond of Monet, but in that moment, with all of my time in Paris at my back, I was overwhelmed. She stands looking down the meadowed hill as if watching a lover go, perhaps forever. The sheer size of the thing was impressive. It looked down on me like a mirror reflecting all I'd done and all I'd seen and all that I was leaving behind, and suddenly I sank to my knees and felt the tears come and was not ashamed of it at all. I was losing my love, my Paris. And Paris is a place where one regularly witnesses others weeping when faced with greatness. This place was Great, in the big sense, like Alexander was Great, and it had conquered me fully.
There was a class of young school children who were quietly moving through the room, and three or four of them came over to me and mimicked my kneeling position, solemnly staring up at the painting. None of them spoke and they all seemed highly attentive and fixated on it. After a time I stood and they followed suit and moved on to rejoin their class.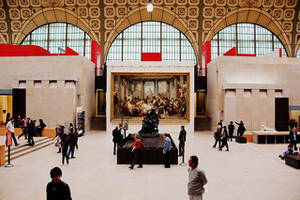 This last day was beginning to take on a strange and surreal quality. I walked down the room and there was the swirling madness of Van Gogh's self-portrait. He stared at me with austere dedication, and I stood and looked into the picture for what seemed to be quite a while. I can't be sure—Time had become a phantom. All around me were ghosts speaking through it. Though they occupied no Space, they certainly had overtaken Time, which is too often mistakenly thought to be impregnable. I left shortly after that. I had to write it all down, had to make my own small notation in Time.
Once outside I found a café and ordered a bottle of wine. I took the notebook from my bag and turned to its last few barren pages and began scrawling words as fast as they would come. Page after page until the notebook had only a single one left unfilled. That, I would save for the plane home.
photo 1 by Bob Hall [CC BY-SA 2.0], via Flickr
photo 2 by dalbera [CC BY 2.0], via Flickr
photo 3 by Dimitry B [CC BY 2.0], via Flickr
photo 4 by LWY [CC BY 2.0], via Flickr
Leave a reply
Your email address will not be published. Required fields are marked *
Comments