Le Mikado: The Legendary Night Club Returns to Pigalle
The spirit of the Roaring Twenties awakens at Hôtel Rochechouart with the reopening of Le Mikado, a mythical mecca of Parisian nightlife at the foot of Montmartre. The trendy hotel, which is part of the Orso Hotels collection, has revived and revamped this lieu de fête on the lower level, inviting you to leave your worries for the day and dance the night away. So, suit up in your Sunday's best and slip on your favorite dance shoes. We're about to step back in time in Pigalle.
Back in the day, the youth flocked for cabaret shows and dancing. It also attracted its fair share of crooks and gangsters. Insiders tell us that French author Joseph Joffo dished all the details in his memoir Un sac de billes: High-rollers would leave "their spouses with worldly dancers smelling of hair gel and perfume. Once upon a time, gun shots were heard, plus a few scandals here and there, managed by a boss who, as a former chief of police, always found solutions to his problems."
Later in the 1960s, rock legend Johnny Halliday presided over Le Mikado, and throughout the 1980s pop stars and music legends would hang out there. Now Le Mikado is back, offering patrons a place to rendezvous in style behind the signature red door.
From Thursday through Saturday nights, Le Mikado invites locals and visitors alike to dance to all genres of music played by the city's best DJs. Still not keen? Why not come on Sundays to one of Le Mikado's special soirées for a chance to perfect your Charleston shuffle.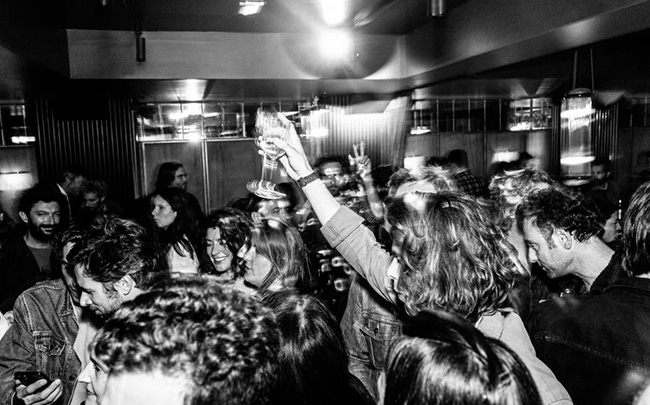 This speakeasy-inspired dancing bar was designed by Hugo Sauzay and Charlotte de Tonnac of Festen with retro carpeting, plush furniture, and Art Deco accents. The eclecticism and opulence of the décor complements the bar's ambiance.
Feeling peckish after all that dancing? Well, you're in luck, as Le Mikado is placed conveniently under the dining room of Hôtel Rochechouart. Upstairs, comforting food awaits until the kitchen closes at midnight. Guests can get their hands on tasty menu items such as deviled eggs and caviar, steak tartare "boulevard," and the restaurant's signature crêpe cake.
Dance beneath the same roof as Johnny Halliday and Jean Bouquin, and have a taste of a bygone era under the Japanese-style lanterns and shiny disco ball at le Mikado.
Further information
Hôtel Rochechouart
55, Blvd Marguerite de Rochechouart, 9th
Mikado Dancing is open on Thursdays, Fridays and Saturdays from 9 p.m. to 3 a.m.
Lead photo credit : courtesy of Hôtel Rochechouart, @LudovicBalay
More in Art Deco, Le Mikado Dancing Bar, nightlife in Paris, Parisian Nightlife, Roaring Twenties inspired Bar
---
---