Entrepreneur is the New France: Station F Opens in Paris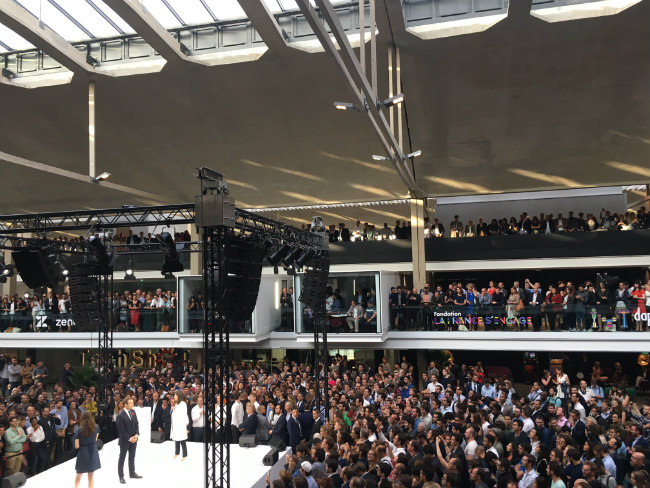 The energy was palpable at last night's "big fat launch party" for STATION F, the world's largest start-up campus. Ticket-wielding guests lined up around the block; journalists and cameramen jostled for the best positions; caravans of gendarmes lined up in the street outside. After all, President Emmanuel Macron would be in attendance. And STATION F—a wildly ambitious project—has turned the world's gaze to France, as the country seeks to boost the economy with Silicon Valley-style technology and innovation.
Years in the making, the project—backed by billionaire entrepreneur Xavier Niel—has given a new lease of life to a ginormous railway depot, abandoned and threatened with demolition, in the 13th arrondissement. As long as the Eiffel Tower is tall, the Halle Freyssinet was named for the architect/engineer who built it in the 1920s, fashioning a soaring nave with graceful concrete arches. Investing €250 million, Niel recruited award-winning architecture firm Wilmotte & Associés for the transformation. Construction began in October 2014.
The result? In one word: epic. Sprawling across 34,000 square meters, STATION F houses "an entire startup ecosystem under one roof": 3,000 desks for 1000 start-ups, an auditorium with a 370-person capacity, eight event spaces, four kitchens, two coffee shops and bars including an outpost of the popular Anticafé co-working space.
By the end of the year, Station F will be home to the biggest restaurant in Europe when the trendsetting Big Mama Group—behind some of the city's most popular eateries—will open Mama F with 1,000 seats. [Did you know that East Mamma is the restaurant the most Google-searched in France, and that Ober Mamma the most shared on Instagram?]
Here are some of the players involved in STATION F. Facebook, vente-privee (the leading French private sales site), Ubisoft (video game publisher), Line (Japanese messaging app), Microsoft, Daphni (venture capital fund), and more. Notably, Facebook will launch the Startup Garage, the company's first physical accelerator, specializing in data, while Microsoft, in partnership with the INRIA research institution, will launch a program for AI startups. More than 2,300 international startups applied for STATION F's "Founder's Program", a full-time residency. Note that STATION F is also committed to diversity, supporting entrepreneurs from underprivileged backgrounds with its "Fighters Program."
In front of 1,500 international entrepreneurs and a large press corps on Thursday evening, STATION F was inaugurated by Director Roxanne Varza (a Silicon Valley native), Paris Mayor Anne Hidalgo, and President Emmanuel Macron. Mobbed as he entered the room, taking smiling selfies with the crowd, President Macron then spoke with humility, humor, and passion, comparing his political career trajectory to that of a start-up. "Change the country, write the next page for the planet!" he optimistically encouraged the crowd. To happy laughter and rousing applause, the crowd went wild. His speech conclusion? "Entrepreneur is the new France."
Lead photo credit : President Macron and Mayor Hidalgo in front of the crowds. Photo: Bonjour Paris
Leave a reply
Your email address will not be published. Required fields are marked *