The Atelier des Lumières Makes a Splash in Paris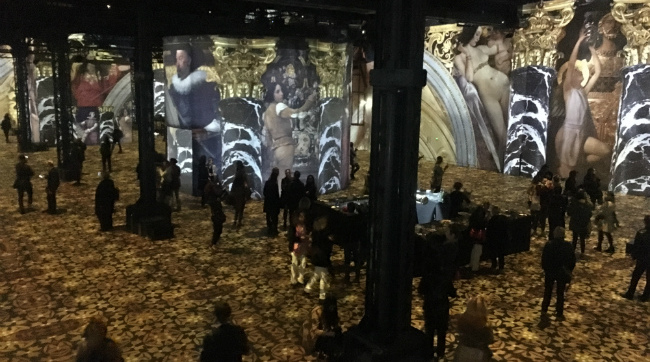 The talk of the town in Paris? A thrilling new digital arts center called the Atelier des Lumières will be opening tomorrow in the former Plichon iron foundry. The establishment is a vestige of the 19th century, when the Chemin Vert area of the 11th arrondissement was rife with industry. Forget the sound-and-light shows of yesteryear. Atelier des Lumières is a high-tech immersion into an artistic world, transforming the cavernous industrial space— dotted with historic features including metalwork, a chimney and pool— into a colorful canvas.
Those who've ever had the good fortune to visit Les Baux-de-Provence, a picturesque village perched on a rocky outcropping in the south of France, will be familiar with the Carrières de Lumières. A former quarry has been converted to a digital arts center run by Culturespaces. The shows are immersive journeys into the lives and work of artists like Chagall. As you stroll through the caves, you marvel at the imagery and paintings projected on the walls. It's an emotional experience– like you're steeping into a work of art.
Now Culturespaces has brought the same concept to Paris. During an exclusive press preview yesterday, we found that Atelier des Lumières has succeeded to dazzling effect. The inaugural exhibition is devoted to Gustav Klimt, Egon Schiele, and the artists of the Vienna Secession in the 19th century. The digital exhibition— more like a "show"— is projected on a continuous cycle; 140 BARCO laser video projectors cast the moving images on some 3,300 square meters of projection surface, including the 10-meter-high walls, floors, and chimney.
Sometimes the floor turns into a carpet of flowers; sometimes the walls seem to morph into views of 19th century Vienna. A magnificent soundtrack, featuring pieces by Beethoven, Chopin and Wagner, accompanies the digital imagery. As you wander through the vast space, you'll discover a pool reflecting images, tactile exhibits where you can place your hands to "zoom" in on projections, and a room full of mirrors (stroll out on the glass).
Talk about wow factor!
Tip: Don't miss the retro-designed gift shop, which is stocked with unique gifts including items celebrating vintage, industrial Paris.
Atelier des Lumières, 38 rue Saint-Maur, 11th arrondissement. Full price ticket is 14,5 euros. Open every day from 10 am to 6 pm. On Fridays and Saturdays it stays open late until 10 pm. Website: www.atelier-lumieres.com
Lead photo credit : Atelier des Lumières. Photo: Bonjour Paris
---
---
Comments