Le Petit Baigneur: Where to Eat in the 14th Arrondissement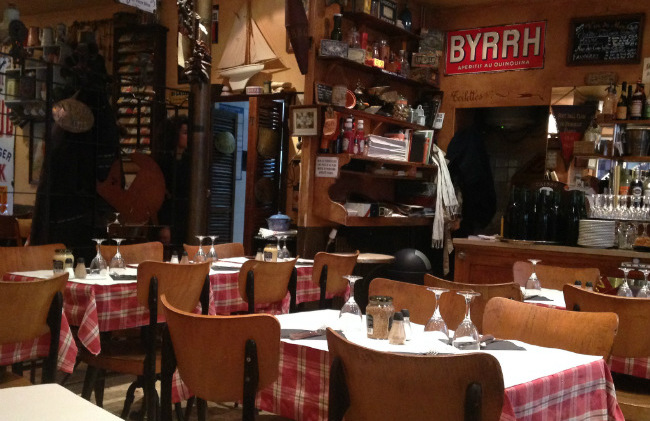 Walking through the door of Restaurant Le Petit Baigneur in the 14th arrondissement is a crowded affair. With an old Parisian feel, chairs fumbled around small tables, all closer than close, one has to strain not to be in the neighbor's conversation.
But that's 'French Intimate' in my book of all things authentically French. One quickly learns the silent etiquette that permeates space in France, so much so that you can rub elbows with strangers, and feel completely private. It's a well-polished cultural practice.
To back up a bit: In the past, when I was coming and going through Paris, departures were out of Aeroport CDG on the northeast side of the city. For years I've habitually returned to a favorite spot in the 7th, and shuttled or métro-ed to the École Militaire stop. But more recently I've been exploring the long-haul "air shuttle" flights (to the U.S.) offered by Norwegian Airlines, which flies in and out of Orly, on the opposite side of Paris. This brought me searching the 14th for reasonable accommodations and great food.
I opted to hop on a TGV from Rennes at an ungodly hour of the morning to afford a good, long walkabout day. Checking into the hotel before noon, the receptionist recommended three top restaurants in the area.
The winner? Le Petit Baigneur. The reasons? The menu, the price range, the ambiance, and the local tip to get there early as it filled up quick.
It was well worth it.
At the door a few minutes before opening gave me first pick of tables. Choosing the 2-seater tucked in the front corner facing out was the best seat in the house. The restaurant filled by 7:30 pm. Some had reservations (highly recommended), some knew to get there first, and some were turned away. It's a restaurant of regulars — families with children, couples and singles who clearly know where to go to dine well.
In business for 15 years, the owner runs the front of the house. En fait, she serves the tables. There is a total sense of satisfaction from presentation to last bite in the carefully prepared dishes: fresh-daily 4″ high quiches and dessert tarts laze at the bar when you enter; house-made pâté arrives in the baking dish it was cooked in, and you slice off what you want.
For a three course of starter, main and dessert, you're in the neighborhood of 30-50 euros. Add wine (including les pichets of fine house wines) and it goes up from there. Lighter fare? A quiche and salad? 17 euros. Their rotating menu includes a few house specialities always available. You can eat big or eat small.
Bon appétit en France!
10 rue de la Sablière, 14th arrondissement. Métro: Pernety (Line 13). Tel: +33 (0)1-45-45-47-12. Dining Hours: 12:00-2:00 pm for lunch and 7:00-10:15 pm for dinner. Closed Sundays. Dress is Casual
Lead photo credit : Le Petit Baigneur. Photo: Ani Moriarty
---
---